Suzume no Tojimari Premieres November 11th, Teaser and Live Q&A
New promo art was revealed starring the heroine Suzume makes it into the morning newspapers such as Asahi. A premiere release date has been revealed for the movie as 11th November 2022.
Toho also tweets some special footage from the movie due on April 10th 8pm JST on their official YouTube channel.
Speculation on Twitter suggests the screenshot location might be Saku City from Shinkai's hometown of Nagano as it features "Koikoku" on the shop "白河屋" to the right which is a delicacy there. Others suggest it maybe based on Oita which is Nana Mori's (Hina from Weathering) hometown which also has a lot of hot springs.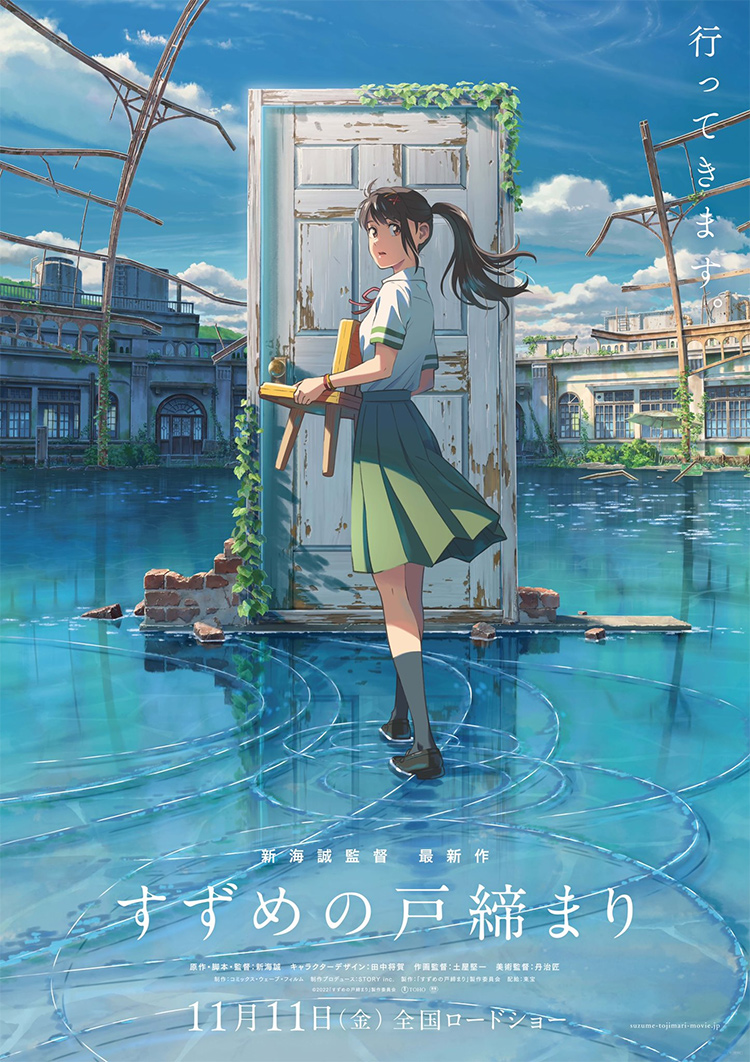 Wouldn't be surprised if Shinkai decided to feature places from previous voice actor's home towns really. I think that dome on the left is what really stands out here, besides it clearly being a hot spring resort area. Oh, and other Tweeters have noticed the chair only has 3 legs which might symbolise something.
See if we get any more clues tomorrow!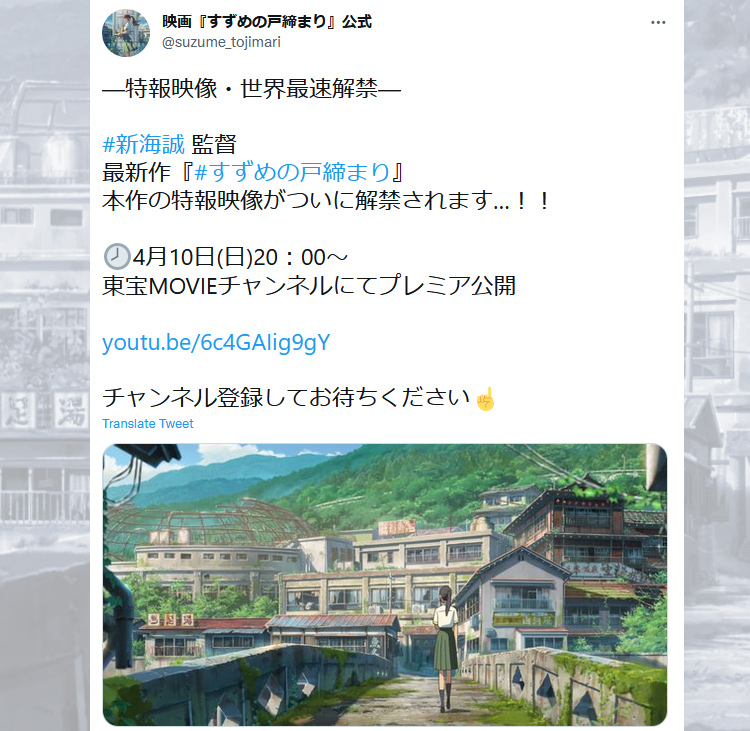 29th May 2023
Shortly after the screenings ended in Japan on the 27th, the blu-ray release date has been revealed for September 20th in your familiar standard and collectors editions. There are no hints of English subtitles with the Japanese release but judging by previous releases, I'm sure it will have both English and Chinese subtitles.
The main movie will include 223 cleaned up scenes, a few which was revealed on Twitter such as how Suzume's ponytail animation was re-done to look more natural.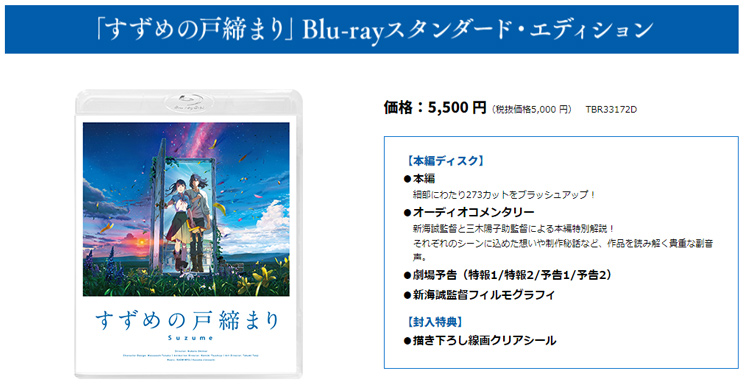 24th December 2022
Short spin-off novels are available in limited quantities during screenings that offer insight from each character's perspectives. The first was from Suzume's aunt, Tamaki with 1.5 million copies available from December 24th while half a million copies of Souta's friend, Serizawa's PoV is available from January 29th.
My Japanese friend kindly sent me a copy of Tamaki's story which he got and it seems to be a very short story at around 24 pages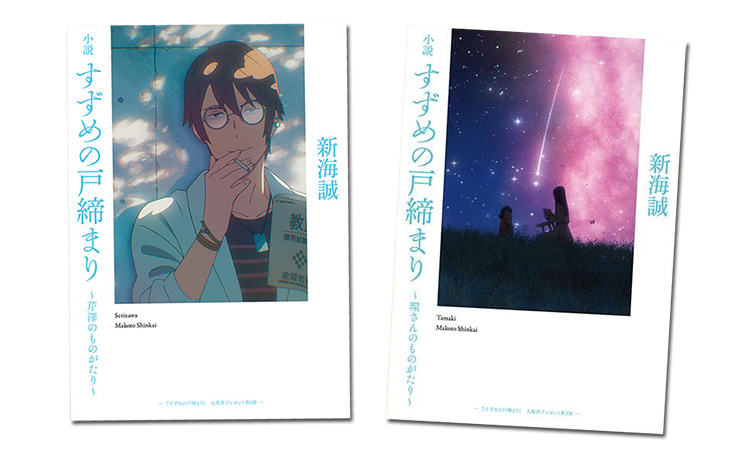 2nd November 2022
McDonalds reveals it will be including a spin-off picture book "Suzume and Chair" and sticket set with its Happy Meals. CM features Your Name, Taki's VA Ryunosuke Kamiki.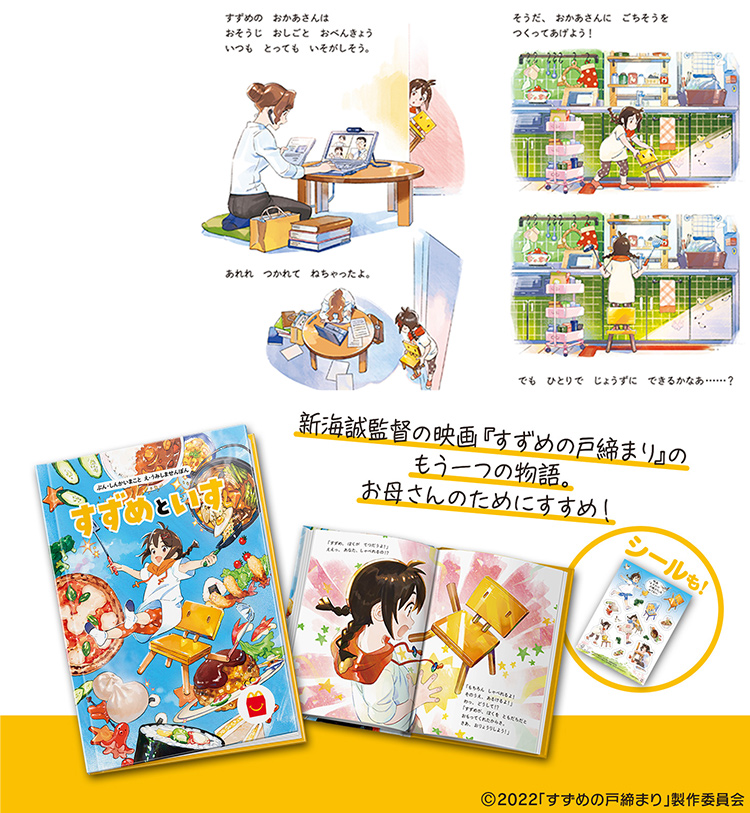 17th May 2022
A light novel version of the story is due to be released before the movie on August 24th.
I'll just hold out for the Anime, haha...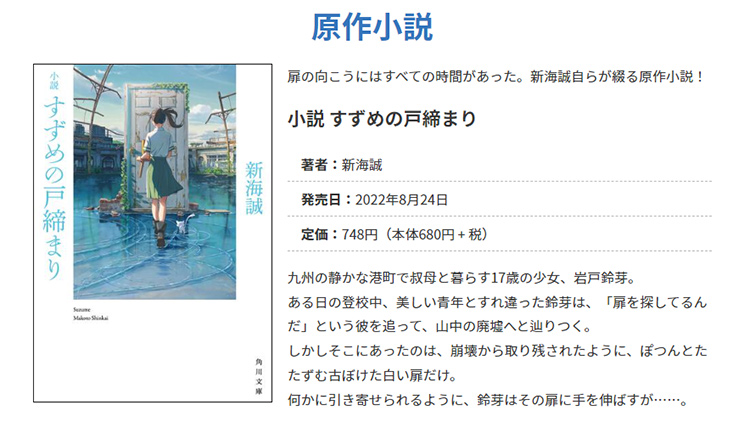 10th April 2022
And we got a teaser as promised that 44 seconds long without any credits you'd usually see in movie trailers. Only 26K views half an hour after release so was kind of expecting more but maybe people still busy 8pm JST (or just people being spoiler cautious).
Cat looks alien so maybe it'll be a mascot.
Piano score doesn't really sound Radwimps but I could be wrong.
Male protagonist has long unkept hair so maybe to show his long travels.
Maybe the chair's some kind of trigger that leads Suzume to the first door before she goes on her journey.
Suzume might be studying to become a nurse because there's a book that says, "看護師になるには [How to Become a Nurse]"
Memorial site which is probably the dome has the date "Showa 63 March" which is 1989. Could only find a 2016 mystery movie by the same name, "Showa 64" or just "64" in English which is also a movie by Toho so maybe a reference to it. Not much of a clue to the location it's modelled after.
Looks like she was dodging gunfire with that red dot aimed at next to he plaque.
A Twitter Space was also hosted at the same time 8pm to answer questions tweeted live (specifically requested to be in Japanese) at around the same time the teaser was released. You can listen and read an auto-generated transcript of the recording. Most of the time Shinkai couldn't reveal anything but he gives the odd interesting tidbits about the movie.
Oh, they also run over time which should have been 30 minutes but end up going on anyway while drinking cans of beer were opened until 9pm, haha. It was also Shinkai's day off being a Sunday and all he jokes.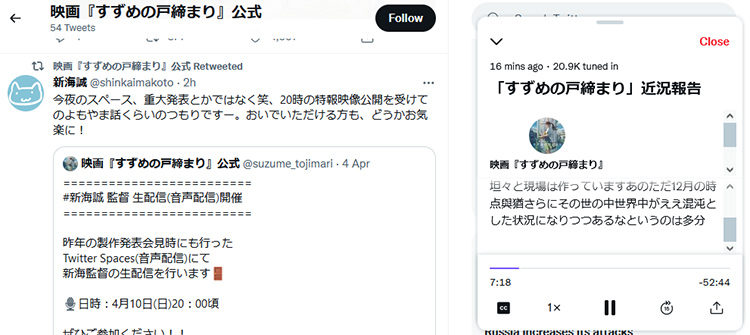 Q & A
Q: Why was Suzume given a ponytail?
We thought it was best as she travels a lot. It gives her an active, atheletic character image and was requested by Tanaka [the character designer].
Q: What's the cat's name?
It has a name but we can't reveal that at the moment unfortunately. Have a guess though. I'm sure you won't get it (Laughs).
Is it a transforming mascot...?
Q: Is there something special to the 3-legged chair that appears in the poster?
Yes, there are secrets to it. You'll see why it has 3 legs once you watch the movie.
Q: Is the key a key point to the movie?
Yes, the story consists of closing doors. Suzume is given the key by someone and goes on a journey to lock the doors which is the flow of the story.
No pun intended I'm sure.
Q: Has the voice actors been decided?
No, we're still in the process of auditioning and that's why there were no spoken lines in the teaser. We've listened to 1600 candidates and this first half of the week we're starting the interviews so it's narrowing down.
Q: Who is the music composer?
I can't tell you but the tune you hear in the teaser actually has lyrics. Maybe you'll hear it in a future trailer.
Q: Is production going according to plan?
Best not to ask that (Laughs). We're on a very tight schedule which probably doesn't just apply to the animation industry but we're making progress. We've completed more scenes than what you've seen in the teaser.
Time passes fast and it's already been 3 years since Weathering with You and I handed over the script around the start of the State of Emergency so, sometimes it feels like the ideas are rusting away which is why I feel like it can't wait any longer.
Other that, production is on schedule for November (Laughs). I'm counting on you, staff who are probably listening (Laughs).
Q: It's been 11 years since the female lead [from Children Voices] Why did you decide to choose a female lead?
Looking at the gender equality issues brought up today I thought it would be best if I went with a female lead instead of a male again. At first I had thought of starring two females travelling together in the story. However, after having a discussion with the producers it was suggested there needed to be better balance. Suzume will still meet other females during her journey.
On that note, you notice in the poster where Suzume's standing there's a blue sky? The producers complained they were sick of using blue skies. We might as well just just copy and paste (Laughs). However, we then agreed we needed to show something nice during the movie so... I said we go with a blue sky.
I really like achieving that kind of balance and really enjoy Miyazaki's Laputa. I hope to achieve something as great as that but I've kind of given up (Laughs). I've never met Miyazaki but instead, I think it's better if I create something new whil inheritting from other great works like that.
Q: Is Suzume planning to become a nurse?
She's still in high school so she may not be strongly set on the idea but yes, she is planning to become one.
So I got that right before listening to this.
Q: In the poster is there's the tag line "Itte kimasu [I'm off]" so are there others such as "Itte'rasshai [Safe trip.]" and "Okaerinasai [Welcome back]"?
I know it's a familiar phrase but I think it's a very good one. I think it's best if familiar phrases like that came in pairs so that it isn't one way so yes, you will here "Itte'rasshai" many times in the movie but not in the way you'd usually see it.
I'm guessing this will happen every time they close a door and maybe send off a "guest".
Q: What is it you do for a change of pace during production?
There's an writer I like Muraki Haruki who likes to talk about various topics such as football, marathon and jogging. He inspired me to go jogging too for a change of pace even in my 30s when I started this career or even when I thinking of ideas.
This year however, I've been so busy I haven't been going (Laughs). During the production of Weathering with You I went to pubs instead, now I'm not really sure what I do besides work but... about a year ago I took in two cats; Suzume and Tsubame. I named it "Suzume" when I started this movie so you might or might not find Tsubame appear in it too. They can interrupt my work but they're also very soothing to have around.
Does that mean he's saying the cat's name is Tsubame even though he said he can't reveal it earlier? xD
Q: I noticed there what looks like eyes on the chair. Is is actually a character?
I can't answer that but it's a children's chair so I've had comments about how tall Suzume looks holding it. Maybe it has something to do with the fact it's a children's chair.
Short break as staff from Toho Cinema reveals the trailer should be in theatres starting next Friday 15th in time for the new Conan (AKA Case Closed ) movie "Bride of Halloween" so maybe we'll see it online too. Bit of a promo for it, haha.
They also break out the beer cans.
Q: Where are the locations based on this time?
We mentioned before it'll be places on the island of Kyushu so Suzume will be journeying east. Most likely through Shikoku and then Kansai. Okinawa will also make an appearance.
Q: There's a tin that appears with the word "important" in the teaser. Is there something Suzume treasures from her childhood?
Well, we have to go back to Hodaka from Weathering with You on this one. Hodaka ran away from home and this became the motivation for the actions he takes later on. Of course, past trauma won't always be the motivation for a character's actions so I wanted to take a different approach with Suzume this time and her past will be very important to the story.
The word was actually written mutiple times by a child from the staff. We then had it written multiple times in different ways by the same child and then I picked one I thought the best. It had to convey it's so important; even more important than her own name so it had to be in big bold letters.
Q: What season will the movie be set in?
The promotional art you've seen are set in September so just towards the end of summer. Most of the doors are locked during that time period but as Suzume journeys a bit of other seasons maybe introduced. Might just be winter that won't make an appearance.
Q: Were there any titles considered besides the current "Suzume no Tojimari"?
Hmmm, can't quite remember now that I've had some alcohol, haha... Ah, I had "Suzume no Toujima" written in the proposal.
The Covid pandemic was starting when I took the proposal to the producers and when they read it, they said the storyline itself is fairly much its title, "Suzume no Tojimari" and I thought yes those words appear often enough. If you take a look at Weathering with You and Your Name, they have a similar tone in their title but this time I wanted something more native and folklore sounding.
Even the music will be done that way although it won't be Joe Hisashi style (Laughs).
Q: If we shortened the title, what would it be?
Well, I keep seeing people shortening "Kimi no Na wa (Your Name)" to something like "KimiNa". If I wanted to shorten this movie title to four characters it would probably be "SuzuMari". "Suzume" would be missing the important "closing" part but I look forward to see what viewers will come up with.
Yes, he did mention that in the Your Name booklet which is to signify closure to the story, "" instead of "君の名は。". The official English title doesn't go with that idea though.
Q: Will we see rail tracks in this movie too?
Viewers seem to like rail tracks but yes, don't worry. They will be in this movie too. I haven't done much rail travel so far but Suzume will be travelling around on the regular and bullet trains.
Now that you mention it, Hodaka was running along the rail line in Weathering with You and I was worried if JR [the main rail company in Japan] would be affected (Laughs). It's an Anime so we don't want to have people do something like that in reality.
Haha, indeed. Can't forget 5cm being stuck on a train although I guess that counts as one journey.
Q: Do you ever look back and reflect on your old works or other producer's works?
I don't really have time to do that but I do enjoy hearing the opinions of viewers such as when I was with Nana Mori when she watched Weathering with You. I also watch other works both on TV and cinema, reflecting on the way other producers create their work such as Naoko Yamada's (KyoAni) "Heike Monogatari".
Q: What is the demograph you're aiming to make smile with this movie?
Well, being an animated movie I think it would be young people, 15 years old. It would be great if it turns out to be a movie they reminicense about 10, 20 years later in their lives. Just like how Laputa made an impact on me when I saw it at 12 years old, I like to wonder what impact would my movie have on them. Watching Laputa was like I was given a push by it and that's why I strive to create something like it but as people grow up, life also changes; the people you work in your work place and how you might pick up new hobbies from chatting with them etc.
Take Weathering with You for example. A lot of parents took their young kids from elementary school to watch it and they were more fascinated with the cat in the rain. That's when I thought I'd also like to add in elements that'll let children talk about the movie as a whole with their parents too, even though I'd prefer a teenage audience.
Don't worry, it's rated suitable for everyone (Laughs).
And that ends the Q & A. They hint it probably won't be until summer before the next bit of info.
I do wonder how much of this will end up in the disc release booklet. A fair bit of trivia despite having to keep a lot of the movie secret up until the premiere.