Fate/Stay Night: Saber Lily Everdistant Utopia "Avalon" 1/7 Scale Figure Review
This is the second scale figure I've imported and will be my second figure from the Fate series. The official title suggests it's Saber from Fate/Stay Night but she's actually from Fate/Unlimited Codes, a PS2 beat-em-up game loosely based on the same story. The detail on the armour and swords looked really impressive!
There's actually another cheaper version of this figure "Caliburn" where Saber only has the dress on and extra detail is focused on sword. But anyway, we'll be looking at Good Smile's Saber Lily "Everdistant Utopia Avalon"1/7 Scale Figure first made available back in 2016 December for 12800 Yen (£86) here.
Yes, this is the genuine figure not a bootleg "China version".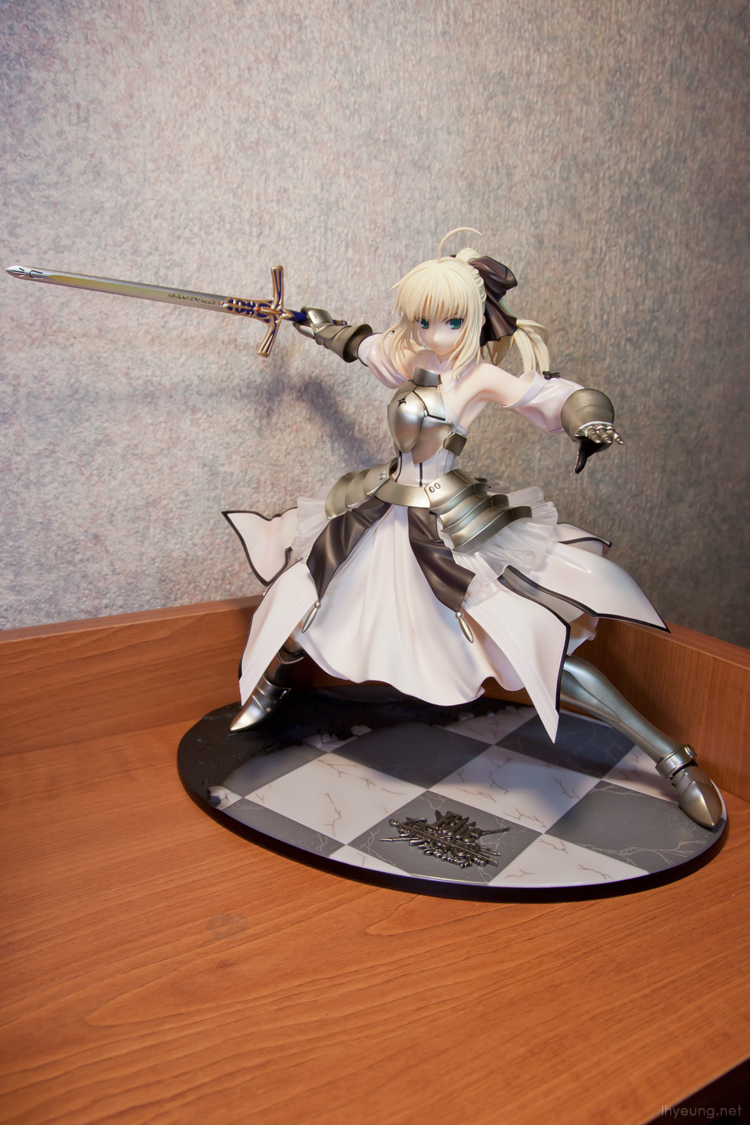 If you haven't seen Fate/Stay Night, it's a good action show where spirits of heroes take part in a war for the "Holy Grail" which can grant the victor immense power that could allow to rule the world. However, each heroes' spirit is bound to a master and they must protect or serve them to obtain the grail.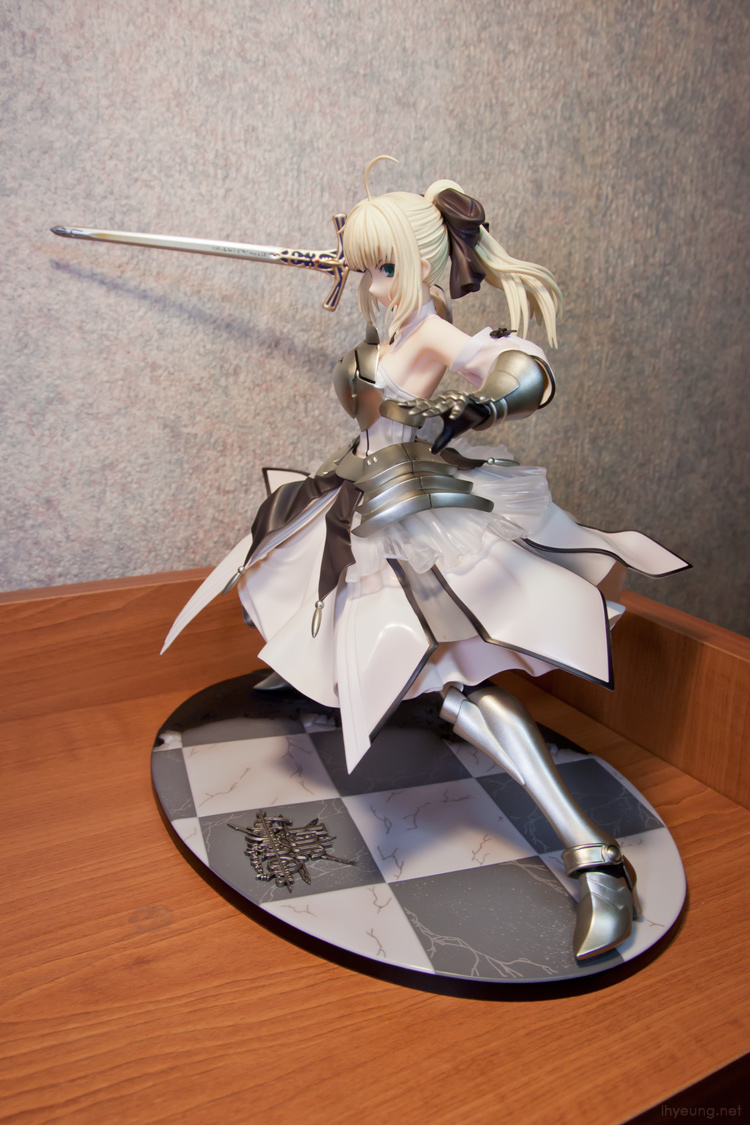 Plot seems quite silly I know since it features heroes loosely based on legends but, it's a good show. Saber is a very strong character that's loyal, proud and honourable which is probably why she is a lot of people's favourite character from the show.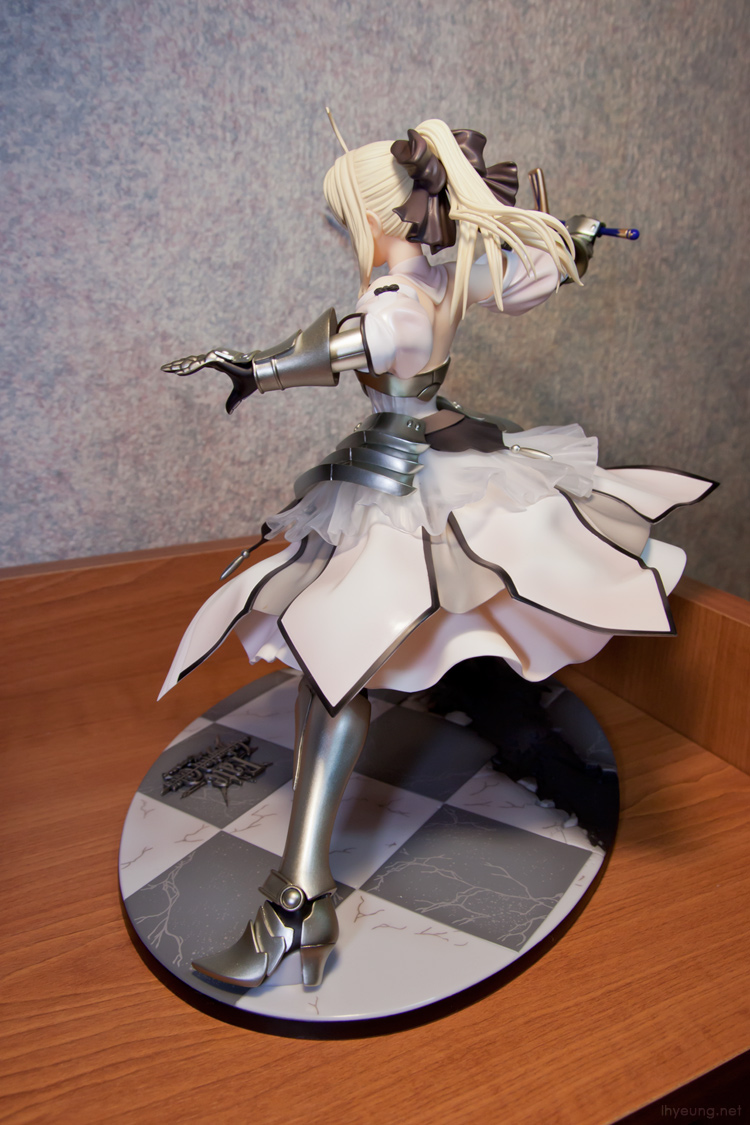 Saber happens to originate from King Arthur and that's why she possesses the Excalibur. Apparently Caliburn and Excalibur are both used to refer to the sword in the stone Arthur pulls out - different names in different versions of the legend.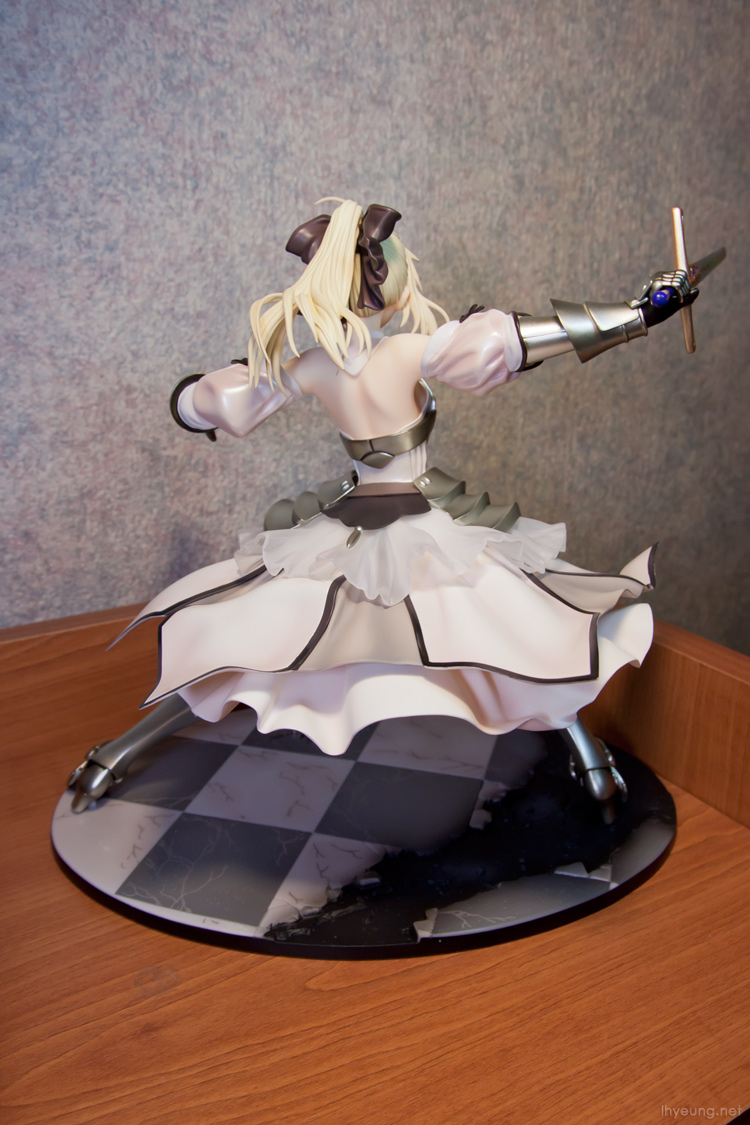 In this story however, Excalibur is the more powerful sword that Saber obtains after the Caliburn got destroyed in battle.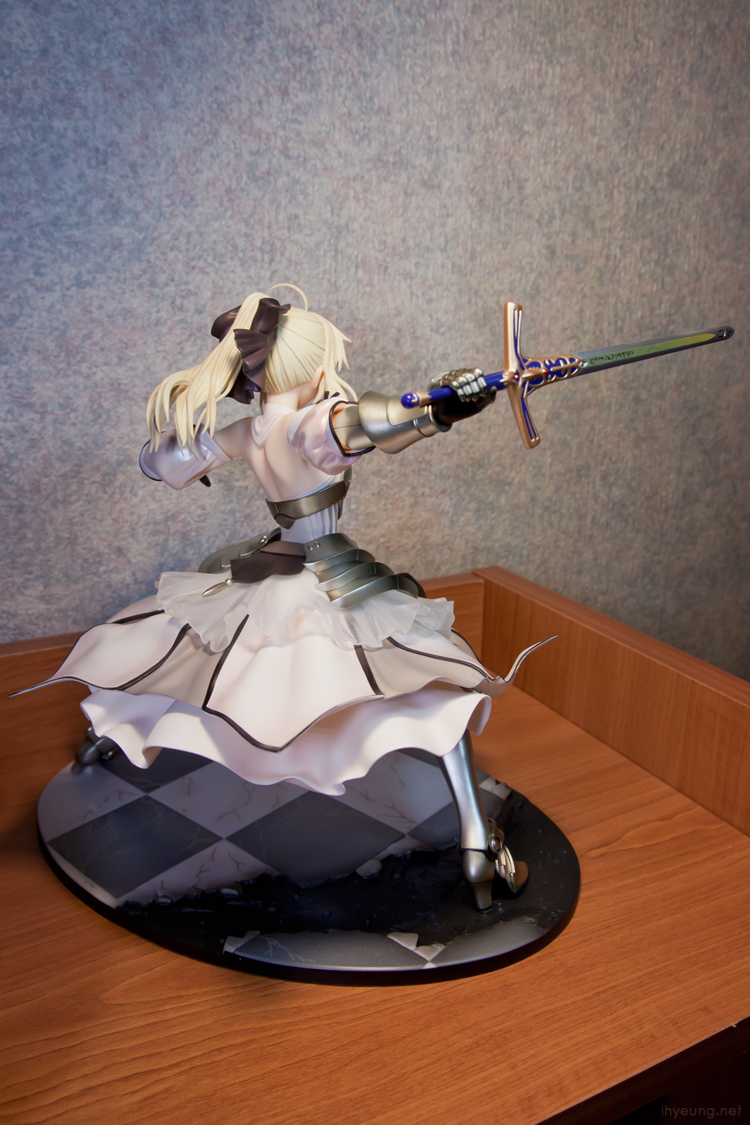 She comes with both the Caliburn and Excalibur swords so you can choose which one she holds.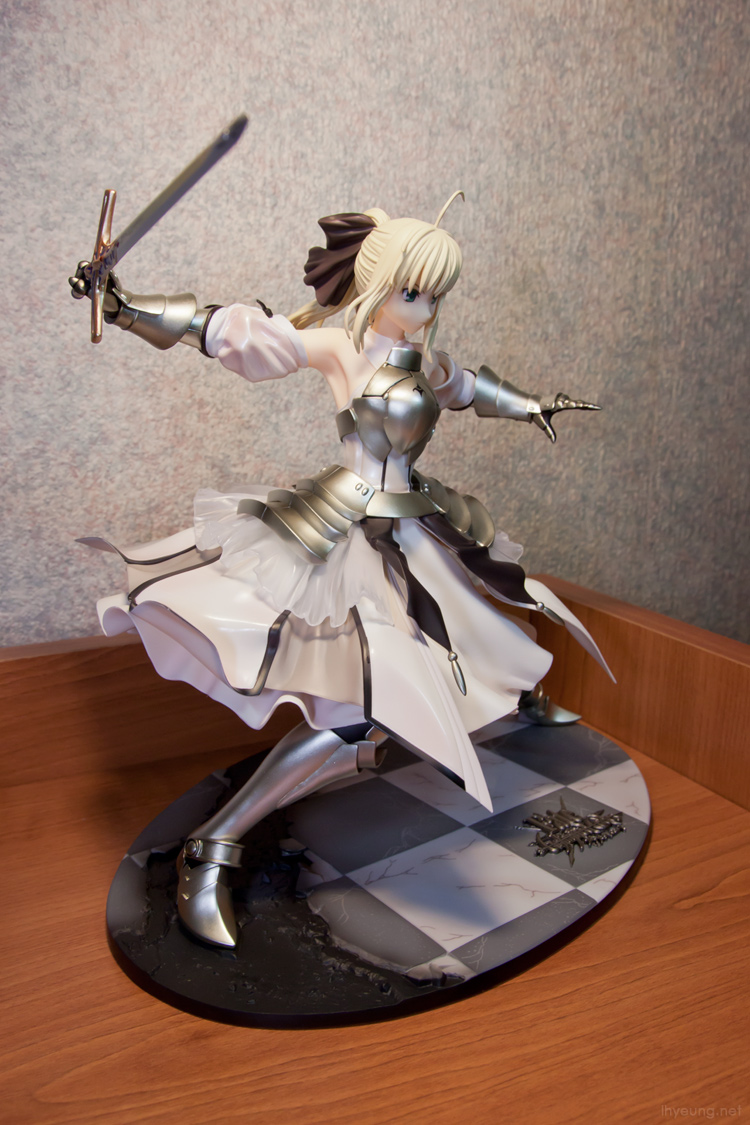 From afar, these authentic 1/7 scale figures don't actually look that much better than bootlegs. The figure's about the same size too at approx 21cm.
But on closer look, the facial expression is more accurate, hair is much more defined, better sculpted and of course, no shoddy paintwork where paint is chipping off here and there. They also use consistent matte paint finish for the skin areas too instead of a shiny plastic finish.
I don't know why she has to have an "aho-ge (idiot hair)" though. Maybe she's so straight forward with her noble character the designer thought it was fitting?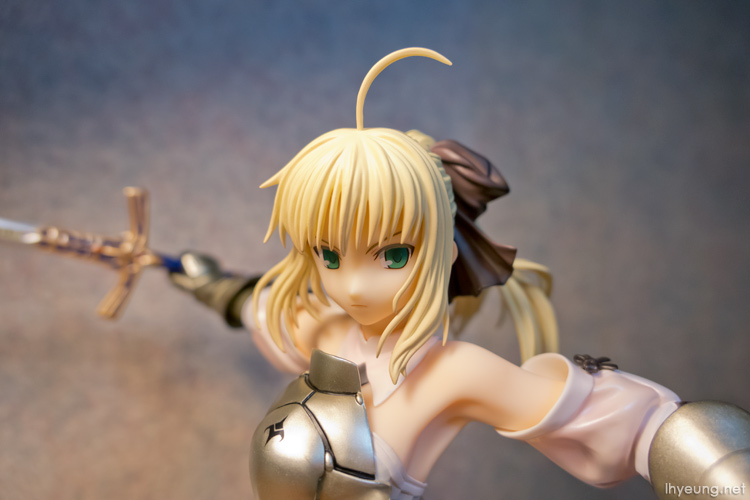 Look at the nicely sculpted bows, both the on the hair and her shoulder.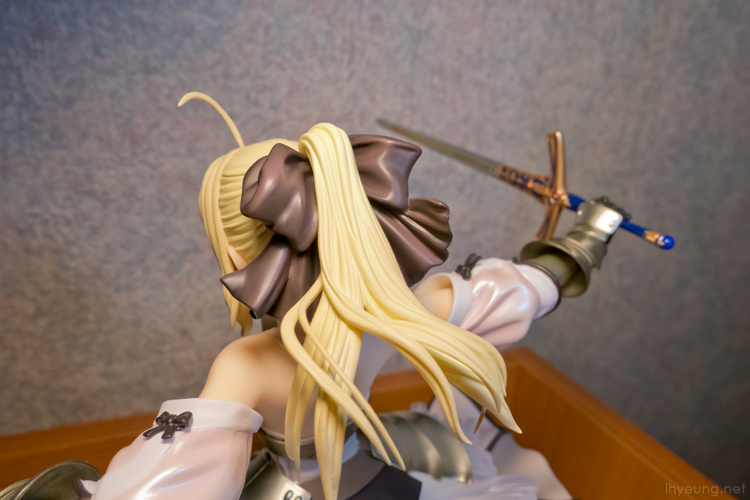 Figure fits perfectly onto the pins on the base too unlike bootlegs that can actually be off at an angle and only fit one foot. And what a base this is! Look at the debris and cracked marble ground!
"Fate/Unlimited Codes" logo not metal but it's really well cast.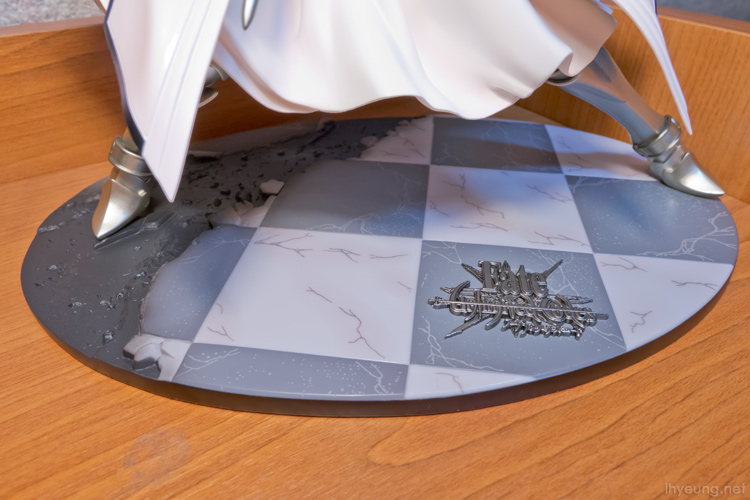 You can swap out her right hand so that she can hold the scabbard. I chose not to.
Caliburn looks a lot better doesn't it with all that detail on the handle?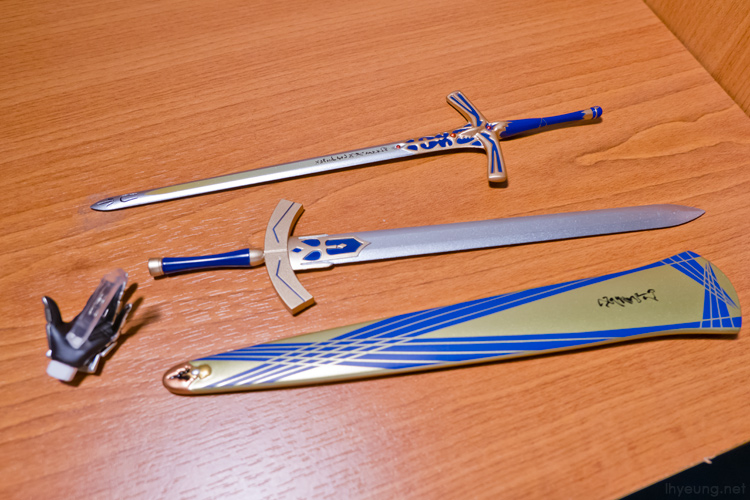 And you can actually sheath either sword but not sure why when Saber's supposed to hold them separately. Still cool either way.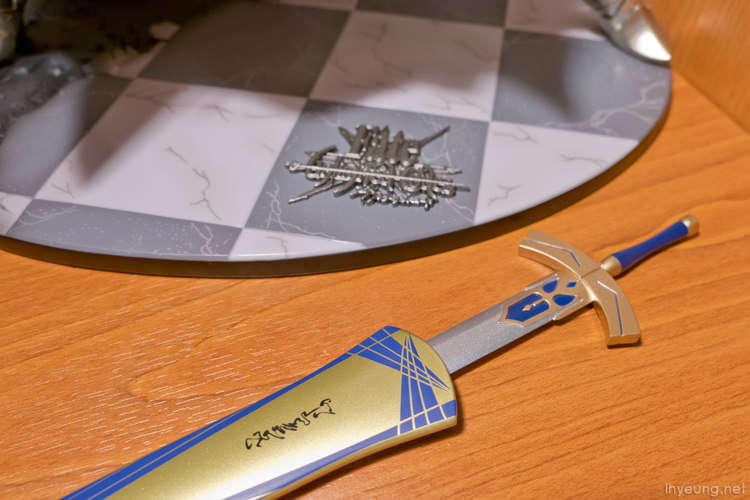 There was a bilingual leaflet explaining how you could remove part of the scabbard. Guess Fate Stay is popular enough overseas to translate it in English.
Wasn't really needed since there wasn't anything complex to attach to the figure.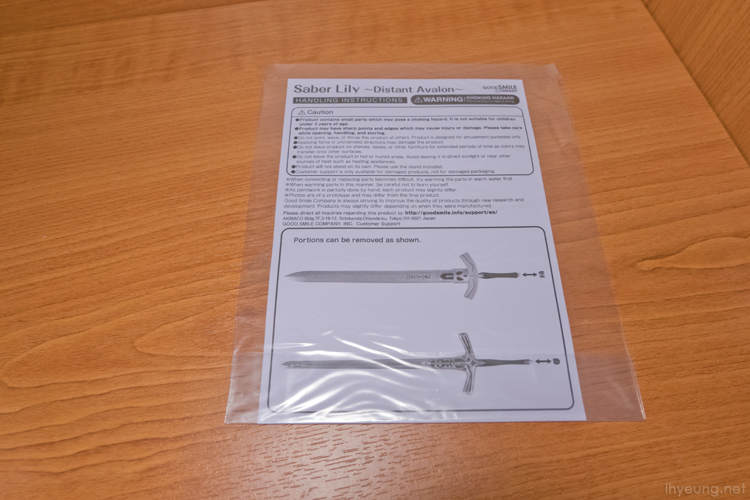 I thought the packaging was dented but it's actually supposed to be pressed in on both left and right edges.
Packaging features Good Smile's logo on the front along with Type-Moon's "TM" holographic sticker of approval underneath it.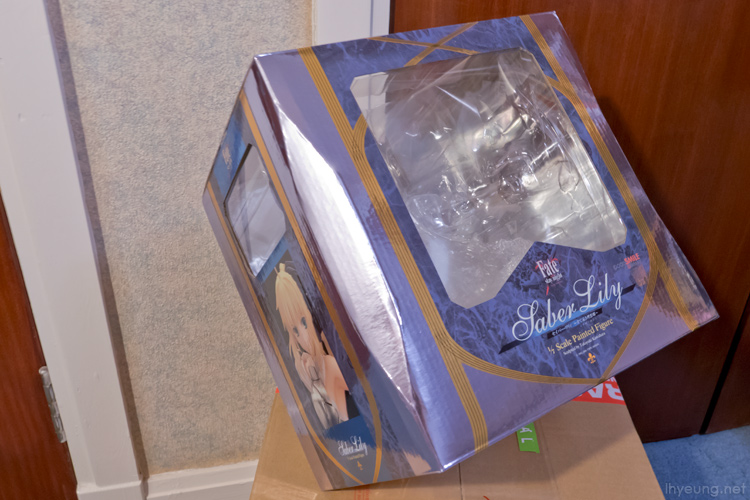 And on the back Hobby Japan's holographic stickers of approval just next to the recycling symbols.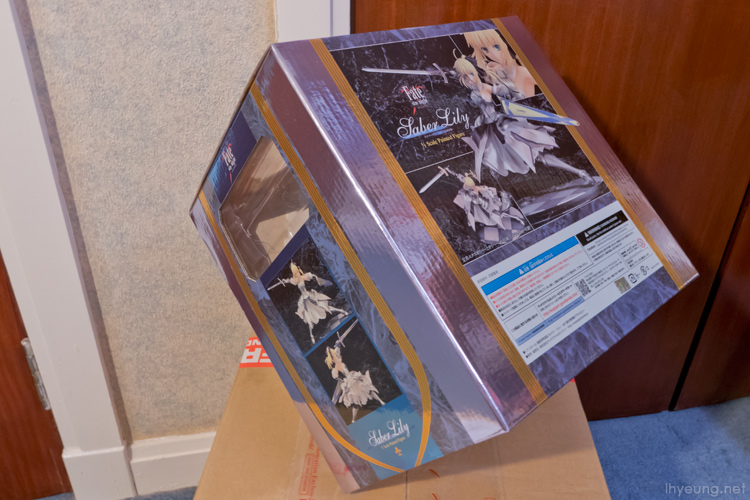 One problem I found with this figure is that you need to have it somewhere at eye-level. Otherwise it doesn't look very good because Saber is kind of looking downwards and not being to see her expression detracts from the overall pose.
I kind of wanted an original figure of Saber in her blue dress and armour but none of them looked very good so, this alternative version is good enough for now ^^