Garden of Sinners: Shiki Ryougi 1/8 Scale Figure, CN Version Review
Never really got round to watching Garden of Sinners (Kara no Kyoukai) until I came across this figure. I first saw this figure back in 2014 and was impressed by the detail on the kimono and obi belt. Not sure why the figure is being re-manufactured this year in 2018.
If you've never seen Garden of Sinners by Kinoko Nasu then you might know his other works such as the Fate series. I'm quite a fan of the Fate series too so I decided to watch it - interesting how they chose to adapt his short novels into a series of movies instead of a TV series like most adaptations. It's actually a lot more gruesome than Fate Stay... More of a horror show than an action show. Certainly not for someone looking for a happy, fun comedy. Yuki Kajiura's (probably best known for her music from the .//hack series) seems to work best with dark shows.
The title actually reminded me of another show called Kyoukai no Kanata (Beyond The Boundary) because of the similar sounding name. The similarities are minor though, both featuring a cursed heroine and another world that the average human can't see.
If you can get pass the gruesome murder scenes in Garden of Sinners then it's quite an intense series of short movies about trust and forgiveness. Feels very different to Fate//Stay Night but the main plot is fairly much the same. Definitely not for anyone looking for a happy show. Shiki isn't quite as elegant as she appears with this figure and doesn't really don the kimono until the epilogue but anyway...
Let's have a look at how this bootleg version of Kotobukiya's Shiki 1/8 scale figure measures up.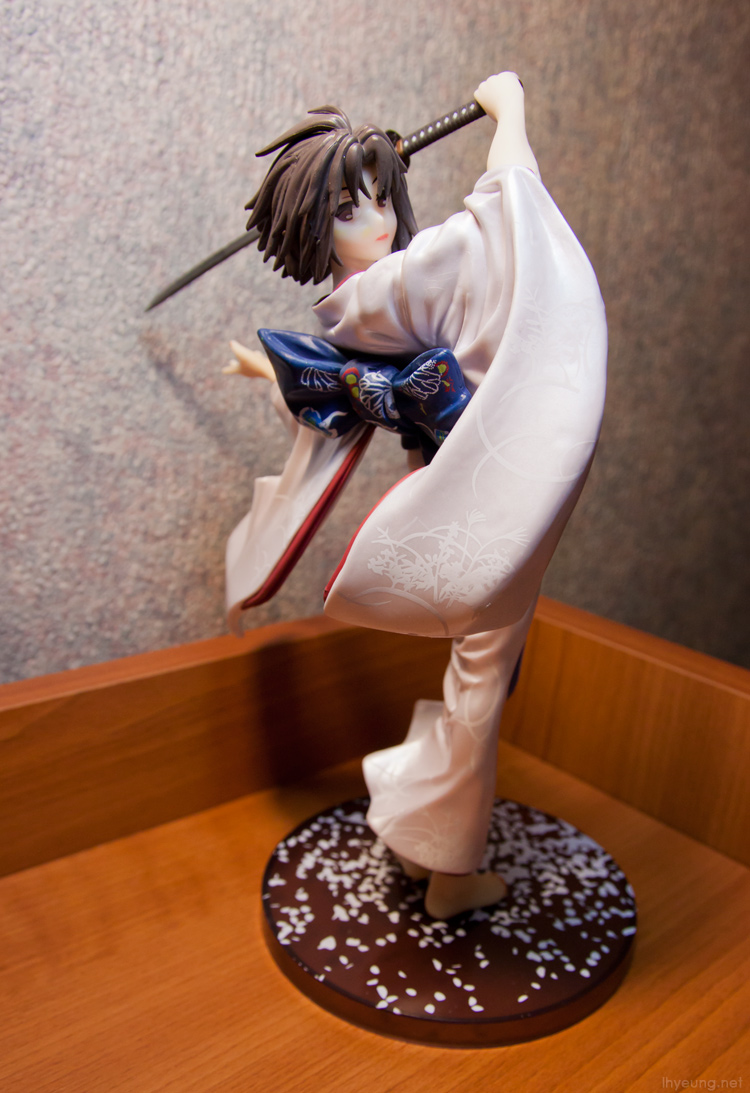 From afar, it looks quite good as with most bootlegs.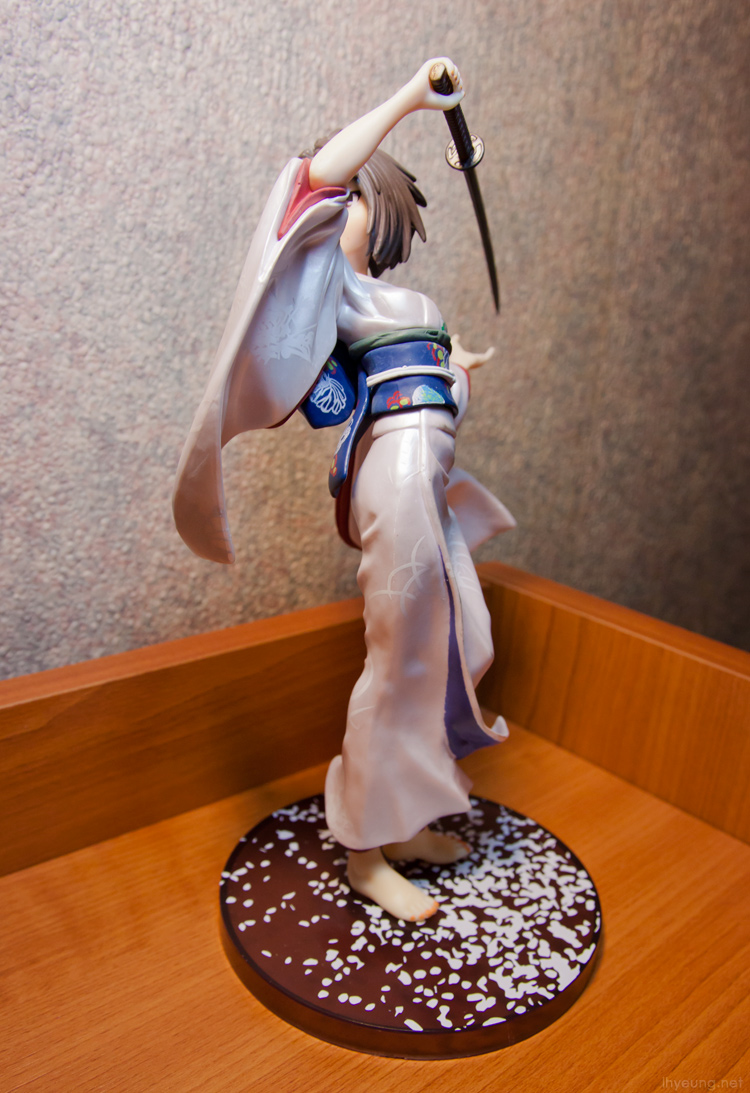 At 1/8 scale this figure is actually quite small and is about the size of a crane game prize figure. Smaller even at only 20cm tall which is correct since Shiki is 160cm tall.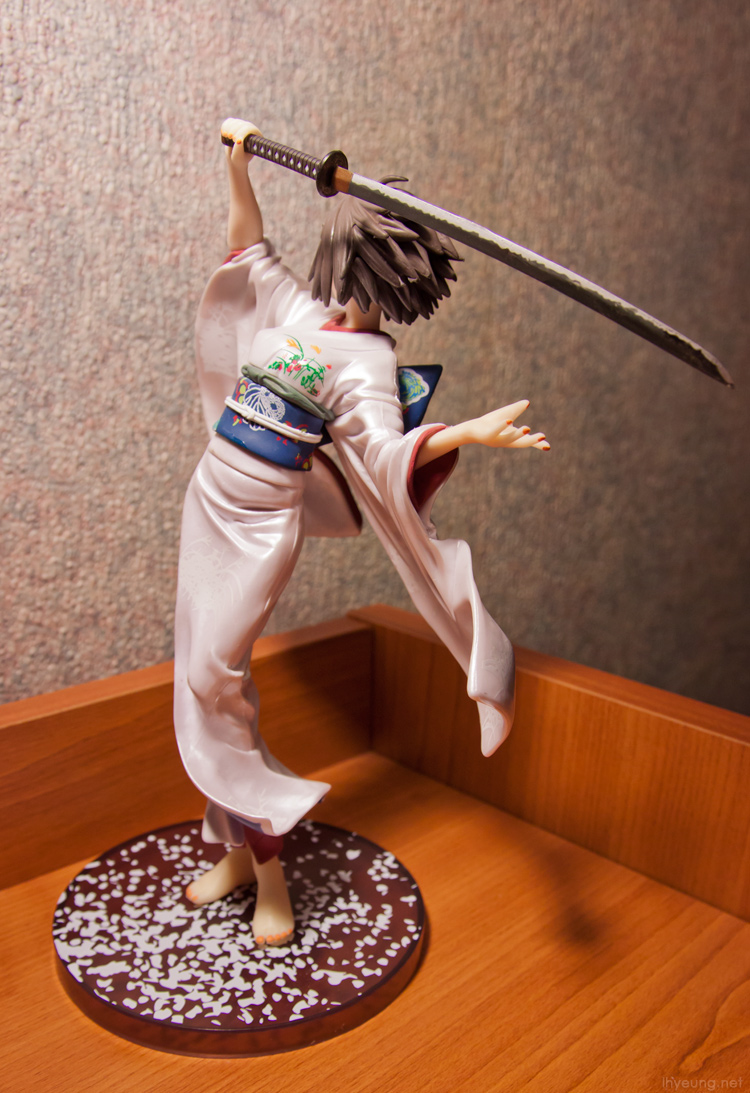 There's no assembly either because it's pre-attached to the base. Only separate part is the Kuji Kanesada blade that Shiki got during 5th movie, Paradox Spiral.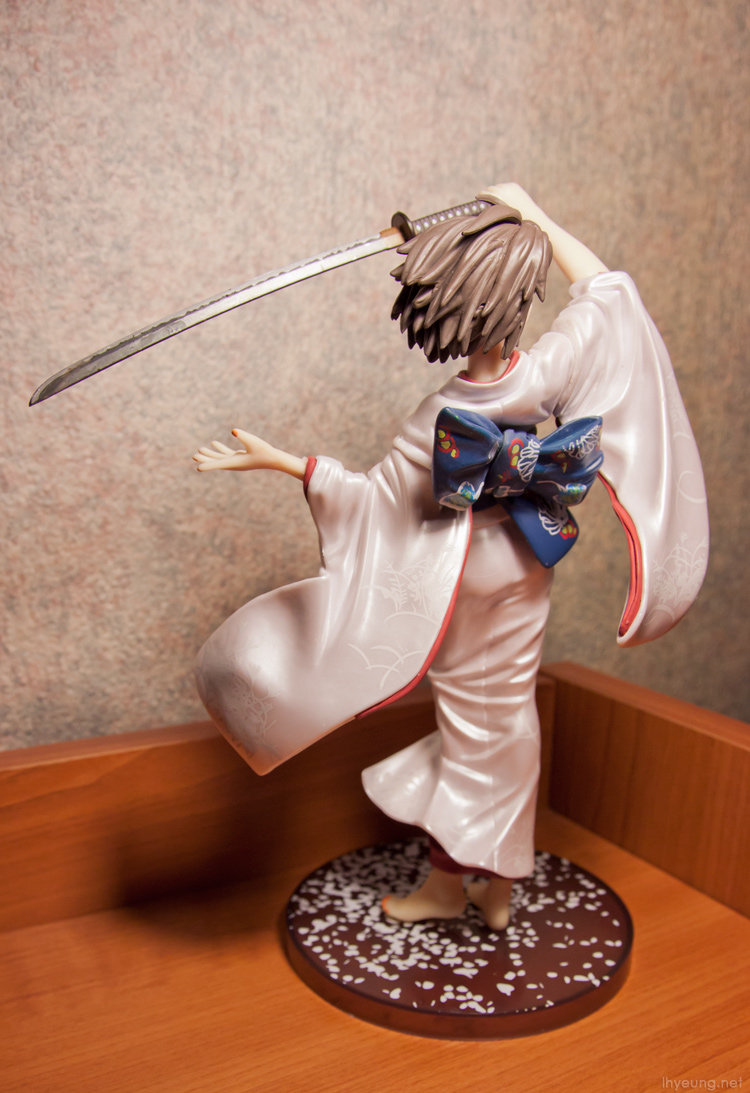 Up close, it's not quite so good looking. I think this is probably the worst bootleg figure I've come across so far.
The hair on the genuine figure actually isn't that great so it doesn't look much different here apart from being roughly cut. Facial expression more or less matches the real figure but there is actually some yellow paint on Shiki's face and some scratches.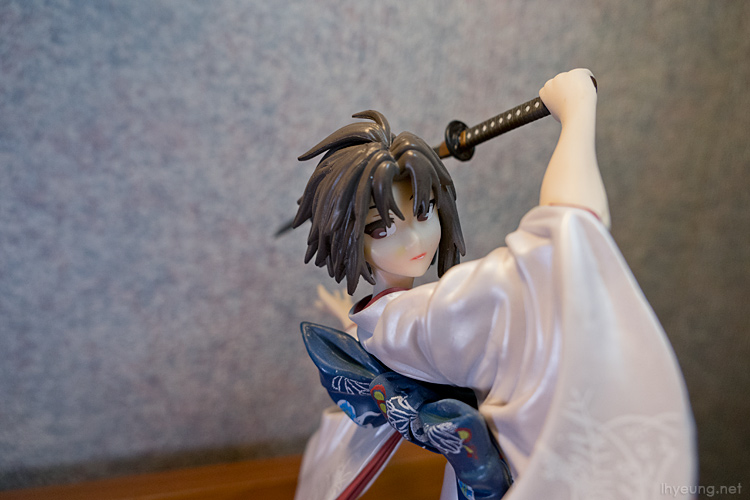 Her kimino's glossy painted instead of matte, colours are dull...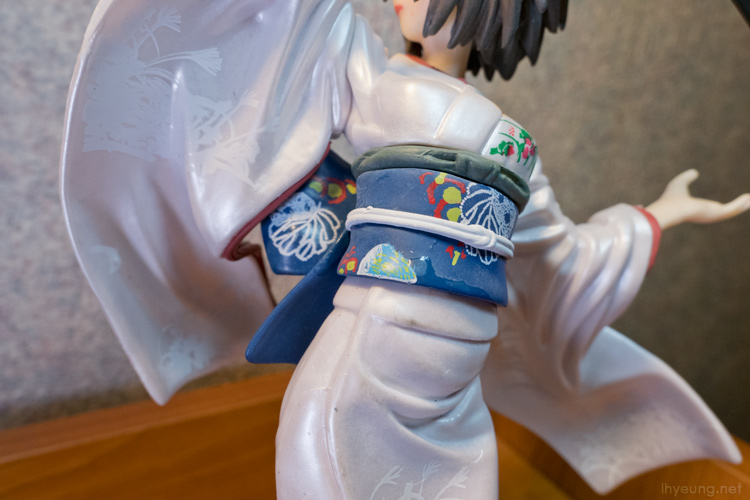 And you can see lots of glue spilled over on the obi belt.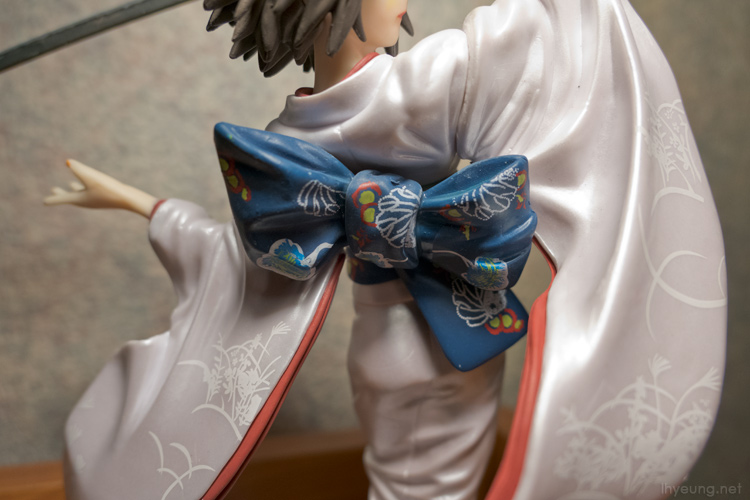 I think the only good part about this figure is the Kuji Kanesada blade because the handle is detailed even though the patterns aren't cut through like the real figure. Shame the blade itself has a considerable amount of paint scraped off towards the tip.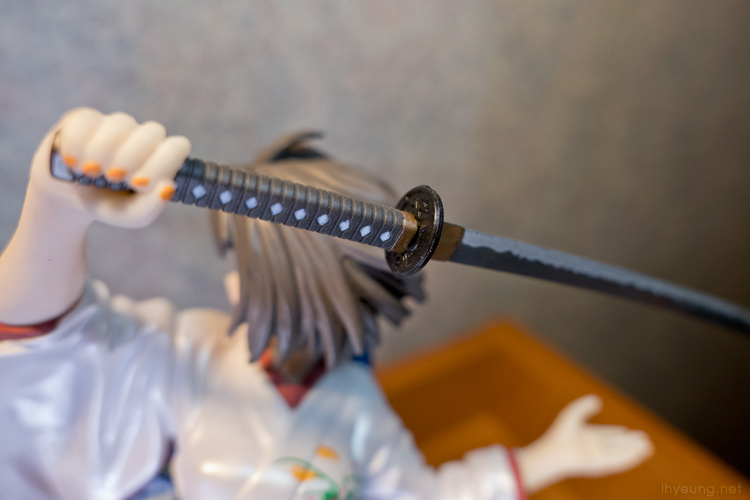 Well, I guess the base is good too and looks like the original with printed cherry blossom petals. Figure is also screwed into place via the feet so it stands at least.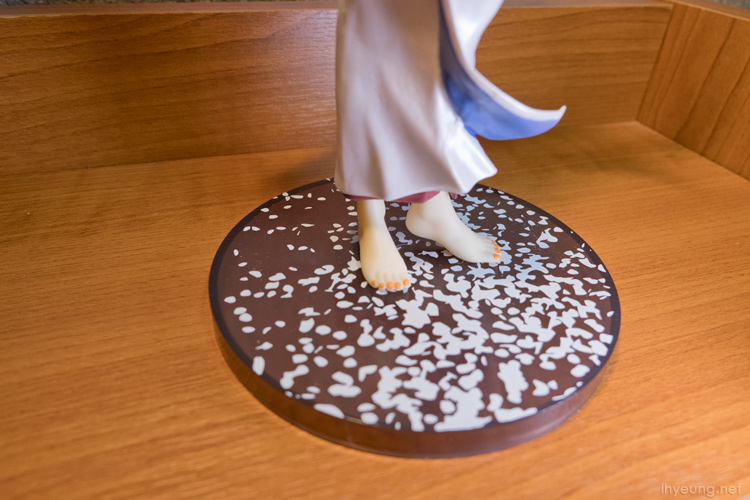 At a glance the box looks like the original but the top-right corner of the box is missing the Kodansha stamp of approval.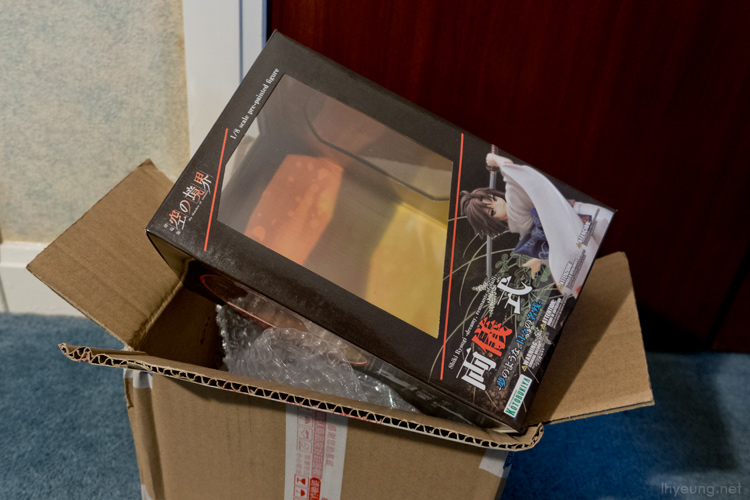 Photos of the genuine figure can be found on Akiba Photography and Hobby Holic.
Bootleg Characteristics
They will actually label the figure "China version".
Little specks of dirt all over the figure.
Very visible glue spilling off parts of the figure.
Terrible paint work, particularly on the obi belt around the kimono.
Should be able to see through the carving's on the Kuji Kanesada handle.
Crude sculpting i.e. lines and clothing creasings aren't as cleanly defined.
If you have the box, Kodansha's sticker of approval is missing from the top-right corner.