Triage X: Yuko Sagiri Darkness 1/7 Scale Figure, CN Version Review
Another figure from a series I haven't seen but I liked the femme fatale-like pose holding the katana with the dynamic flowing hair. Triage X is supposed to be about a vigilante organisation known as "Black Label" who bring justice to criminals who are out of reach from the law. Judging from the screenshots (pun intended) it's a fan service filled show with your mediocre story so probably won't watch it any time soon. Bit of fan service is OK but when a show is filled with it, it's just nasty to watch.
Anyway, let's have a look at this bootleg version of 15+ Only Orchidseed's Triage X: Yuko Sagiri "Ver. Darkness" (NSFW) 1/7 Scale figure that went for 12,980 Yen (£87) back in 2016 May is like.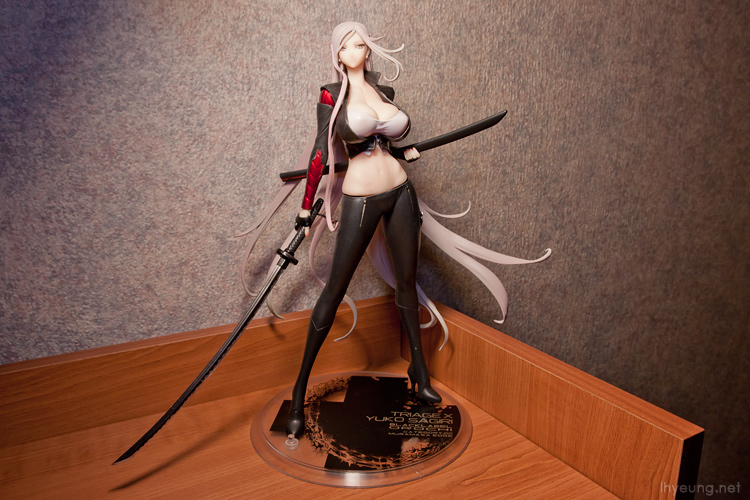 Figure comes in a lot of parts.
1x Head
1x Legs
1x Set of sleeved arms.
1x Set of shoulder pads.
1x Jacket
1x Topless torso.
1x Clothed torso.
1x Muramasa Edge Katana
1x Scabbard
1x Base
The long hair on the front is clearly a different colour from the rest of Yuko's hair and really stands out.It's supposed to be flowing outwards too like the rest of her hair.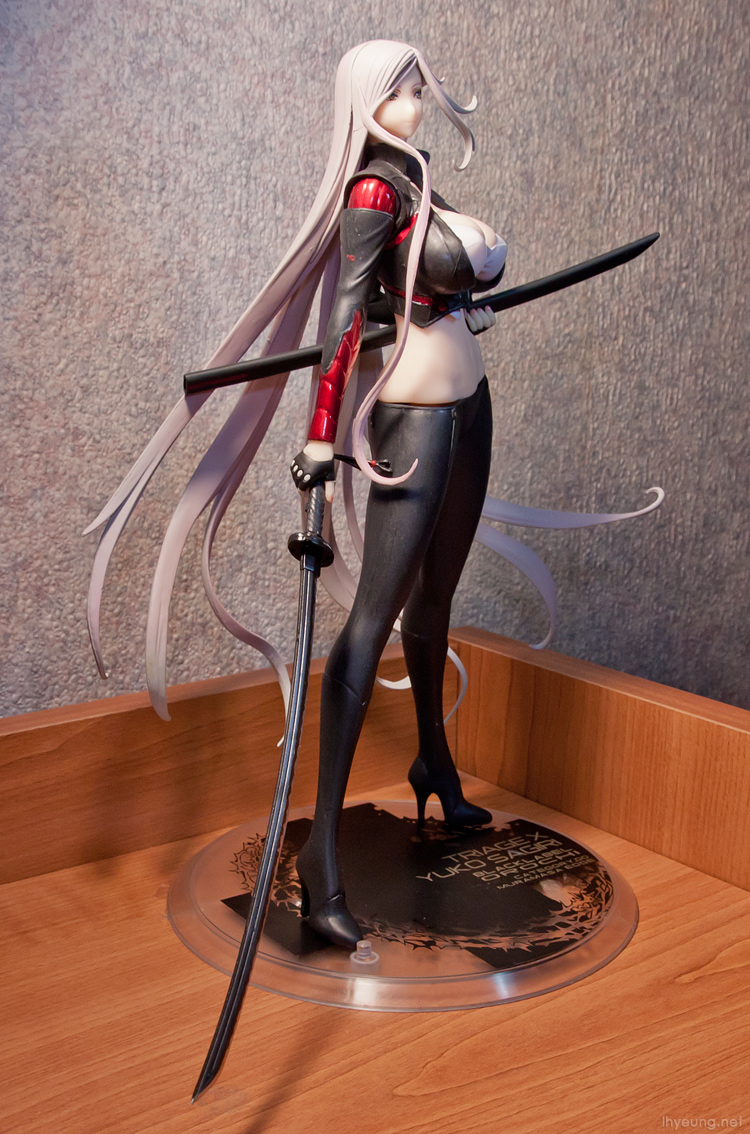 Other than that, this figure is actually quite well replicated. Nice dynamic hair flow and pose.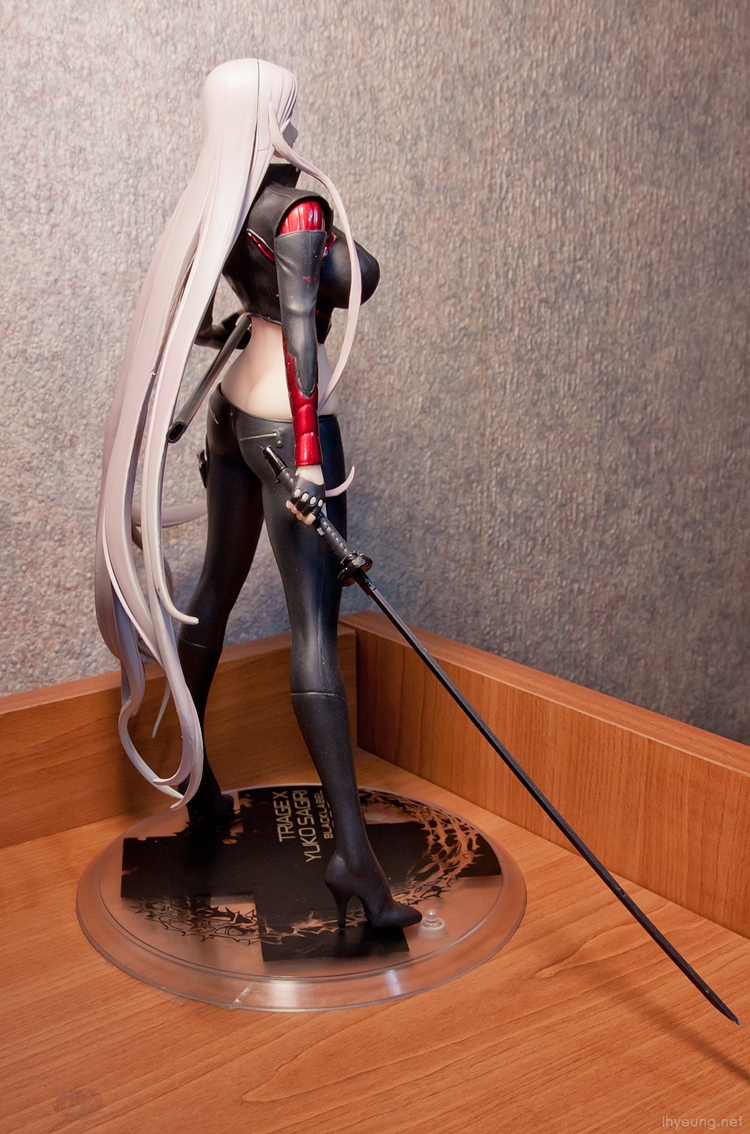 Yuko's character design is 175cm in height so the figure itself is approx 26cm in height including base. Thanks to the Katana and dramatic hair it's quite demanding in space taking up 28cm longest width wise.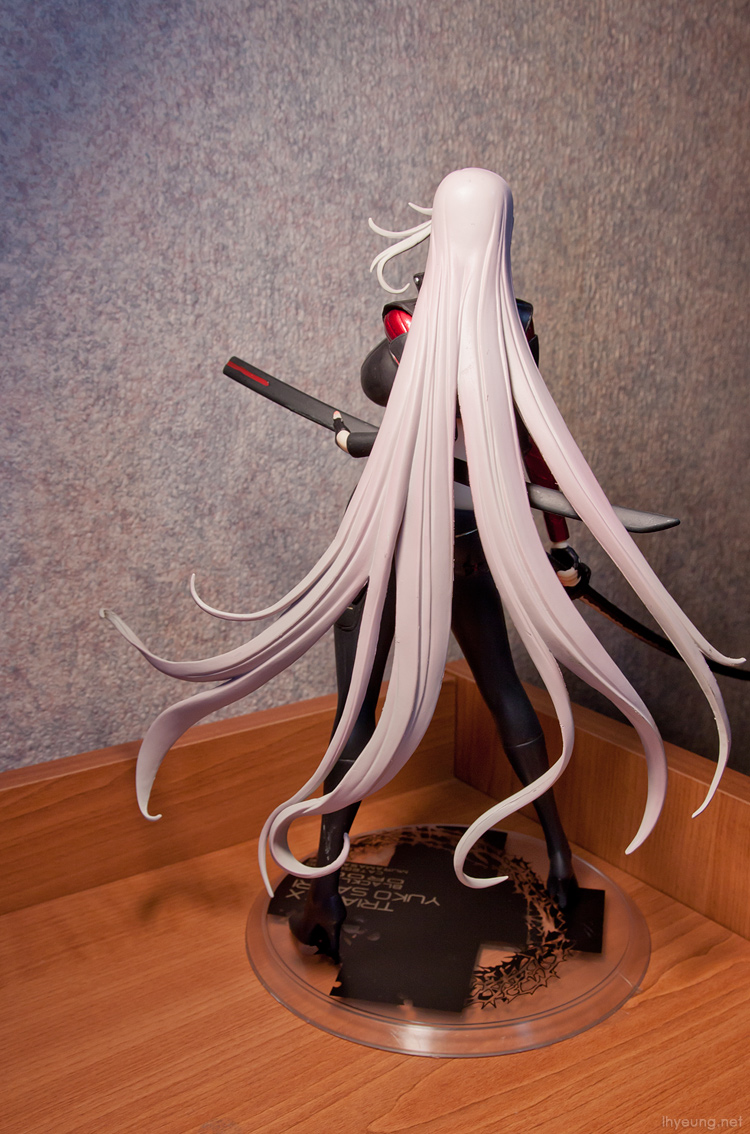 A Japanese femme fatale can't be without Kunais which you can see on her thigh.
I actually wanted the white version which is what Yuko wears in the show but the bootleg version of it looked as if her jacket didn't fit. If I knew the removeable garments on scale figures were actually flexible and weren't just clipped onto the figures, I would have just gone for the white version.
The figure arrives with protective film around the torso so you'll have to remove her jacket to get it off and it's not easy... It's flexible but you still have to remove both arms and the shoulder pads. Then you have to pry quite hard around the shoulders to slip it off from each side.
Have fun trying to put the jacket back on afterwards.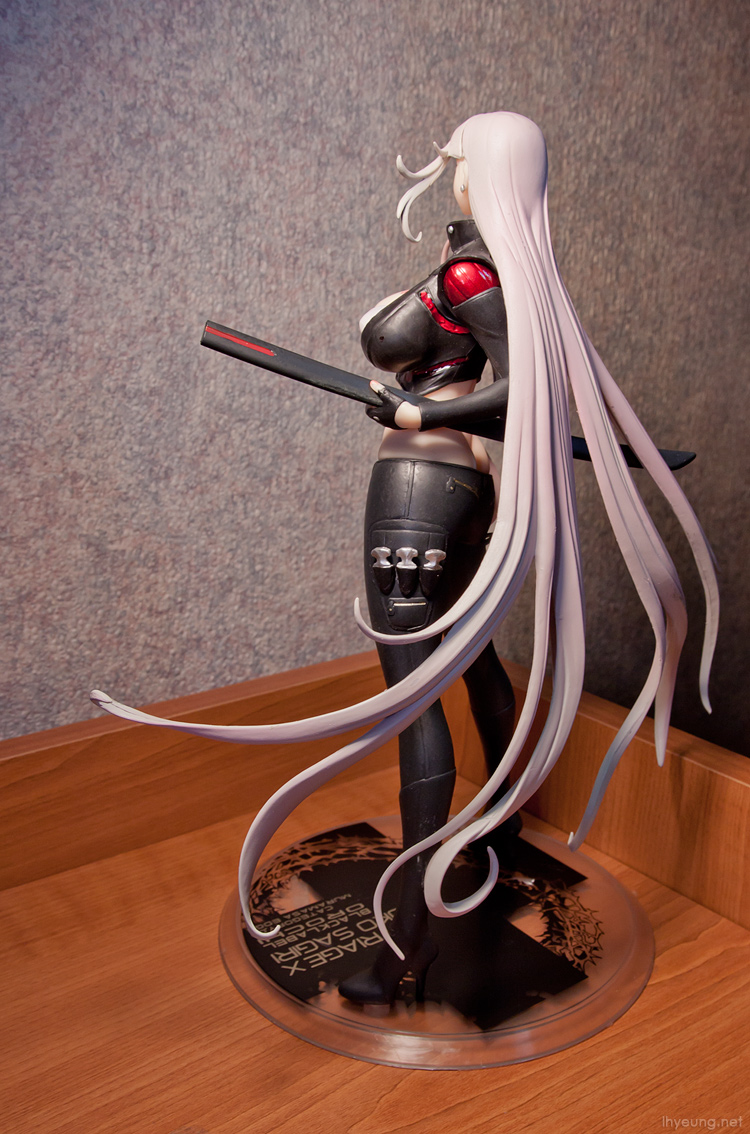 There was actually no little specs of dirt on this bootleg compared ot others I've come across. Or maybe because she's in black and they're not as obvious.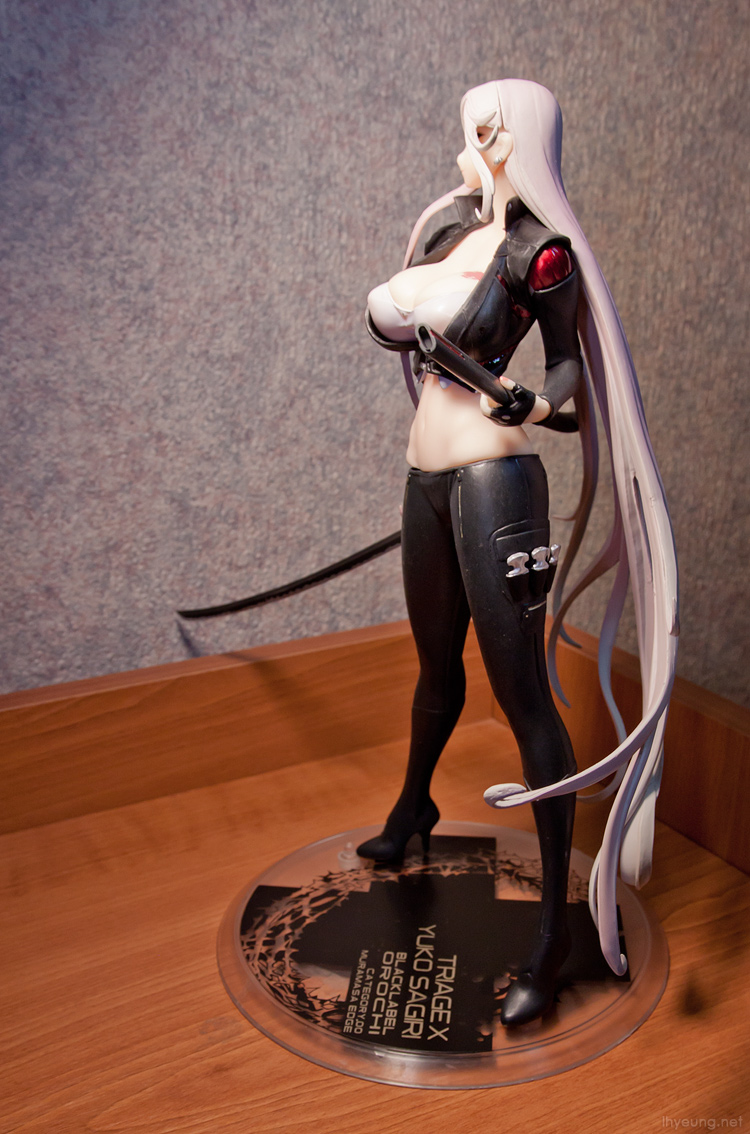 She looks like Yuko and resembles the original facial expression so that's good. Most of the time the faces are a little off but it seems to match well here.
You can see the Black Label "Triage X" tattoo on her left breast hasn't been missed out. The jacket doesn't quite fit her properly as you can see from the plastic joints sticking out underneath her white tank top.
Ignoring this is a bootleg figure, it's a really nice scale figure and I think Satoshi Ishiyama did a good job of sculpting it. Props don't actually clip onto the hands. The scabbard actually balances against her hair in the back while the Orochi just balances on the other hand.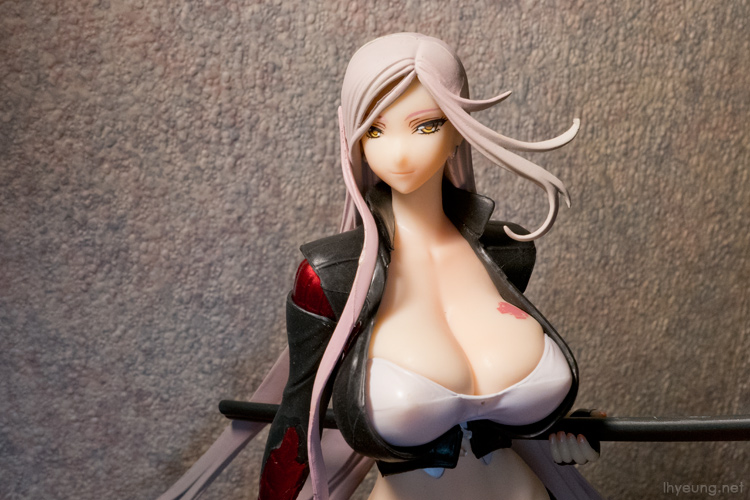 Her hips aren't flush with the legs in this bootleg version of the figure but not really noticeable from afar.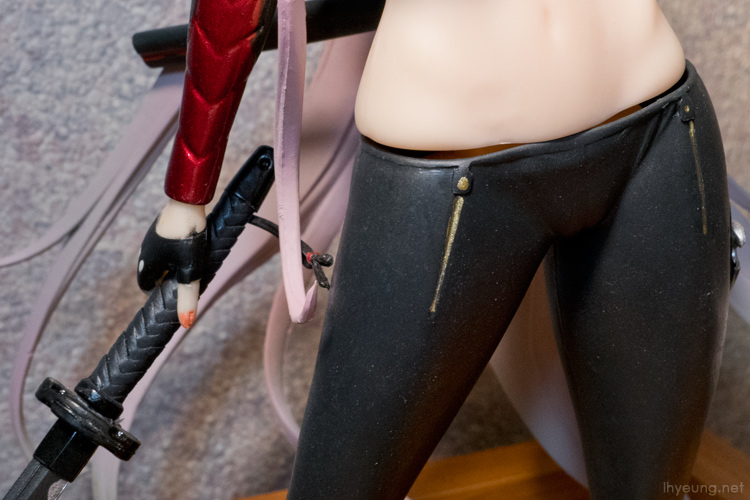 Both the Muramasa Edge and scabbard looks great from distance as usual but on closer look... A lot the paint has actually come off. And no, you can't actually put the Katana into the scabbard.
That said, the rest of the bootleg paint job seems to be really good because the colours seem to be correct.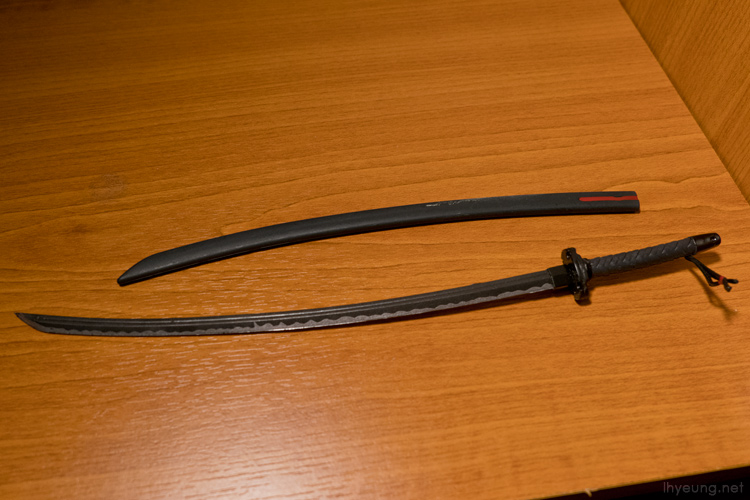 Base matches the original. Feet doesn't fit on the base properly as usual but still manages to stand up.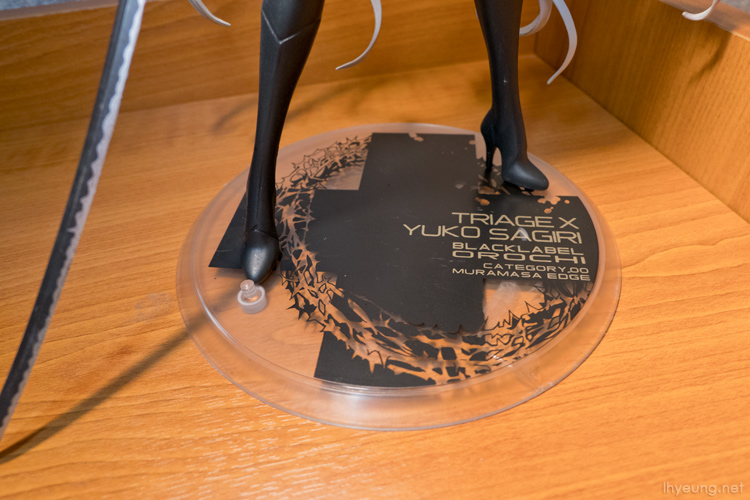 Box itself is really nice too with two different illustrations of Yuko. Some of you might notice some resemblance to the characters from Highschool of The Dead and you'd be correct because it's the same illustrator, Shouji Sato.
There are the usual telltale signs the figure's a bootleg. Most obvious one maybe it's using the wrong illustration of Yuko. Should be the black jacket version, not white. Bottom left corner is also missing your usual sticker of approval, in this case Kadokawa's brand sticker which features a blue phoenix on it.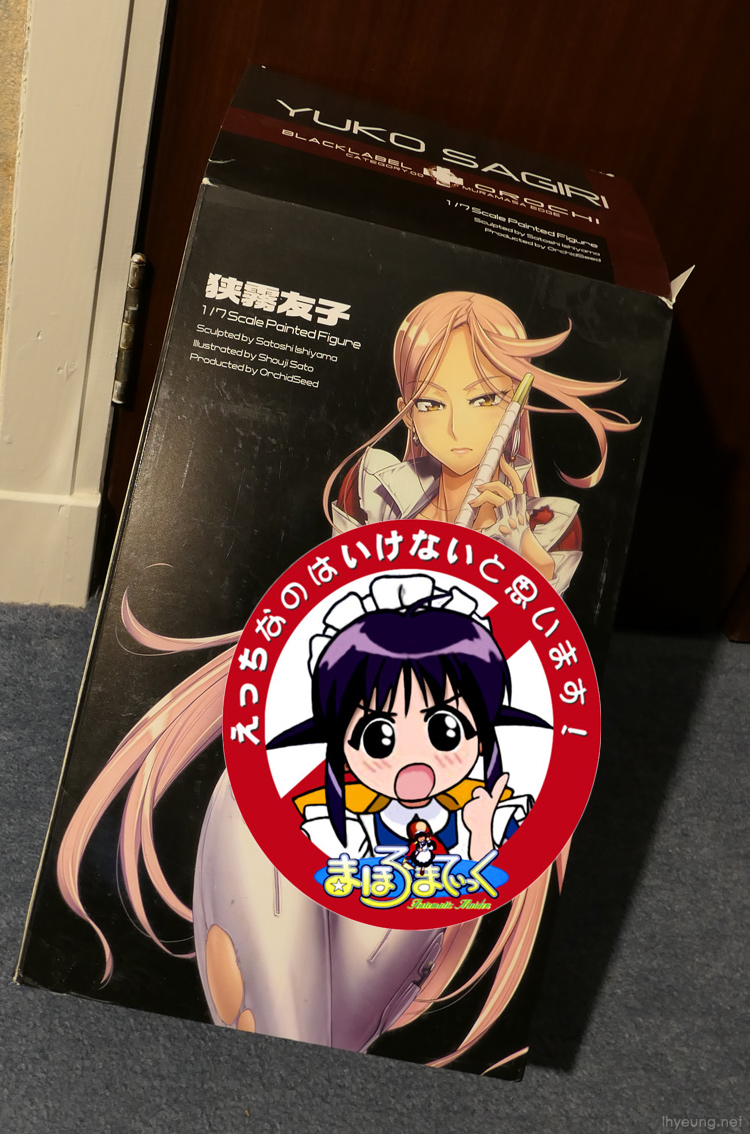 Box has a magnetic panel you can open to reveal the figure.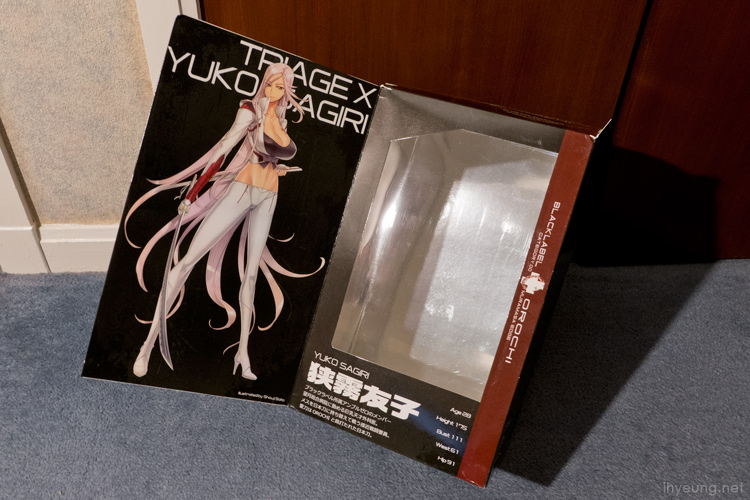 Photos of the genuine figure can be found on EroFigure Fantasy Chronicles and Crimson Hayate's Blog, NSFW as you'll probably have figured by now.
Bootleg Characteristics
They will actually label the figure "China version".
Only one feet will fit onto the base but still stands fortunately...
Long strand of hair on the front is a different colour and clearly stands out.
Front long strand of hair is supposed to be curling outwards.
Hips aren't flush with the legs.
Paint flaking off the Katana and scabbard.
Packaging features an illustration of the white version of the figure instead of dark.
Packaging missing Kadokawa approval sticker on bottom left corner.