Doraemon 2010 Movie, Nobita's Great Ocean Battle of the Mermaids
Celebrating Doraemon's 30th anniversary this year is another annual feature length animation "Nobita no Ningyo Taikaisen". Taking a break from the re-makes we see Doraemon, Nobita and friends meeting an underwater race that as usual, starts off another adventure that reminds us to take good care of nature.
The Japanese DVD is out for rent now although I'm not sure when the official release date is. Ending theme song is "Kaeru Basho [Home]" by Thelma Aoyama.
Here's an updated post with a quick summary of the movie so be warned - Spoilers ahead!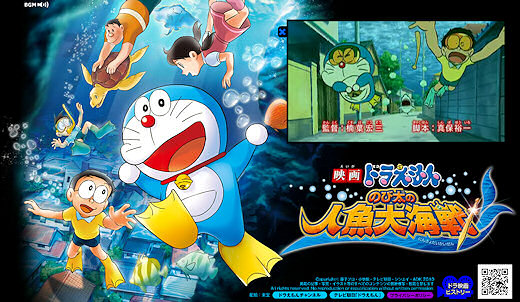 Suneo is showing off again, this time about how he's been going scuba diving and swimming with ocean life. Of course, Nobita is jealous as usual and asks Doraemon for help. Doraemon pulls out an ocean simulator that lets anyone wearing the goggles to actually simulate diving. They leave the machine pumping water for the night and then go around town scattering some fish food, ready to invite some real ocean life to take pictures with and brag about.

After a fun night out, the next morning they find a girl who turns out to be Princess Sofia of the Aquarians. She got lost through one of the portals Doraemon had set up but was amazed at the surface world. After a tour and meeting Nobita's friends, she explains that her people migrated from Planet Aqua to Earth 5000 years ago - about the time when stories about mermaids first emerged on Earth. Now they live quietly in the deep seas.

When she decides to return to the palace, Nobita and his friends join her with some help of Doraemon's gadgets. On their way back, they are attacked and are mistaken as kidnappers. Shizuka manages to hide but she is abducted by the Aquarian's enemy, the Kaiges who managed to track them down, determined to get their hands on the legendary sword.

After Sofia clears up the misunderstanding, they have an audience with the queen Ordeen who tells them how their fight with the Kaige had made their Planet Aqua uninhabitable. A message arrives from the Kaige demanding they hand over the sword in exchange for Shizuka who was being held hostage.

Unable to decipher the clue they had found, they didn't know the whereabouts of the real sword so they decide to create a decoy. There was little time left before the effects of the underwater gun was going to expire. They rescue her just in time and a fight breaks out. As Sofia prays for help, the sword reveals itself and the Kaige's leader Buikin obtains the power, making quick work of Sofia's army.

After luring him out of the water, Sofia and the others manage to trap Buikin using Doraemon's simulator. In the process, they find out the sword helps clear up polluted water and Sofia is happy they can return home to use it on their home planet. The heroes are welcomed back with cheers in the kingdom but they Nobita and his friends realise they've away for too long.
With that, they say farewell and take the time machine back to before they met Sofia, ready to return to their everyday lives and wondering if they will ever meet again.
Thoughts
Not much to say on this one other than it's better than all the talking animal scenarios. The modern animation looks as great as the TV series remakes so far and there's plenty of humour... They didn't seem to spend much time presenting the Aquarian Kingdom like they usually do with past movies.
Being used to watching the Cantonese dubbed version of the show, I was pretty surprised when I came round to watching the Japanese version and found there were always some kind of prankful upskirt shot for Shizuka even though it's a children's show. It will be interesting to see if they cut out the scene where the boys are waiting in the bathroom to catch a glimpse of the girls in the HK version of the movie since it would be considered bad influence.
I guess the Japanese are more open minded.