Decided to pick up a new DAP because my old Meizu Mini Player's down to less than an hour's worth of battery life left per charge and, I really didn't want to use my mobile phone as a music player now that I know more about sound quality.
This time I decided to go for the Cowon iAudio 9 since I've read Cowon's players produce the best sound signals and it supports lossless formats. So that should give me all the things needed for a good audio experience - good quality source, signal and listening gear.
The player came packaged in a nice sturdy acrylic box good enough for displaying. Talk about creative packaging...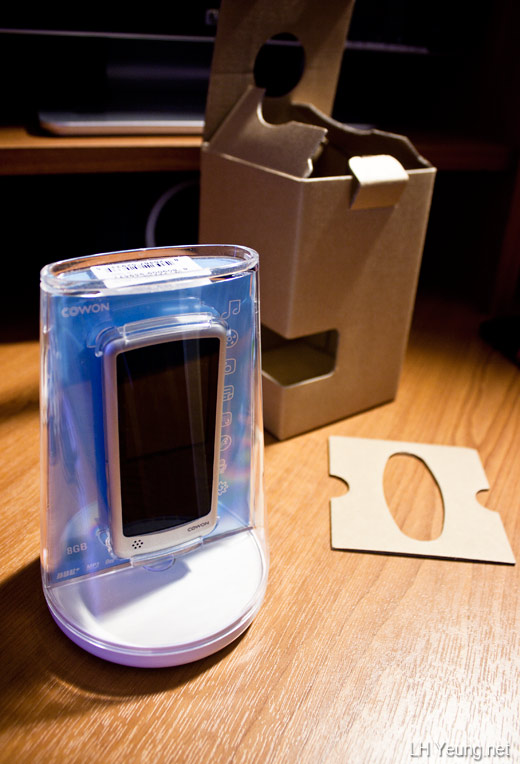 Packaging and Contents
It's suggested you can turn it upside down and use it as a holder for pens or even plants! So instead of simply throwing it into the plastic recycle bin, it's got some other practical uses in your room.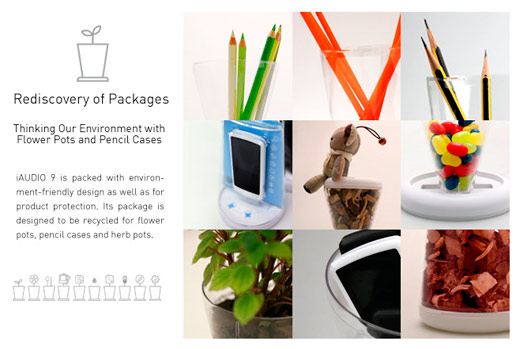 Packaging also comes with a proprietary USB cable which means if you lose the cable, have fun trying to find a replacement to connect to the player with but, I think it's a small trade-off for sound quality. There's also a pair of earphones which I won't be using.
Pity the mini CD isn't inside a sleeve although you could always download the e-manual off the website. You get a copy of Cowon's MediaCentre JetAudio software if you need a digital music manager but, Winamp's been serving me fine.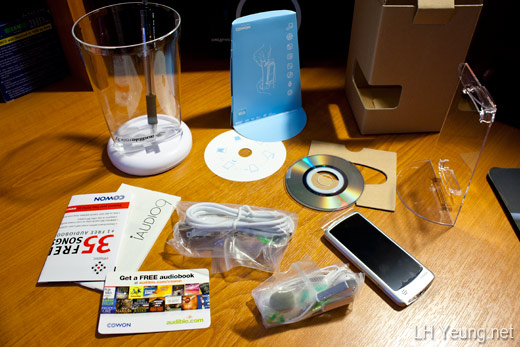 Speaking of the manual... The quick start guide uses tiny fonts!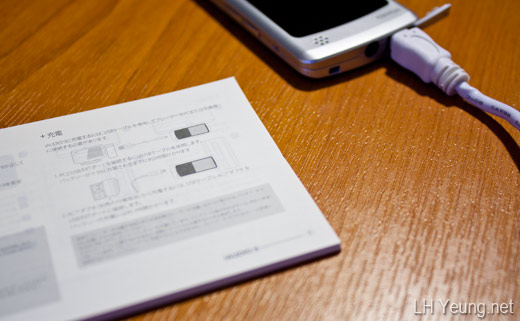 Design
The player itself is slightly longer than the Meizu and has a plastic body instead of a metal one. Smaller and thinner than my mobile. As you can see, it has a mono speaker if you really want to share your music (or maybe even videos) with friends and also has TV output although you have to buy the cable separately.
A side volume switch with the mic next to it.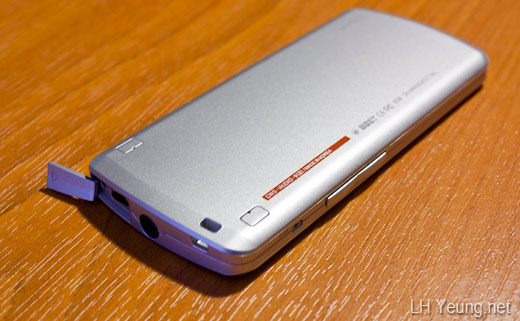 Red power on slider which also acts as a lock so you don't accidentally press anything while the player's in your pocket.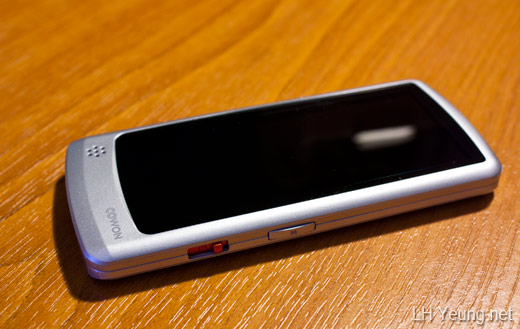 First thing with electronics that run off batteries is to charge it of course. In this case it took 2 hours to charge and claims to offer 29 hours of battery life in return but playing back a mix of lossless FLAC and lossy MP3s only gave 15 hours or so at 38% volume.
I'm presuming the difference is because I mainly listen to lossless music and decoding those files tend to eat up more battery life.
It's great to see this player has folder support so you simply need to have all the songs you want to listen to in a single folder... However, once you upgrade to v1.0.14, you can't add folders to your favourites on the fly. There is also playlist support of course although you must switch from mass storage to media mode.
The black touch pad lights up with white controls once you turn it on and when you turn it on for the first time you must set the language. As you slide your finger along, the lights where your finger on is turned off too.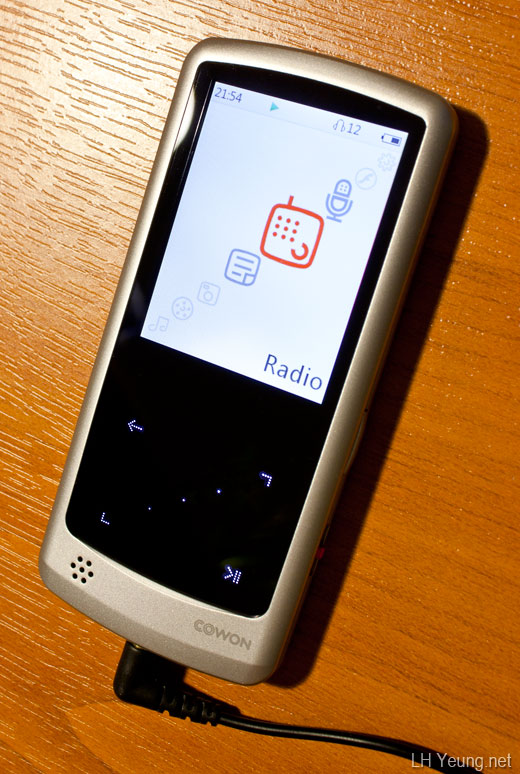 By default, the 320x240 LCD screen is on the second brightest and was a bit too bright for my eyes so I had to turn it down a few levels. It also has a very short auto-shutdown time of 1 minute.
Navigation is pretty straight forward. Once you choose music, you can select a song from a folder and it'll play all songs from there or, you selectively bookmark items.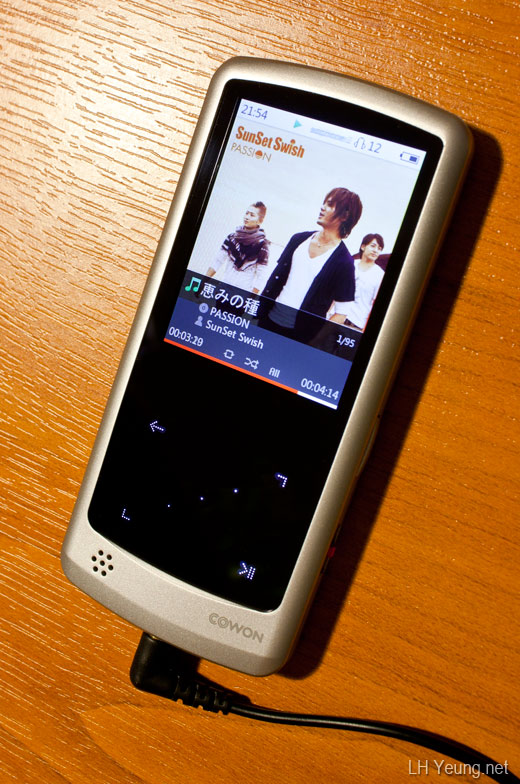 Holding down the play button opens up a menu to choose repeat settings and change the equaliser although moving between choices in the square, diagonal grid takes some getting used to. Holding down the menu button changes the theme so that you have a large analogue clock ticking away on the home screen.
Sound Quality
As expected, the pre-packaged earphones don't sound very sharp and vibrant, lacks bass even after a short "burn-in" session.
However, even after plugging in my Sony earphones, the sound quality with lossless files sounded less crisp than my Meizu. Turning on the "BBE" feature and adjusting the level, which claims to refine the sound quality, makes it slightly better but still not quite close to the Meizu.
One thing for sure is that the bass is really good if you have the right earphones/headphones and your digital music files are of decent quality. You can feel the bass in your ear as if it's live such as when the guitar player's messing around with the whammy bar.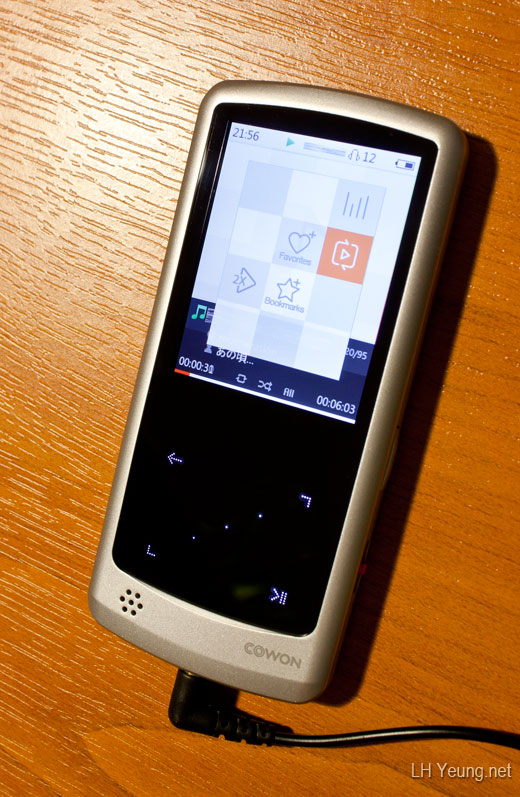 Other interesting features besides the 5 band equaliser is "MP Enhance" which claims to restore the sounds lost in lossy music such as MP3s, "Mach3Bass" for deeper sounds (if you have the earphones/headphones for it) and "3D Surround".
As  for the mini built-in speaker, don't expect anything better than mobile phones. It's nice to see it stores the volume setting separately though. By default, music plays through it if you don't have anything plugged in although you can turn it off completely.
Radio again, performs fairly poorly. There's quite a bit of static and the auto-tune is slow. Both my mobile and Meizu can do better. Voice recording wise, it's fairly much the same lacking any filtering and sensitivity so that if you rub your fingers along the player or pressing buttons, it will record those sounds.
Summary
The Cowon iAudio 9 doesn't quite produce the sound quality I was expecting from all the good reviews I read but enabling its "BBE+" technology does bring it fairly close. One thing for certain is that it produces some great bass so if you enjoy music with thumping beats or wind instruments such as the saxophone, you'll enjoy this as long as you have better earphones/headphones. It looks pretty good with its light up controls and a single charge should keep you going for over a week for commuting trips.
Good
If you like bass then you'll like the sound this player can produce.
Support for lossy and lossless files.
Fairly long battery life playing back both lossy, lossless files.
Mass storage mode support.
No need to refresh library every time new files are added.
Lots of customisable and flexible settings.
Good looking design with light up controls.
Creative packaging!
Bad
Sound quality not as crisp as the Meizu SL.
Proprietary USB cable.
Interface slightly cumbersome.
Average bundled earphones with no bass.
Slow radio tuner, average reception.
Fairly poor microphone.