So, how have those of you in NA being enjoying the localised version of Persona 3 Portable? I think they did a good job with the original game so I presume they've done the same with the portable version.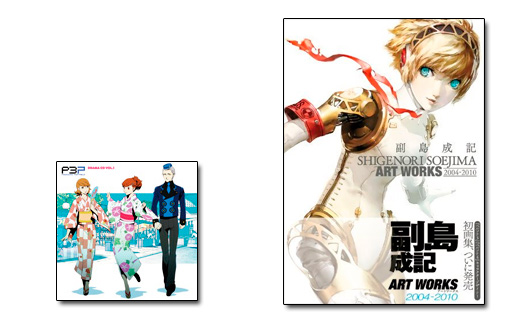 Anyway, just wanted to let you Persona fans know the first P3P Drama CD is due out in August 28th this month, featuring all the new characters from the latest version of P3 and is available at the usual place.
It is summer and the female members of the S.E.E.S. are out in their Yukatas to go to the summer festival at Nagashima Shrine. Full of excitement for the event, there's enough girls talk to make flowers bloom. On the other hand, the guys aren't interested at all but when they take Koromaru out for a walk during the night, they come across the girls.
And while we're on the subject of Persona, you might want to take a look at Shigenori Soejima's recently released 152 page, A4-sized artbook over at Kita-san's blog. He was responsible for the character designs for the recent Persona games (i.e. P3 and P4). The book contains all his illustrations including those from older works between 2004-2010 such as Stella Deus.
The artbook is available from Play-Asia and judging by the contents page there should be the following...
Atlus Game Art - 4 pages
Persona 3 - 30 pages
Persona 3 FES - 12 pages
Persona 4 - 32 pages
Stella Deus - 18 pages
Other Works - 17 pages
Very nice Aegis illustration on the cover and I'm wondering if Theodore has a date or something?