Blog Up and Running Again
Finally my blog is back and running again after almost a whole week of being down. My web host wasn't much help as with my previous host - both blaming bad coding on my site or even more ridiculously, my computer.
"Websites run off a server which in this case is located with your company. How can it be my computer?" No response from their support staff of course.
Before I started paying for private hosting, I noticed that nearly all web hosting ratings were brought down because the reviewers complained that when things go wrong, the hosting company's support isn't much help. I thought it was a bit harsh of the reviewers at first but now I'm beginning to think it's true.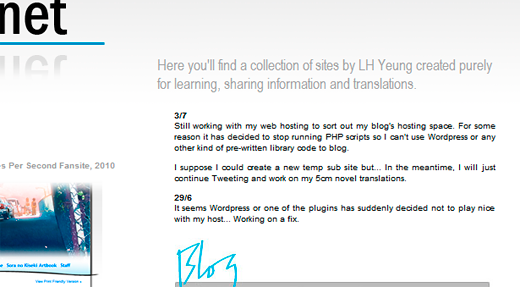 Anyway, I don't know what happened but this sub site suddenly decided to stop working a few days ago and only displayed everything as a blank page. All I was doing was writing a post as usual. And to make matters worse, there were no error messages in the logs to help out and the web host stopped running any kind of PHP script too. They all came up as blank pages only and only old HTML was still working. This meant even when I tried to re-install the Wordpress scripts that power my blog, it still wouldn't work at all.
In the end, I managed to come up with my own solution. I...
Reset my hosting space.
Exported the wp_posts, wp_comments and wp_terms tables from the database.
Dropped (i.e. deleted) all the tables from the database.
Re-installed Wordpress.
Imported all the tables to restore my blog's posts, categories, comments and tags.
I really should just spend time developing my own CMS so at least then I know my own code instead of being overly-dependant on pre-written material.
In the meantime, lets hope I don't have to do this all over again even though I've made a habit of backing up everything on the hosting space.