Attakoreda, Look Around A 3D World on DSi ::
Something interesting is coming out for the DSi in a few days in Japan - Rittai Kakushi E, Attakoreda (Hidden 3D Pictures, Attakoreda).
The 500 point DS Ware game due on March 3rd involves players helping Lettermille the rabbit look for hidden alphabets and pictures then match them up. A 3D picture book basically but the interesting thing is, it makes use of head tracking technology so instead of controlling a virtual camera or character, the player tilts the DSi slowly to look around a 3D diorama!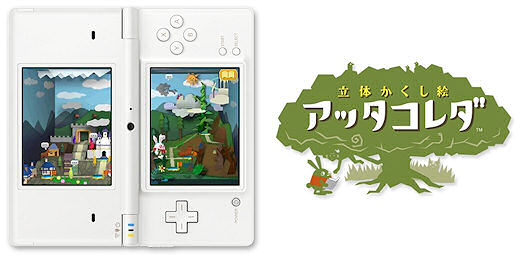 Looks very impressive and I think it might help keep Japanese children's attention to learn new English words. Consequently, if you dissect the title "Attakoreda" it means, "Here it is!" which I'm sure those of you who watch plenty of subbed Japanese programmes will have worked out - Atta! Kore da!