Famitsu's Second Exclusive P3P Trailer
Yup, they're not going to let the P3P hype stop... We've got the weekly Monday official website updates, weekly Famitsu magazine coverage and the director's blog. So basically, we get to hear about P3P every few days ^^;
Anyway, Famitsu has a new exclusive trailer up for the game showing another multi-branching dialogue situation. This time at the beach.
Junpei shows his admiration towards the ladies saying that he just can't get enough of seeing their fine slender bodies that he usually doesn't get to see - Including the heroine and the player has the following answers to choose from...
Thanks.
You creepy old man!
You're disgusting!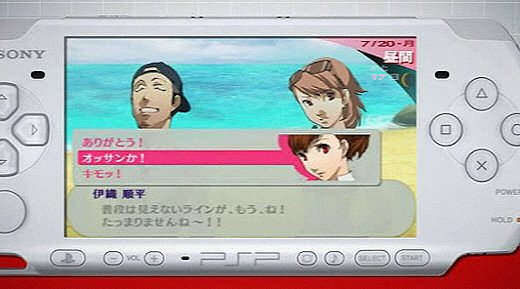 And other points noticed from the screens are...
Aegis still feels happy when being together with the MC even when it's the Heroine.
While at the Kyoto outting, Mitsuru wants to try out the "Special Strawberry Parfait" with the Heroine that Yukari recommended.
A new "Vision Quest Room" revealing one of the doors leads to the Emperor and Empress. Maybe it's boss rush related.
New character Saori's arcana is the Hermit which means maybe she'll replace Maya, the online chat character the Hero talks to.
It appears they've added part time jobs that were available in P4.
All this at the cost of downgrading the game's visual presentation. To be honest, I'm kind of wondering why Atlus didn't decide to release the game on two UMDs like what Falcom did with their enhanced port of Legend of Heroes VI SC. Then they would have more room to work with - One disc for the Hero and one for the Heroine.
P3Pは始めからUMD2枚で開発したほうが良かったかな?「英雄伝説VI:SC」のように。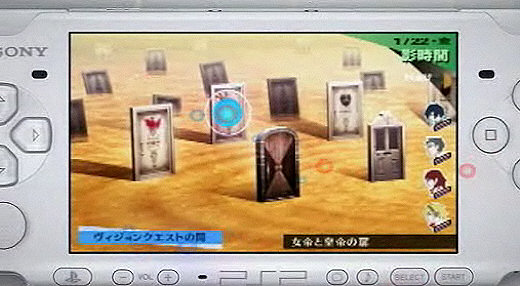 Aside from that, it looks like Lotus Juice is rapping with the new singer, Mayumi Fujita. Want to hear more of the new tracks already!
Well, the Persona Music Live 2009 happens this Saturday and hopefully someone will take some short video clips of the event while they're there besides Famitsu. Anyone who wants to see footage of last year's concert, don't forget the DVD that just got released on Wednesday!
Then again, it looks like people have ripped the main songs onto YouTube already.