Top 10 Anime Characters in September's Newtype
Just something I randomly came by again while exploring the "spiritual world" of the internet - The top 10 characters in September's issue of the Newtype magazine.
For the top ten male characters, we have...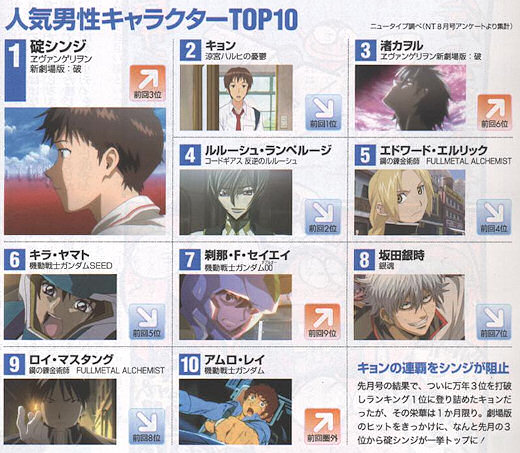 Ikari Shinji, Evangelion 2.0
Kyon, Melancholy of Haruhi Suzumiya
Nagisa Kaworu, Evangelion 2.0
Lelouch Lamperouge, Code Geass
Edward Elric, Full Metal Alchemist
Kira Yamato, Gundam SEED
Setsuna F Seiei, Gundam 00
Gintoki Sakada, Gintama
Roy Mustang, Full Metal Alchemist
Amuro Ray, Gundam
Wasn't really expecting Shinji to be up there. Maybe Lelouch but with Code Geass finished and the Evangelion Rebuild remakes going on, I guess it kind of makes sense.
Next for the female characters there are...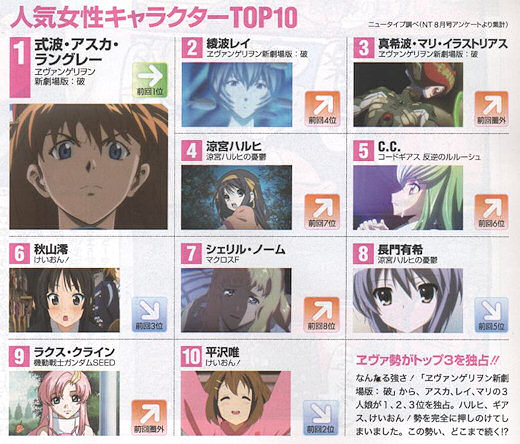 Asuka Langley Shikinami, Evangelion 2.0
Ayanami Rei, Evangelion 2.0
Makinami Mari, Evangelion 2.0
Suzumiya Haruhi, Melancholy of Haruhi Suzumiya
C.C., Code Geass
Akiyama Mio, K-ON
Sheryl Nome, Macross F
Nagato Yuki, Melancholy of Haruhi Suzumiya
Lacus Clyne, Gundam SEED
Hirasawa Yui, K-ON
Hmmm, looks like Asuka's got a name change from "Soryu" to "Shikinami" in the new Rebuild movies.
Anyway, as popular as Rei seems to be, I guess the Otakusphere still prefers tsundere girls considering the fascination with Bakemonogatari's Senjougahara and Suzumiya still showing just now. Makinami Mari, the new character is a pretty surprising new entry but since I haven't watched the new movie yet despite the leak, I can't really comment. Maybe it's the Otaku thing with girls wearing glasses...
The overall chart doesn't seem to reflect what's happening with the annual Saimoe voting but, it's good to see some "old characters" haven't been forgotten though.