Atlus Announces Trauma Team
The next title in Atlus' operation game series "Trauma Centre" will be "Trauma Team" and the official press release description goes...
An entirely new medical entertainment experience from the makers of the award-winning Trauma Center® series. Encounter unprecedented depth across six distinct fields of medicine: play as a general surgeon, diagnostician, E.M.T., orthopedic surgeon, endoscope technician, and medical examiner. Follow the story as never before with all-new dynamic story sequences inspired by Japanese animation and comics; each dramatic chapter comes vividly to life with distinct style! Hand-drawn art, innovative animation, and quality voice acting perfectly capture the raw intensity, excitement, and danger of every heart-pounding moment!

Bigger, more exciting, and more balanced than ever before, Trauma Team is the ultimate medical entertainment experience!

Trauma Team is currently scheduled for release in spring 2010.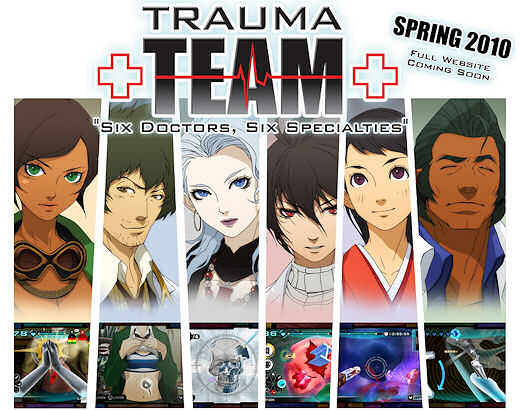 Hmmm... Visually the game doesn't look quite right. They haven't changed the character designer who is still Masayuki Doi but, they look like a mix of Tales of and Gundam designs. Backgrounds still look good but the operations look like they've gone with a space sci-fi theme now which will really get all those reviews that the games are like "battling aliens" going.
Hope the gameplay and music's still good though.