Sony MDR-EX500LP Earphones Review
Decided to pick up a new pair of earphones for myself because I'm currently only using the pair that came with the Meizu Mini Player and they have no bass. They were beginning to nag after getting a pair of better headphones and speakers.
After browsing around, I thought I'd spend a little more on a pair of quality earphones. Well... At least hoped they're quality! I ended up choosing a pair of  Sony MDR-EX500LP earphones because I liked the quality of their MDR-V300 headphones. And no, I didn't pay the full RRP for these.
The specifications for the earphones are...
Drivers, Neodymium magnets, 13.5mm.
Frequency Response Range, 5 - 25,000Hz
Impedance 16 Ohms
Sensitivity, 106 db/mW
Cord Length, 1.2m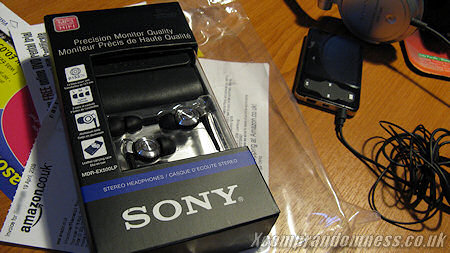 And using the specs once again as a rough guideline, they're...
Within the human hearing range 20 - 20,000Hz.
Beyond the human hearing range covers harmonic frequencies, sounds you can only feel such as thumping beats.
Has a high sensitivity (signal-to-noise) ratio of >90db for CD audio.
So, looks good on paper so far.
The Package
Inside the box, there are three silicon rubber buds of different sizes in case the pre-attached ones don't fit into your ear snugly enough.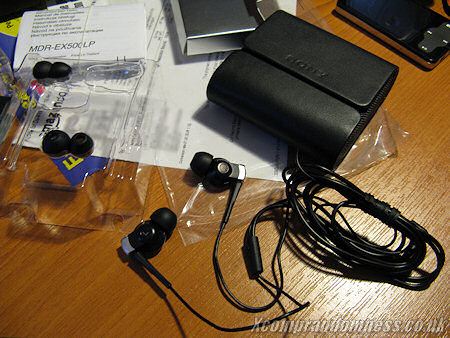 There is also a genuine leather carrying case.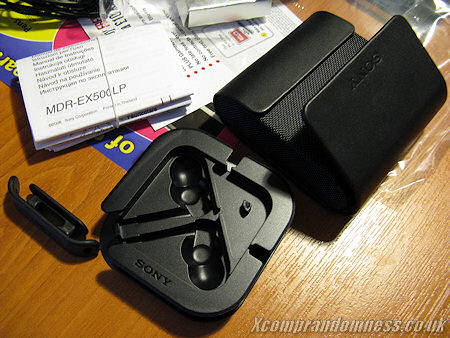 Inside it is a square plastic tray for making sure the earphones are held safely in place.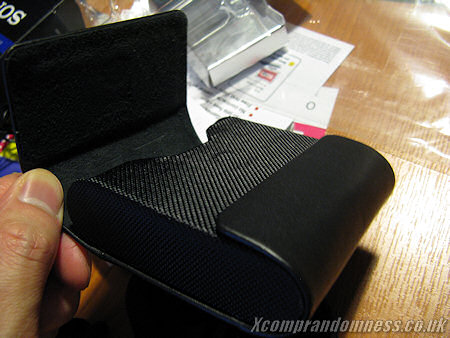 It feels very sturdy and the top is held shut by a magnet.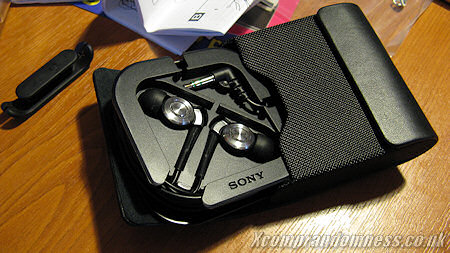 I'm sure part of the expensive price was probably for this case... As if I'm going to want another thing to carry around with me and spend time unplugging my earphones then put them neatly away while on the move. Still, I guess it's good to have something good to store them in when not in use for some long periods of time.
Unfortunately, the earphones don't come with a wired volume control. It does have this plastic holder that you can wind up the wire in if you find it too long but at 1.2 metres, I doubt you will.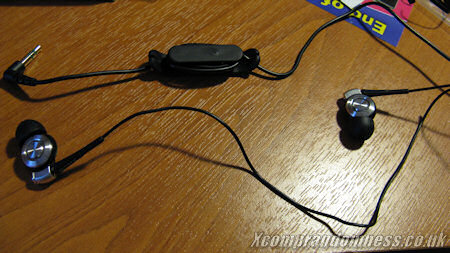 And of course, the earphones themselves with the clearly visible 13.5mm drivers which is responsible for reproducing the sounds in your ears. Most earphones only have half the size at 6.5mm so this should be one of the factors contributing to better sound quality.
These marked sides go against your ear lob.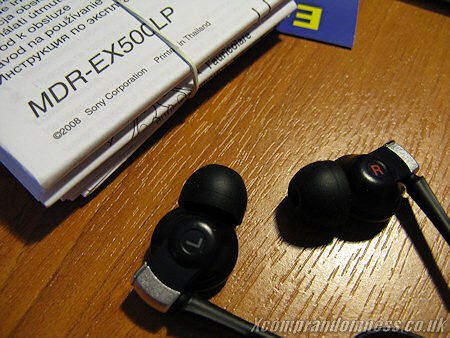 The silver aluminium sides facing out.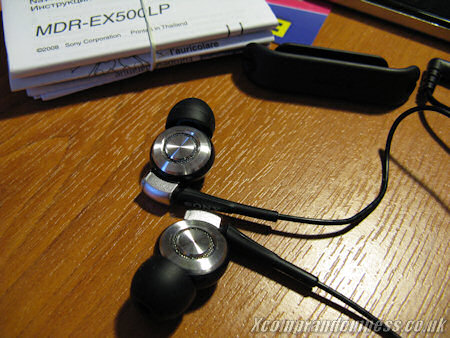 Performance
Upon my first use listening to lossless music, I immediately noticed the bass thumping in my ears but the overall sound spectrum itself felt unbalanced because the singer sounded as if he/she has decided to take a back seat in the room and just sing from there - without a mic! The vocals were so weak and were fairly much muffled out by the instruments.
However, after letting the earphones "burn-in" i.e. letting them play for a good couple of hours so that the newly manufactured components are loosened up, the overall sound was better and the vocals were distinguishable again. I had them playing out of my ears at moderate volume, less than 25% of my DAP's volume for about 3 hours before I put them back in and started hearing a difference - A big difference! Everything sounded so much more vibrant and crisp. Even the bass was thumping with more oomph. I notice with these earphones, backing vocals are a lot more pronounced making them very distinct from the main vocalist but not enough to overtake him/her. There's a lot of volume to instruments quite close to as if you were listening to them in a room.
Funny I didn't need to do any burn-in with the MDR-V300 headphones. I'm guessing it's because of the multi-layered diaphragms were being loosened up in the drivers here.
They both make use of neodymium magnets which are becoming increasingly common with sound equipment due to their sensitivity to sound but, I think I may probably go as far as saying these earphones sound better than the headphones. Although I'm sure audiophiles will say "never go with frequency response" ratings but in this case, the ratings seems spot on. These earphones cost a bit more but also offers a wider sound range, covering well beyond the human hearing range for feeling the sounds you can't hear as if you're in a live concert. I guess in this case, you really do get what you pay for.
The only "downside" is these style of earphones are like earplugs so you'll almost hear no outside noise at all while you're listening to music. In fact... They can be pretty effective earplugs even if you aren't listening to music. On the bus they manage to block out all voices and muffle the loud engine. As long as you don't mind listening to your own breathing, it shouldn't matter much though. The sound remains as crisp and full of volume as if you were listening in a quiet room.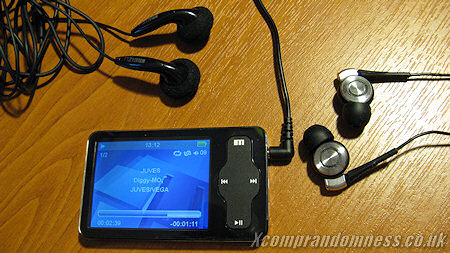 Overall, a satisfying pair of earphones. Just make sure if you ever get these or any other kind of earphones/headphones and they sound really bad, give them a good burn-in first before returning them.