Episode 5 Summary
The Mystery Girl on the Rideback
It had started to rain. Rin and the others had returned to the Rideback Club where Okakura and Kataoka were both waiting. He shouts at them demanding to know what they were doing, grabbing Kawai's shirt. He tells them to keep a low profile while he moves Fuego somewhere else. Club activities will be suspended for the time being. Rin was sad her Rideback was going to be taken away somewhere.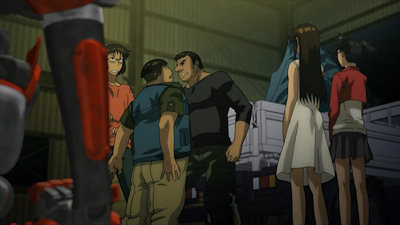 The next morning, Tamayo gets a call from her brother Ryuunosuke. He wanted to know if she knew anything about the mystery girl who was on the Rideback. Sensing her brother was suspecting her, she hangs up quickly angry at him. After being hung up on, Ryuunosuke's subordinate brings in some data regarding Okagura's background. They found out he was once a voluntary soldier who joined the GGP to establish their Rideback unit. He was also a skilled specialist within the commando unit and retired to Japan. He was the "hero" Romanolf was refering to.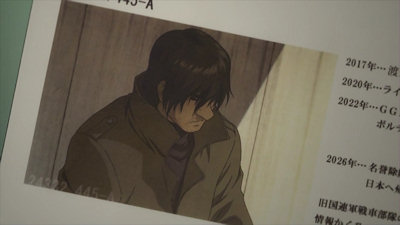 Not long later Hishida, Kawai and Uchida were at the club burning away their clothes that were damaged from the incident. Hishida wondered why Okakura got so worked up over the incident as they if they were the ones that were wrong. As Uchida complains, she learns that it was Okakura who had established the club and it already existed since three years ago when Hishida and Kawai joined the university. Soon, Rin arrives and finds Fuego was no where to be seen. She learns that Okakura had taken it away but Kawai was pretty sure it hasn't been dismantled.
They ask how Shouko was doing and wonder if they should go give her a visit but, Rin suggests they should give her some time alone to settle down. In the end, they decide to go out and have a meal together to commemorate their suspension. Suddenly a reporter named Kei Yoda arrives asking if this was where she could find Kataoka the "Rideback Princess". Hishida accepts her business card without saying much. After she leaves, he sends an email to Tamayo to let her know about it while inviting her along to their drinking party. They decide to ask Okakura who should be still in his research lab. Rin decides to go find him while they went ahead.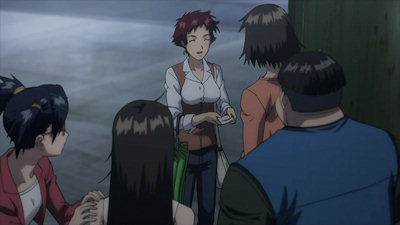 Upon arriving there, Rin gets a little fright when he calls out to her with his booming intimidating voice. He wasn't interested in going to the party. As he goes into his office, Rin asks where was Fuego and is once again disappointed to hear it had been dismantled. She looks a bit shocked to hear that but recomposes herself before going onto asking if Fuego was a special model. She explains they had come across a man during their escape from the TV tower who helped them and had no idea what he was telling them. Okakura pauses for a moment before replying they could should stay low because they have been seen even though footage of them hasn't been made public. However, he will take responsibility and tells Rin to go home.
Unfortunately, the GGP had already tracked down who the rider was and was asking Ryuunosuke to follow up. Romanof had decided not to publicise the information because he had an interest in the rider's talent. He also presumed it must be his sister that trained Rin and wonders why Ryuunosuke hid such information from him. Ryuunosuke calmly answers he felt there was no need. In any case, the terrorist attack has meant they have an easier time justifying the need to import White Ridebacks.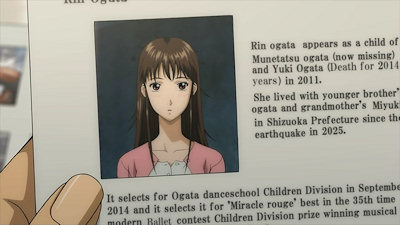 Uchida, Hashida and Kawai had gathered at the restaurant but Rin had decided to return home claiming she wanted to look after Shouko. They decide it can't be helped and start to eat away when suddenly they catch sight of Rin's figure on the news with her helmet on. The reporter had put in the footage they had managed to capture. She has caused quite a buzz on the internet breaking through the GGP's lines and one of the experts were confident she wasn't a terrorist but a civilian who had a modified Rideback.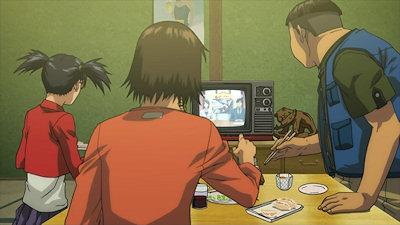 As Rin headed home on the monorail, she thought back to the incident. She knew she had enjoyed the thrill while rescuing Shouko and being in danger. She begins to wonder if there was something wrong with her.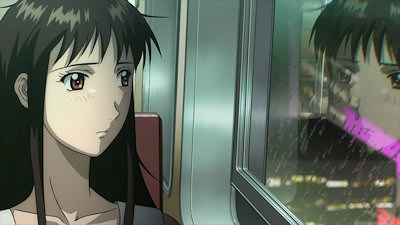 Meanwhile, the BMA were examining the White Ridebacks the GGP were bringing in. It appeared they were made of a strong but light metal frame which will help mobility but, the leader believes that no matter how good the machines were, the fight depended on how skilled the rider was in making the Ridebacks "fly".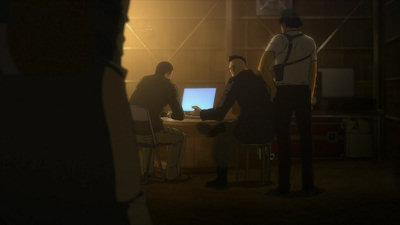 Thoughts
Those reporters must have bad eyesight or something. How can they think Tamayo was Rin when she has short blonde hair! Thought Rin would get away with it at first when they decided not to let the incident leak out but, looks like Rin's going to be in some trouble after all.
And did anyone notice the way Kei handed out her business card? Seems they have a special way to do it in Japan.