Persona 3 The Pachinko Machine
Taiyo Elec is due to release a Persona 3 themed Pachinko machine this month which is basically a cross between pinball and a slot machine.
What makes this machine special? Well, it sports the following...
17 inch display with real time 3D graphics reproducing scenes from Atlus' hit "Persona 3".
Original voice cast bringing the excitement of the game and its world setting.
A whole new theme song "Owaranai Yoru" from Atlus exclusive for the Panchiko machine.
"Kizuna System", the more you hit the targets the stronger your bond grows with the characters.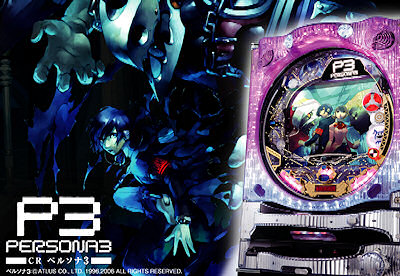 Thanks to reader Silver Moon Arisato for bringing this up. A trip to the Pachinko parlours then? I'm not sure because it doesn't say but, I think the singer for the new theme song might be Yumi Kawamura. It sounds like her.