Evangelion Girlfriend of Steel Coming to PSP
If anyone's missed the multiple releases of "Neon Genesis Evangelion: Girlfriend of Steel" ("Iron Maiden"), here's another opportunity to play it on the move.
On the night of a full moon, there is a mysterious explosion in Tokyo-03 but Nerv takes no action towards it. The next morning, Shinji and his friends finds a new girl has transferred over to their school. Her name was Mana and she takes the initiative to befriend Shinji. Asuka has suspicions that she maybe a spy trying to obtain information about Nerv but, Shinji's heart is starting to be moved by her openhearted nature towards him...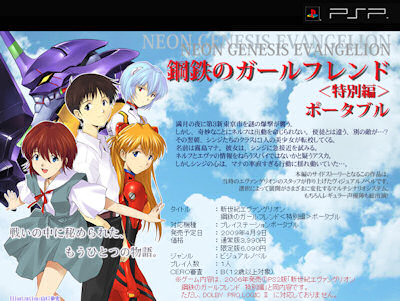 Due on April 9th, "Girlfriend of Steel Special Edition Portable" will be available in two versions - a regular and the obligatory limited edition. The limited edition will contain an original card case illustrated with Rei and a keyring of Asuka. Other than that, the visual novel itself will be exactly the same as the special version of the game that was released for the PS2 i.e. the original 1997 Windows version with an added gallery, text skip and movie replay functions.
Anyone with a PSP 2000 or the more recent 3000 can of course output it onto your progressive TVs to play the game but unfortunately, it will not be supporting Dolby Pro Logic II surround sound.
And if anyone is lucky to be enough in Japan to buy it, shops will giving out the following telephone cards with each purchase, each shop offering a different card as goes the custom.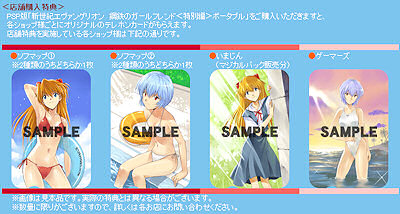 The Evangelion franchise lives on eh? Can't wait to see the second Rebuild movie, "You Can (Not) Advance" this summer!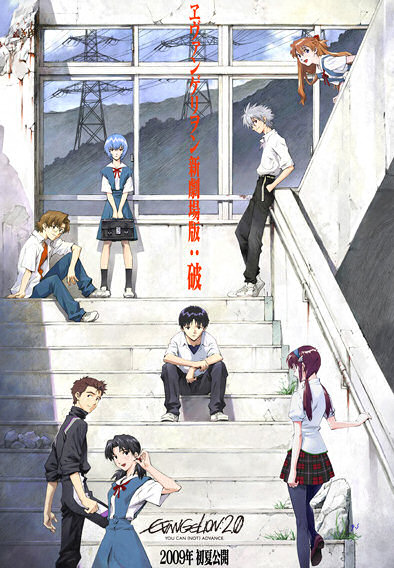 I wonder who the new mystery girl is and if the LE DVD will end up being the same as the first movie.