Tales of Hearts, as you may have guessed from the title, focuses on hearts. It centres around a world of Spiria, a crystal produced from the power of will power and the mind and, one exists within every person. However, some Spiria is going wild and an unknown disease is spreading. One day, Kohaku's Spiria is shattered and its pieces are scattered around the world. Now Shin, who was partly responsible, must travel together with her brother Hisui to retrieve them and retore Kohaku to her former self and prevent an ancient evil from being released upon the world once again.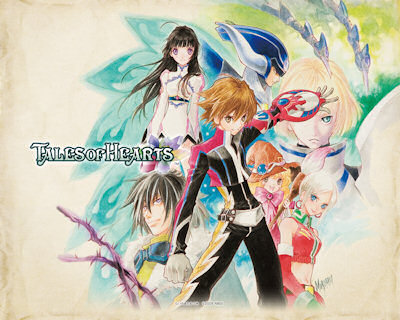 Enemies are visible on the battle fields which is a good thing because there's no random battles. It seems the developers have decided to go back to the traditional 2D side scrolling battle system but compared to Phantasia, it feels very slow. You can have a maximum of three members in battle at once and you can give out quick attack commands using the Combination Panel on the touch screen which can be customised. This is good because as you can guess, the AI controlled party members aren't that smart even if you set their behaviours so, being able to issue them a heal command at anytime comes in very handy.
Dungeons are split into two - real world ones and Spiria Mazes. The latter is probably what distinguishes ToH from the common dungeon crawling because they are randomly generated maps each time you enter and you have a limited amount of "Link Points" to explore it. These points can be gained by defeating the enemies inside or finding restoration points but, lose them all and it's game over. This obviously adds to the excitement of the game and white for the most part they are part of the story, there are optional Spiria Mazes to explore too.
There is a fair bit of customisation which is done by collecting materials and upgrading the party's Soma weapons basically. This feels kind of pointless because of how linear the game is and the limited amount of material you're most likely to get. Certain materials can only be obtained once you progress to a certain point of the story. What is interesting is that the weapons evolve and there are three different paths to go with each time such as one that will grant you new battle skills or one that grants you more support skills.
If you've played enough RPGs, you'll know that it's pretty much essential to drop by an inn or find some other place to rest and ToH offers one more option which is a handy Healing Stone. With a limited amount of Health Energy, you can set conditions when it will automatically heal your party such as during battles if you have under eighty percent health. This definitely comes in very handy when transverse the bigger dungeons that have few save points and adds another degree to the number of customisation options in the game.
As with all "Tales of" titles, the game opens up with a beautiful animation and the song "Eien no Ashita (Eternal Tomorrow)" is performed by Deen this time. There are the odd extra animated cutscene as you play too and for some reason, Namco decided to release two versions - a 2D Anime style which fans are already used to and, a 3D rendered model version. While I haven't seen all the 3D versions of the cutscenes, I think it's safe to say the faces look a little odd in them. Frankly, the graphics artists are going to need some more experience in animating them.
Graphic environments look polished and have a cell shaded look to them. They remind me much of the last DS title Tales of Tempest except there is much more detail. It's most likely because the characters are not modelled in 3D this time. Even so, the characters sprites are still very well animated to the pixel with clear expressions of happiness, sadness, anger etc. But the walking animation isn't that smooth.
Sound effects have a very synthetic feeling to them which is usually the case with RPGs of this type so it isn't a bad thing and the tracks work well with the environments. As with other DS RPGs only the main dialogue is voice acted. Depending on who you have in the party, you have some funny conversations going on after victories.
As an RPG, Tales of Hearts fulfil all the requirements to join that class of games and is definitely a better experience than its DS predecessor but, I can't say there's anything impressive about it to keep me playing for the the 40 hours that it supposedly offers.
Time Played 20 Hours
Likes
Improved 3D presentation since last DS game.
Detailed sprites.
Lots of customisation.
Dislikes
Battles are slow paced.
Nothing exciting about the battle system.
Not exactly a compelling story about sealed evil again.