Asu no Yoichi Episode 1 - Here Comes the Samurai!
Yoichi Karasuma is out in the mountains and it seems it's just another day of training for him as he goes about his chores. However, having being defeated, his father feels it's time his son left the mountains and went into the big city of Asamigawa which he has yet to see. He believes there, Yoichi can gain some valuable experience to strengthen his mind as a warrior. As Yoichi sets off down the mountain, he sends a message to the Ikaruga Family, who runs the Ukihakamikaze Ikaruga Dojo, to let them know he will be coming.
Arriving in the city in his traditional attire equipped with a Bokutou, Yoichi attracts a lot of attention from the locals and manages to get into quite a lot of trouble too since he wasn't too familiar with the city. He sends a spiky blonde haired guy flying with just the wind from his Bokutou, he accidentally falls into a changing room while a girl was inside it and messes up a bookstore. Eventually he finds himself chasing down a thief who stole an old lady's handbag and he was getting very late in meeting the Ikarugas.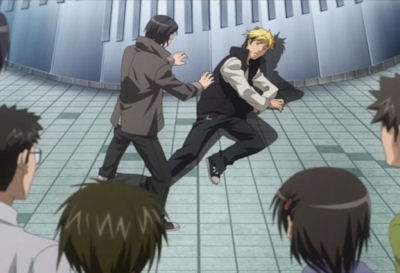 After pulling off a stunt to help a little girl find her older sister, Yoichi ends up throwing himself out the shopping centre window and lands on top of a train. It wasn't until sundown he returns to the same spot and to his pleasant surprise, the eldest of the Ikaruga sisters Ibuki Ikaruga was still waiting there for him. After apologising for all the trouble he caused and sorting out matters with the police, he returns home with Ibuki.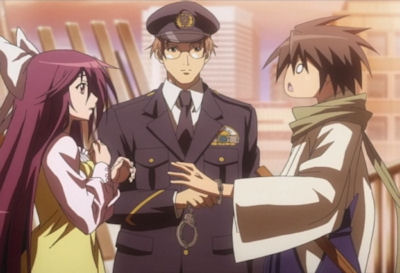 There greeting them were the girls he had (literally) bumped into at the shopping centre - Ayame the girl from the changing room, Chihaya the girl at the bookstore who mistakened him for being into Yaoi and Kagome the little girl who was lost. Despite the misunderstandings, he greets them back enthusiastically.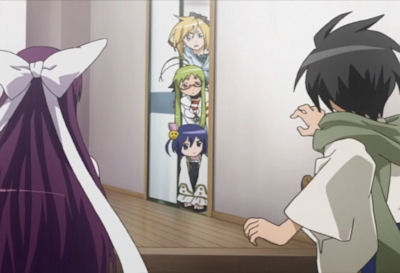 Thoughts
Asu no Yoichi's not too exciting so far and it looks like the fan service might pick up a fair bit too. I mean of all distinguishing features, Kagome says her older sister has is a big bust. How about the huge sprawling hair and ribbon she has instead? Nice move picking a little girl to say that line though and the serious faces made it all the more funnier but, I hope it doesn't go overboard. I also don't really like shows where they have to announce a move's name before they perform it in fights.
On another note, I wonder why the RAWs are all in such a odd aspect ratio? Looks like they're all clipped.