The Move to a Dual Core Setup
Built this machine just before the new year. My graphics card have been acting up for a while now - It's been overheating and causing artefacts on the screen. Since I've been wanting to try out some of the latest PC games I decided to have a look for a new AGP card again, something better than my Radeon 9800XT. The best I can find with this aging interface seems to be a Radeon HD 3850 which has support for video decoding which will help a bit with all the HD Anime raws being dumped.
However, the card isn't cheap at almost £100 for the toned down AGP version so I thought, "Why not just make the leap to a dual core setup"? I'm on a tight budget but if I'm spending that much already, I might as well go for the full upgrade and change the main components. It was going to cost me double but, I'll have an easier time batch processing all the photos I take and have an overall more responsive system. Best of all... I can watch Full HD quality videos!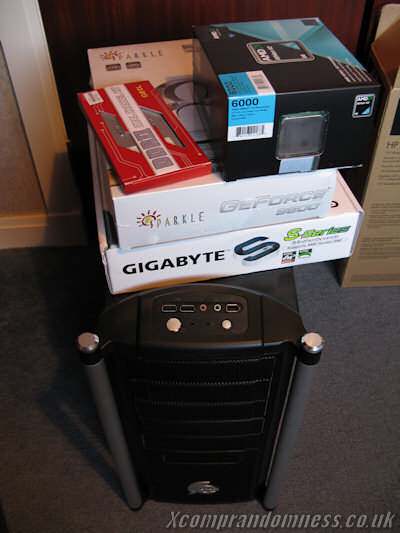 Old PC setup for the past 6 years.
AMD Athlon XP 3000+ (2.1Ghz)
1GB DDR 333MHz RAM
ATI Radeon 9800 XT 256MB
New setup.
AMD Athlon 64 x2 6000+ (3.1Ghz x2)
4GB DDR2 800MHz RAM
Geforce 9800 GT 512MB
I was kind of worried when the reviews were saying the Athlon 64 x2 6000+ eats up 125w of power when working at full speed which is almost double that of Intel's dual core CPUs but, the version I have only consumes 85w. Must be a new architecture or something.
I had already put in an order for the PowerColor Radeon HD 3850 AGP version I mentioned earlier before I changed my mind and didn't cancel it in time...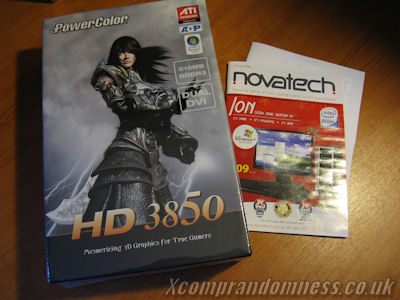 Sending it back to the retailer. For some reason, online shops mark the item down as their own card. Something along the lines of "(Shop Name) ATI Radeon HD 3850" instead of "PowerColor".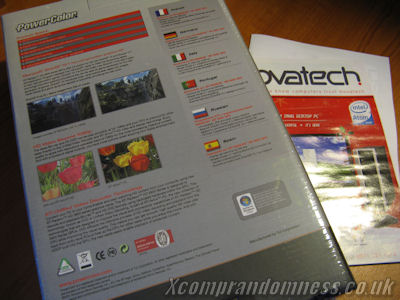 Since I've decided to go for a complete new setup, I had more choice in graphics cards. I decided to go with Nvidia this time because of all the lock ups and artefacts I've been experiencing with my older Radeon cards.
Usually changing the main components is enough but in my case, I decided it was best to have some better cooling because my current case only has one chassis fan. I went for the Cooler Master Centurion 532 which houses two fans - a front fan for the intake of cool air and a rear exhaust fan for expelling heat. The Cooler Master cases usually don't come with a power supply but, I have a spare one from earlier that works with PCI Express graphics cards fortunately. It also only comes with one front fan fitted which means if you want extra cooling, you'll have to buy another. Again, I already had a spare 120mm fan already.
Check out the big funnel on the right. It's designed to be situated over where the CPU is. I'm not sure if it'll actually help with the cooling...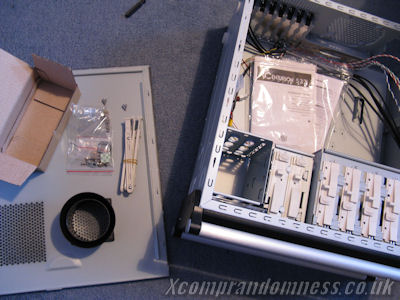 Putting the barebone components together, the CPU and RAM. This Gigabyte GA-M68SM-S2L actually has onboard HD sound and Geforce graphics but obviously I don't need the graphics.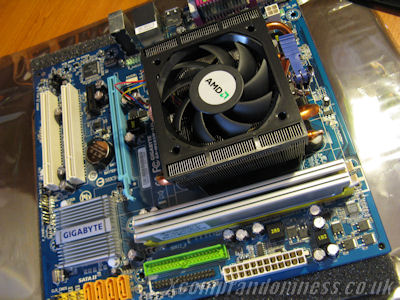 And now the drives. Great to see some improvements in the design of the cases. I don't know if other cases are like this but here, I only have to clip on these "HD Rails" onto the hard drives, then slip them inside. Used to have to use lots and lots of screws!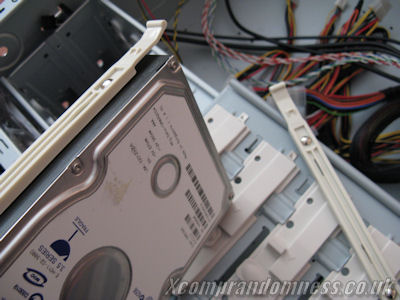 It's the same for the optical drives except no clips are needed at all. Just slip them inside and lock them into place.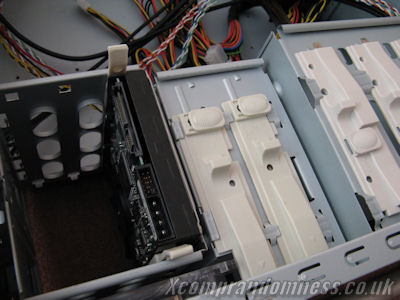 Even the expansion cards don't require screws but, these black plastic clips feel kind of frail. Fortunately they left the holes in so if they do break, you can still use screws to secure the cards.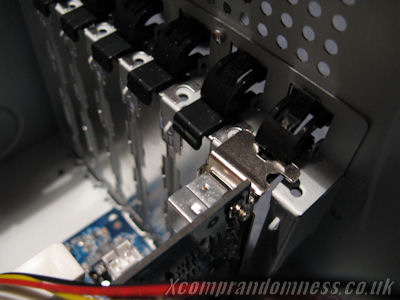 Didn't really need a new monitor but, the photos I take aren't showing up the right colours on my 17" CRT and it was getting annoying booting up my netbook to check them every time. And as all graphic and web designers will know, the higher the resolution of the monitor, the more virtual desk space there is which makes it easier to work.
Pretty much all the LCD monitors are widescreen now with the growing popularity of Blu-ray and soon, the uptake of digital TV taking place over here in 2011 (Yes, I know we're behind in technology.)
This HP w1907v was the sharpest and brightest display out of all the ones at the stores even after I turned up all their brightness settings. I actually wanted to go for a 22" display with added HDMI/component input but, I couldn't find any. I guess I would have to go for an actual TV if I wanted that. As you can see I have limited desk space so I couldn't have fitted anything bigger than 19".
That stand at the bottom feels like a big dust collector since I won't be using it for the keyboard. In fact, the glossy coating of the monitor attracts quite a bit of dust...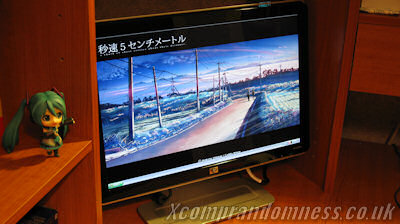 Just plugging the monitor in sets it up at its native resolution of 1440x990 which is only good for 720p HD video. Turn it up any higher and you'll end up with an annoying warning message to reset it back unfortunately. However, I'm having an easier time working with graphics and multi-tasking thanks to the longer taskbar at the bottom and wider resolution.
Feels kind of odd with the extra space around my blog and other sites that I visit regularly but, I think it's just a matter of time before web developers adapt widescreen resolutions. At the moment, most of the visitors to my blog seem to use the 4:3 1024x768 resolution so I guess any CSS layouts I write will have to conform to that standard.
The latest Wordpress v2.7 seems to have been designed with widescreen in mind because the layout works much now than on my older 4:3 monitor. Much more space for typing!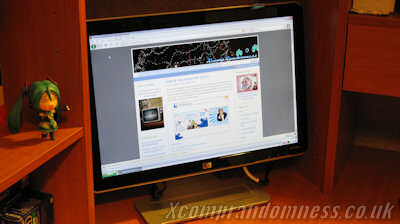 The setting buttons for setting the brightness, contrast, frequency, colour etc. There are preset profiles if you don't want to fiddle about with the settings and they are movie, photo, gaming and text. I use the text setting which seems to be the sharpest and most balanced overall.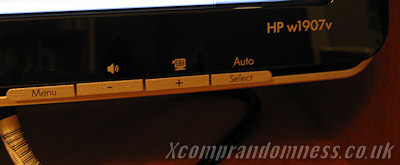 The power button oddly positioned at the top-right edge of the screen. There is no power indicator light so the button itself glows an aqua blue colour when the monitor is on but, there's a setting to turn the glow off.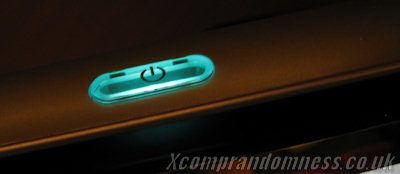 And lastly, we can't have a new PC without a bit of benchmarking to see how much of a difference the new hardware makes. You can see what scores my two different setups of old and new got using 3DMark06.
According to the benchmark program, my new system is at the low end of all the modern machines that are being used today but, I don't mind. The results are close enough to what I was expecting so that's good! I've already stretched well beyond my budget!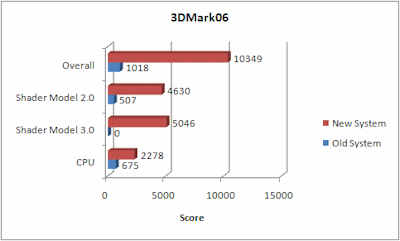 Problems Building

The fun of building your own machine is you can salvage parts from your old machine which helps to keep the costs down. On the other hand, you may also run into incompatibility problems between components which means you have to return them to the shop and convince the staff there it doesn't work with your machine.
This time, I didn't really have any incompatibility problems. Just unfamiliar with the new technology.
For starters, I thought the motherboard only required one power cable to power up the machine but, it didn't work. Turns out you need to use three different cables now - the square ATX12 socket to the bottom-right and the long ATX socket to the left, next to the RAM. The ATX is actually made of up two cables, one long rectangular and one square one which had me confused for a while.
The next unexpected problem was there wasn't enough IDE connectors which meant I wasn't going to have access to all my files on my older hard drives. I had forgotten about the move towards SATA. There's only one IDE connector for two drives and four SATAI/ II connectors here. In the end, I had to spend some time shuffling some files around because I didn't have enough free space on a single drive to move everything at once.
As if in a stroke of bad luck, Partition Magic crashed while I was using it to re-size the discs. I lost a lot of stuff but they're all re-downloadable and fortunately, I could recover some of it and all of the photos that can't be replaced.
Then I had problems re-installing Windows XP because no matter what drive and type of partition I pointed it to, it would just say "Windows is unable to find a system volume that meets its criteria for installation". I decided to try Windows Vista to see if it made any difference but it didn't and returned the same message.
I pretty much tried everything, deleting the partitions and letting setup format it to whatever it needed but still no luck. In the end, I found out that at least one partition had to be marked active for Windows XP to install which I didn't have for some reason... Out of curiosity, I tried the same trick for Windows Vista but it didn't work this time. Instead, I had to pull out all the other hard drives and only leave one (the drive I want to install to) plugged in.
"Fun" indeed. On the bright side, I didn't have to load any SATA or RAID drivers to install Windows onto my SATA drives during setup. The motherboard had them emulated in IDE mode so I could install onto them without any problems.
Also oddly enough, you need a compatible codec or software installed such as CyberDVD to take advantage of the HD video hardware acceleration and it takes quite a workload off the CPU.
Now that it's all sorted, I'm happy with the new setup. It's running cooler at the mid 30C instead of 50C and it's definitely easier multi-tasking now. There's no delay switching between applications even with a virus scan underway. I can batch process all my photos while still using my PC for other tasks without any lag and, editing all those large photos is a lot easier. There's plenty of memory so the computer doesn't have to resort to using the hard disk for virtual memory anymore which means less thrashing sounds.
Time to say bye bye to my old monitor...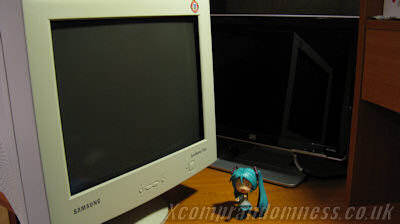 And old PC setup too.
Was thinking of selling it to make up for some of the costs but, my brothers have an even older 400MHz PII machine so I'm just going to give it to them instead.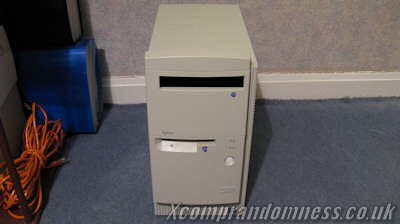 So what do the PC enthusiasts amongst you do with your old hardware?