Got round to watching Makoto Shinkai's "The Place Promised in Our Early Days" after picking up ADV's "The Shinkai Collection" DVD set.
Before I watched 5 Centimetres per Second, I had decided to avoid his works after being disappointed with Voices of a Distant Star. Then after watching the movie out of curiosity and being impressed by it, I decided to try his other movies again.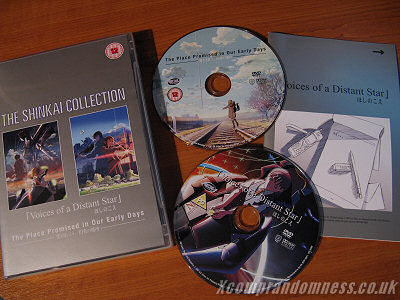 Voices of a Distant Star
Today, I watched Voices for a second time and I'm still not too impressed by the story. As a piece of work produced by one man it's good but, I don't really like the way it was set out. The story seems too quickly paced. It's so fast that there's no time to digest what's happened and what the characters have said. There's so much detail he's tried to cram in that it's hard to get a grasp of.
Action scenes are good but, the mecha designs remind me too much of Evangelion with the cockpit design and the fact it was being piloted by a high school student. I just didn't feel the tension because I don't really have a clear idea of what they're fighting for.
Well, at least the romance element got through with SMS messages taking so long to reach our protagonists and testing their love for each other through the passage of time.
Tenmon's compositions remain a joy to listen to too.
The Place Promised in Our Early Days
This movie feels a lot more polished and understandably so because Shinkai established a team of artists to help him. The story is paced a lot better and there is time to digest what is happening.
Having read through the notes in Shinkai's recent artbook, I did notice a lot of the reused items he mentioned such as the LED displays at the stations in the opening scenes. There's actually quite a few other scenes that remind me of 5cm too such as the train platforms, the kettle inside the warmly lit station and I also notice that he likes to take a shot of the calendar a lot too...
Again, some of the scenes felt a bit Evangelion namely when Takuya was working in the laboratory monitoring the tower's energy. Even the music composition reminds me of Gainax's show.
Still, I'm kind of tempted to pick up the sound track!
The DVDs
One of the reviewers noted on Amazon that there's a slight sound delay in Voices of a Distant Star and I noticed it too. I'm also surprised the DVD only contains hard subtitles although it does contain the various versions of "She and Her Cat" and the Voices movie itself.
Watching the interviews and reading the booklet, I see his principals of creating a movie hasn't changed. They seem to be produced with the following in mind:
His story conveys a certain message to the audience.
The scenery of the world should help soothe one's mind.
Small existence of oneself in the world.
End of movie is open ended, audience can think of how it goes on.
The Booklet
A very thick 43 page booklet split into two halves detailing the movies and how they were made.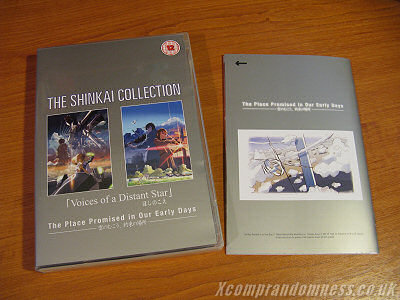 You can see from the 10 page glossary here just how much detail Shinkai had tried to cram into Voices. There's no glossary for Promised Place so it looks like I was right about the detail and pacing.
And looks like he had already told his viewer's the title of Voices came from one of Arthur C. Clarke's novels. That makes it three times I've heard him say it - here, in his blog entry and during the live interview in London.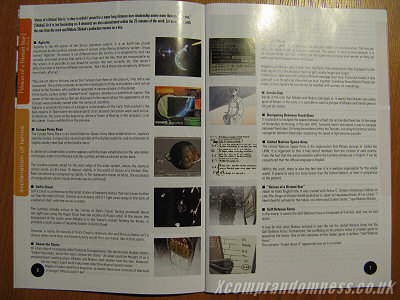 Those of you who have been asking me to translate those making of pages from his artbook can just go with this instead. He writes pretty much exactly the same thing.
Interesting he had a 4GHz Power Mac G4 at the time of this movie. Machines in the GHz range were expensive during this period of time but, I guess he had sponsors now.
Or is it a typo and they just added an extra zero by mistake...? According to Wikipedia, those models only went up to 2GHz.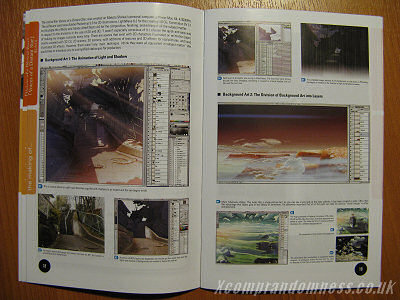 These images are almost as small as the ones in the artbook...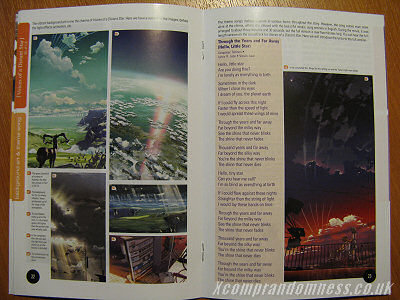 Here's the other half of the booklet concerning his second commercial movie Promised Place, talking about the difficulties he faced. I see the way he wanted to leave an open ending to the movie was carried on over to 5cm.
Funny how the aroma of the chocolate factory's made an impression on him!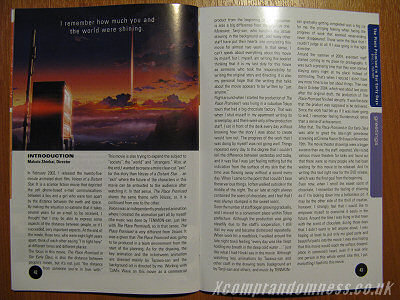 It's odd they simply mention he worked for a "games company" and not "Falcom". I guess that would mean giving the company exposure.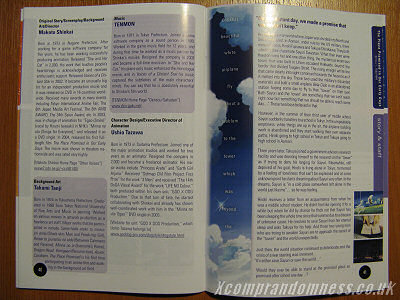 The contents of the booklet hasn't changed much.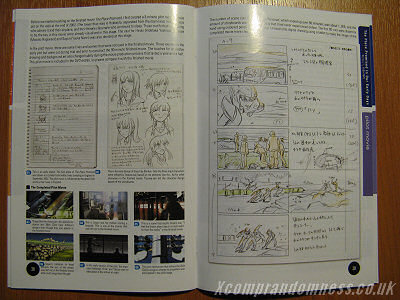 There's those abandoned cats he mentioned during the interview in London!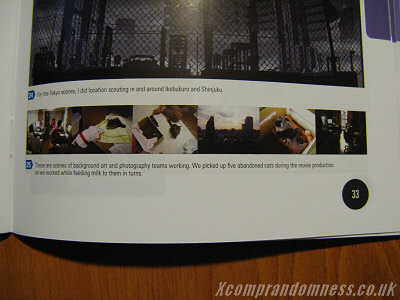 Thoughts
I think after watching all three movies, it's reasonable to say Shinkai is improving with every title. It will be interesting to see if this continues in his next movie and I think it just might after spending a year here in the UK. Perhaps he will talk about distance between home and being in a foreign country this time?