A Stroll About Glasgow University at Night ::
Took these photos around Glasgow University one night about two weeks ago. There was supposed to be an employer's presentation on there but it was cancelled so having set out time already, I decided to go along to the area anyway to test out how well my camera fairs in dimly lit outdoor conditions.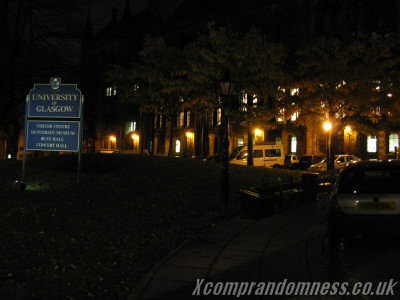 Outside the main university building where the TVB actress Fala Chen had also taken pictures on the day she was in Glasgow. The university is one of the stops for the tourist bus ride here after all.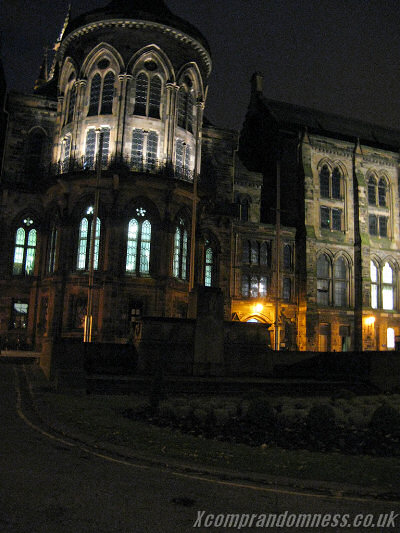 Going inside to the courtyards where there's number of benches around to sit and relax in.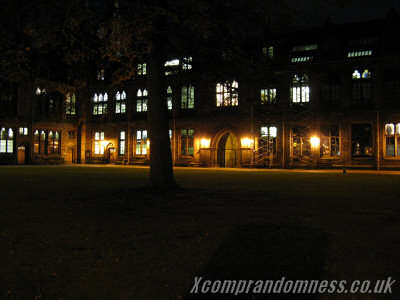 Pretty spooky atmosphere making my way through the dimly lit arches between the courtyards. Hardly anyone was around.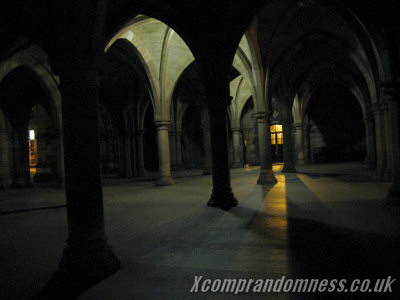 Not sure what the big rotating sculpture on the right is.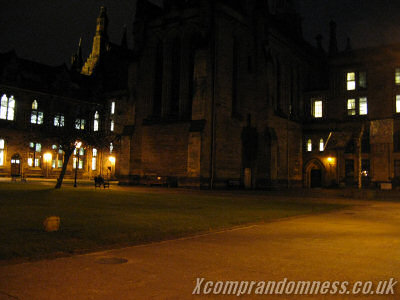 I noticed one or two people sitting out here reading. I think there was a bit of rain during this shot.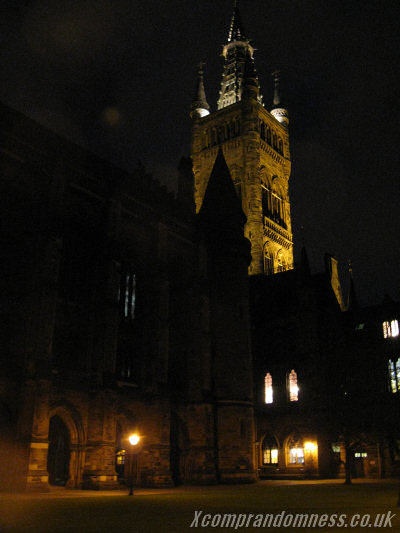 Exiting through the back to the South Front.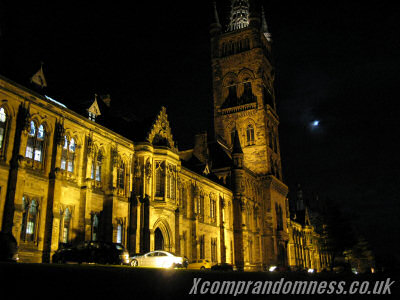 This is where I spent some time fiddling about with the manual settings. It really is hard snapping night shots without a tripod and bumping up the ISO just puts in a lot of noise in the photos as expected. The lossy JPG compression doesn't make it any better of course.
This was taken at ISO 800, F/2.8, 1/2 second. I don't like the red lights they're using to illuminate the buildings here.
And back through the archways, this time shot from a different corner.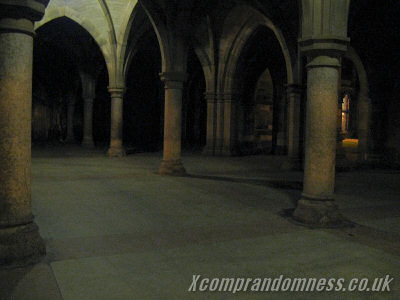 Making my way back to the gates. The tall brightly lit up building is the university library.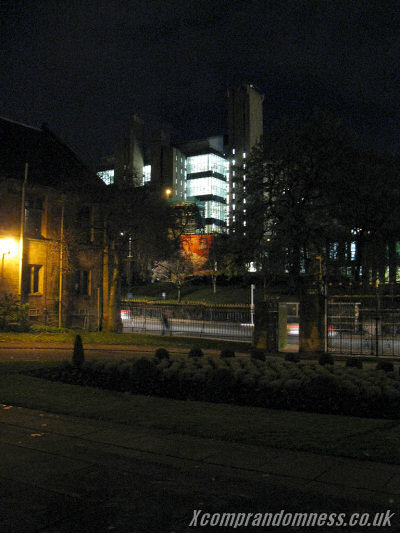 I think this was called the Reading Room. Unlike the library, anyone can go in without a valid student card. Lots of students usually lie around on the grass fields here during spring and generally on warm sunny days.
I see a lot of the derelict buildings are being re-done now since the last time I was studying here.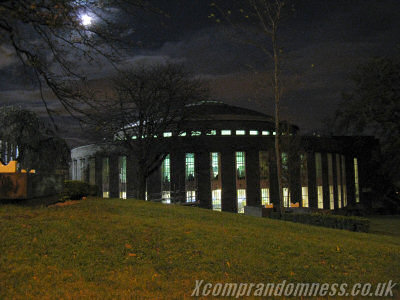 This was another one of them that was being built at the time, now a building for medical students I think - The Wolfson Medical Building.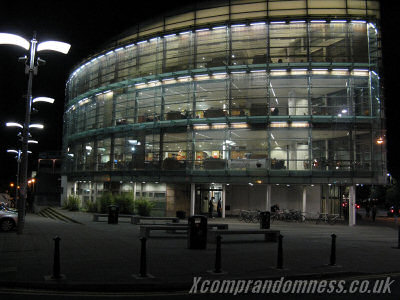 Heading down University Avenue to wander around somewhere else.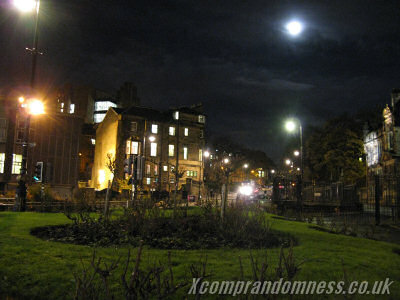 I can easily imagine this being used in an adventure game or one of Shinkai's movies. Hurray for location hunting!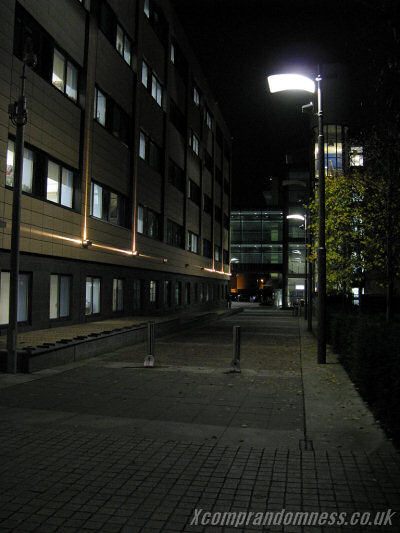 A bit more people now down at Byres Road. And that taxi's supposed to be black traditionally.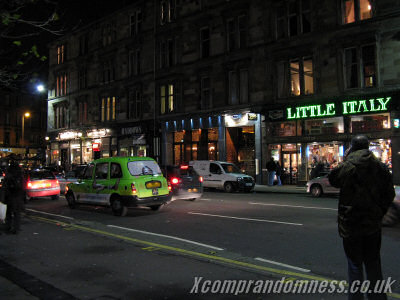 This store sells all sorts of gifts. I don't know why there's interest in these Momiji figures...
They remind me of this classic Anime movie "阿信的故事" I once watched. I can't remember the details exactly but the story's set in winter and it's about a little girl who had one of these Kokeshi figures that was a memento of her mother. She was forced to work very hard from a very young age being an orphan. Later she meets and travels with this man through the winter snow but eventually, he gets shot by soldiers. Not sure what the Japanese name of the movie is... I think it might be "Oshin".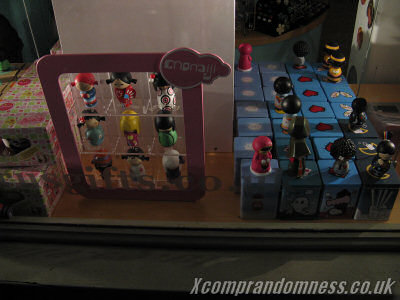 Like the detail on the little guitars on display.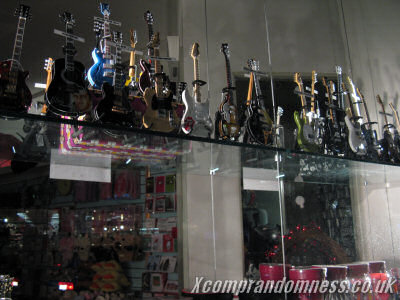 Nice display at this store too. Bored of seeing the usual chain stores that look the same and sell the same stuff.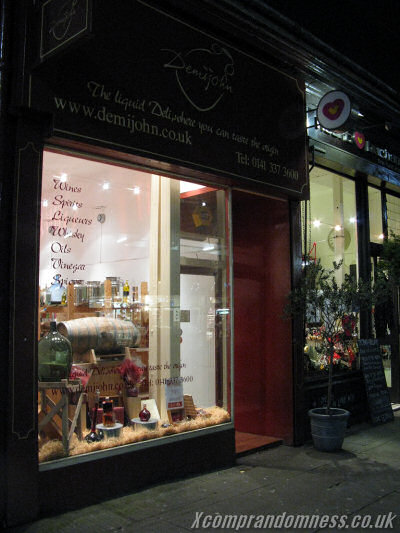 Never been inside Oran Mor. The colour choice outside is kind of eery at night.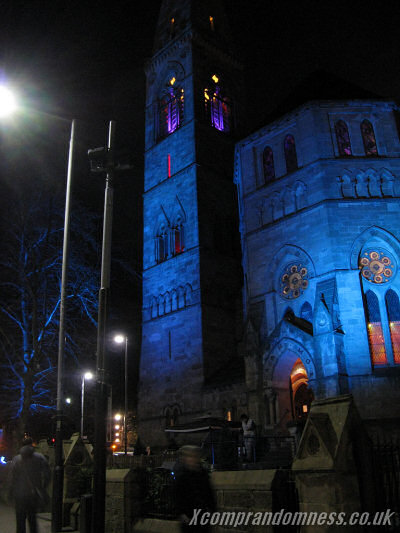 Going on down Queen Margaret Drive.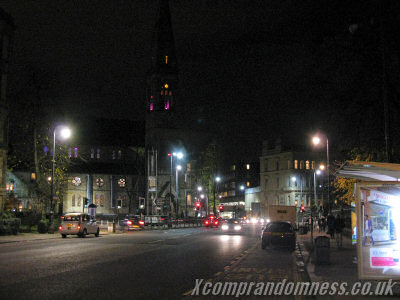 Haven't been to the Botanic Gardens here before...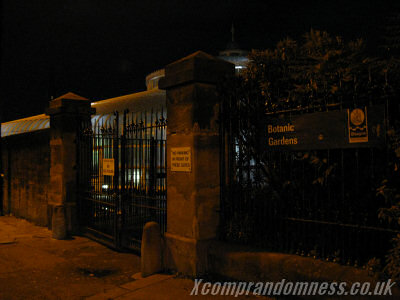 I should visit these places someday!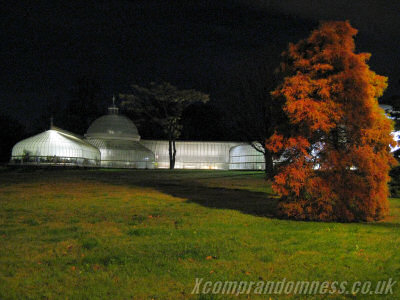 I remember I had a very odd day when I shot these photos. While spending my time at the library before making my way here, a girl was stuck in the lift. Her helpless and uncertain voice was speaking over the intercom and everyone looked up from their desks for a moment but, returned to work after she stopped speaking. I was pretty hesitant about what to do but fortunately enough, she was out of the lift a few minutes later.
Then after this wander about there was a close accident while I was waiting at the bus stop opposite the medical building. I heard a screech of tire brakes and turned round just in time to see a black car skidding to a halt and something big rolling across the ground. I'm not sure what it was actually. The girl then parked her car and was holding her head in shock.
A few other cars stopped nearby to clarify the situation. By that time, my bus had arrived so I decided to go since there were already other witnesses and whatever the car hit or almost hit was no where to be seen. I think it might have been a man who was trying to cross the road but dived out the way just in time from being run over...
Must have been black day or something.