Well, just two weeks until 5cm goes onto the big screen in London, with BFI starting the screening off with a live interview with the producer Makoto Shinkai himself. As of now, most of the central seats appear to be filled with over 200 people booked in. Think I'll just have to take a side seat near the middle. Otherwise I'll have a sore neck lifting my head up to watch the 63 minute, three part movie.
I haven't made any arrangements to go down myself yet. I've been hesitating to make a booking because I was wondering why I should go see something that I've already seen unless I get an autograph from Shinkai or something. Unfortunately, the description at the BFI website gives the impression that he will be gone right after the interview unlike in Japan where he would stay behind to speak with his fans and give autographs. I decided to e-mail BFI to confirm whether the attendees will get to speak with him or whether cameras will be allowed during the interview but, it's been weeks now and I have yet to receive a response from them.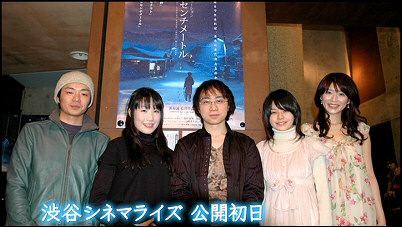 So, I decided to e-mail Mr. Shinkai himself to see if he could help clarify matters.
その後日本のイベントのようにサインするご予定もありますか?
BFIと連絡して聞いて見ましたが、
お返事なくて本人にお聞きしようと思っておりました。

After the interview, do you have plans to give autographs just like the events in Japan? I have tried contacting BFI regarding this matter but, I haven't received a reply back from them so I thought I would ask Mr. Shinkai yourself.
He replies:
はじめまして、新海と申します。
メールをどうもありがとうございました!

ただ、サイン会の予定は、今のところないのです。
どうも日本のイベントほど厳密には内容が決まっていないようなので(笑)、
もし時間に余裕があるようであれば、
個人的にはぜひサインをさせていただきたいとは思っているのですが…
はっきりしたことがお伝えできず、申し訳ありません。

それでは。
イベント、楽しんでいただけると嬉しいです。

Nice to meet you, my name is Shinkai.
Thank you very much for your e-mail!

Unfortunately there are no plans for an autograph session at the moment. It looks like the event isn't being as thoroughly planned as those in Japan (Laughs). However, if time permits I personally would like to give autographs... I apologise for being unable to give you a clear response.

I hope you will enjoy the event.
Well, I guess this means I'll have to wave frantically amongst the crowd and shout, "Shinkai-sama! Shinkai-sama! Sign kudasai!" or something along those lines... I'm just joking of course. Don't say I taught you how to say that here! I will probably go just for the event anyway .
I tried to e-mail him again to ask if he was going to be staying behind to watch the movie himself or when the second batch of his artbook will be ready but, haven't received a reply back. I can kind of understand why, though.