Trauma Centre: Under the Knife 2 to Reach Western Shores First
Atlus USA has officially announced the Trauma Centre 2 DS sequel will be appearing on Western shores first on July 1st which, is about a month earlier than the Japanese release. Even the official English site is up now with various bits of information including a video trailer! The story is down as...
The Republic of Costibar, Africa...

The internal warfare plaguing the people of this country for over a decade has finally come to an end. However, they continue to struggle with attacks by guerilla militants, land mines, and refugees en masse. Still, the country is slowly walking down the path toward peace.

Other countries have begun sending aid to Costibar, helping to establish medical institutions. But, the number of doctors needed to staff those facilities has been hopelessly insufficient...

Now... A legendary doctor has come to Zakara, one of the many refugee camps. In these hard lands that are ill equipped for providing medical care, he will find hope in new allies. However, a deadly disease thought to have been eradicated once again looms on the horizon...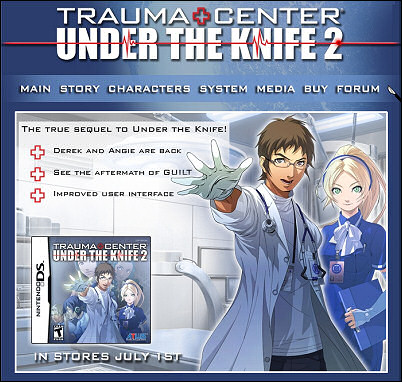 The press release pretty much mentions everything that Famitsu did but nothing about voice acting. In the Famitsu magazine there were voice actor names next to the character portraits so I'm assuming there must be some kind of voice effects at least. Maybe it's going to be like Second Opinion where Angie keeps shouting, "Doctor!" whenever you're making mistakes. Lots of people seem to have gotten annoyed over that.
I wonder when the EU will get it because I'll be sure to pick it up. Maybe another six months wait again. In the meantime, I'll just play the US version once it's out.
Nice boxart again but, why is it that Angie's face looks kind of like a cat there? Even more when she has that blushing smile on in the character profiles section of the site. She looks better in Second Opinion.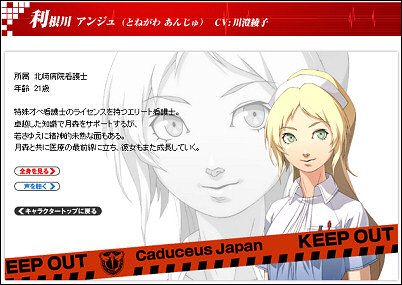 Derek on the other hand does seem older in comparison.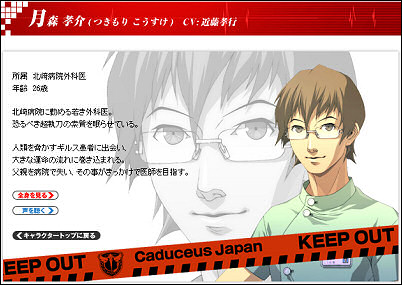 The rendering and character design does still look like Masayuki Doi's style, though.
And the Japanese site looks much nicer, in my opinion!