Dance Dance Revolution: Hottest Party Wii Package
Ordered this from Amazon.co.uk recently. Never played any of Konami's DDR games but since I got into the rhythm games Ouendan (remade as Elite Beat Agents in the West) and DJ Max Portable so much (I hope the hints about DJMP3 are true!), I thought I would try out the DDR game that just came out for the Wii over here. Try stepping to the rhythm instead.
The game arrived in a very big box as you can see from the photo (I've put my usual thirty centimetre ruler there for scale). Boxart's not that great in comparison to the US or original Japanese version. The plain mix of blue and white colours don't exactly convey the idea of "hottest party" to me. In other words, it's not very eye catching. They also renamed "Dance Dance Revolution" to "Dancing Stage" too.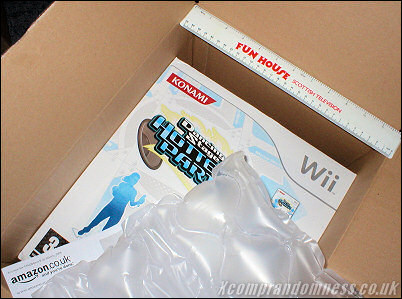 Sliding off the cover and opening the white box, there's the bundled dance mat and the game itself.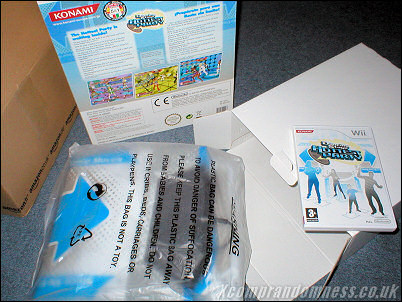 Spread out, the mat's about twice the size of the box it came in. And what a strong smell of newly manufactured plastic came from it... Phew! The quality feels quite good though.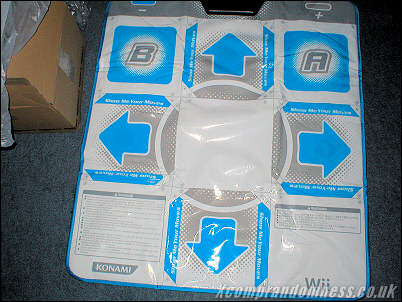 Plugging in the mat to one of the Game Cube controller ports on the Wii, I've spent a few hours on the game and stepping on the map takes some getting used to. It tends to stick if you play on bare feet as recommended by the game and you can find yourself moving out of position as you start stepping.
As expected, the game offers the option of Wiimote actions, giving a quick flick of the Wiimote or nunchuk when the symbols appear instead of arrows. I chose to turn this off since I wanted to try out the original DDR playing style.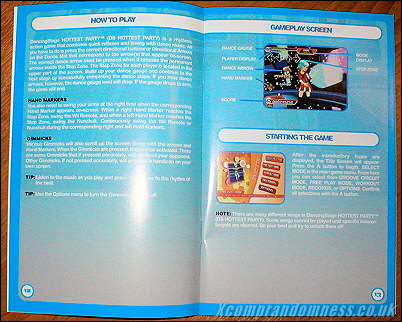 You can use the Wiimote to navigate the game or you can just use the mat. This makes me wonder why the Wiimotes aren't turned off when you just choose to stick to the mat. The DJ saying things through the mini speakers are pointless and just a waste of batteries.
The first song, which acted as an introductory song had the singer rapping out short simple instructions such as "left, right, left" and didn't exactly give me good first impressions. It just sounded very cheezy and I wasn't expecting any of the other songs to be any better. A very basic song would have been enough to get new players into the game in my opinion.
The selection of songs are pretty much the same as the US and JP versions and I don't really like most of them to be honest even though a few are classics such as "Disco Inferno" that I've heard from time to time. None of them have really managed to stick unlike Ouendan and DJ Max Portable's selection of tracks. This may probably be because I only listen to Asian songs and not Western ones though.
Other than that playing through Groove Circuit Mode has been fun, offering a good selection of challenges to clear such as getting a certain score, rank or combo before unlocking new content and advancing through stage. You then have to do battle with the computer, beat them and at the same time, fulfil the same conditions again. It can be very challenging and I've only made my way through the Basic difficulty which is the second easiest setting in the game.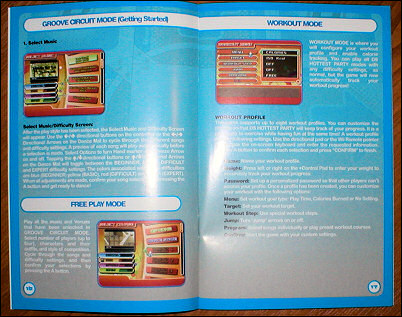 Other modes include a Workout Mode which offers set workout programs and allows you to create a password protected profile, entering your weight. You can set how many calories you want to lose and it will also record how much you've burned as you step. I'm not too sure about its effectiveness though. What I can say is just stepping to the songs alone for a few hours is enough to make you feel the strain in your legs if you don't usually exercise them much.
Oddly though, the game doesn't seem to save settings. If you choose to turn off hand markers which are on by default, the next time you'll find the game has re-enabled them again. Almost everything reverts to their default settings apart from your player data such as scores and profiles of course. Neither does the game seem to allow you to exit, pause or restart a song once you've made a selection. So if you end up finding the song too hard you'll just have to wait for it to finish playing or if you're fortunate enough to be in a challenge, wait for the health bar to drop.
On the presentation side of the game, stage designs look great with their vibrant colour and unique themes. However, I think the developers should work on the characters' facial animations. Even though , the character dance moves look pretty smooth, they don't seem very lively with their unchanging expressions. The BGM used during venue selection reminds me of the tune used in the DJMP games while selecting songs but, DJMP was probably influenced by the Beat Mania series of games.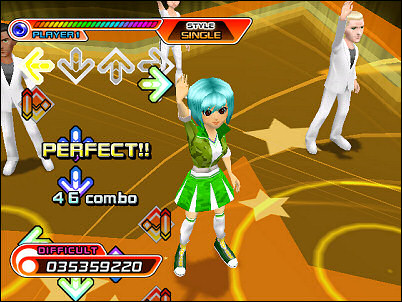 Dance Dance Revolution: Hottest Party has been a fun rhythm game so far but, there's quite a lot of room for improvement such as a more streamlined menu system, more unlockable content and more customisation options.
As a personal preference, I think I would have enjoyed the experience much more if it was a selection of catchy JPOP songs like in Ouendan or at least along the lines of DJ Max Portable's compositions but since this is the PAL version, I'm sure there wouldn't have been any even if the original Japanese version featured such a selection.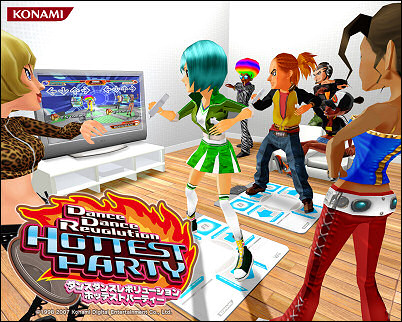 Likes
Good quality dance mat.
Can navigate game with dance mat.
Many conditions to fulfil.
A workout mode.
Vibrant and colourful stage designs.
Dislikes
Most of the songs aren't good despite being same as the Japanese list.
No multiple profiles.
Doesn't save game settings!
Doesn't let you "finish" the game through one difficulty only.
Maybe the cheezy tutorial song... "Let me hear you say, right! Left!"