Monster Hunter Portable 2nd G Sells Out and Moves One Million in Six Days
The latest in Capcom's Monster Hunter series, "Monster Hunter Portable 2nd G" for the PSP did even better than Nintendo's Super Mario Smash Brothers selling at over 670,000 copies on its first day. Some stores even sold out in an hour in Akiba or had as many as 600 people queuing up in the early waking hours of launch day in Shinjuku. Now, six days later Famitsu and other Japanese gaming sites also report it has shot pass the one million copies milestone in just six days.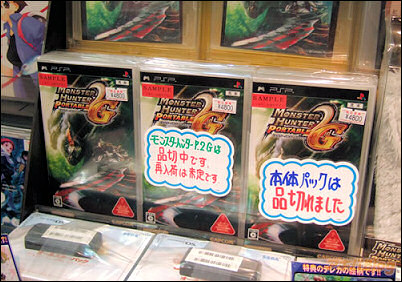 I can't say I'm surprised because it really is a great game to play and I would probably say the best on the PSP as long as you have the patience to get past the learning curve. Well, at least from the second game onwards it was great after its huge number of improvements. I ended up clocking over 240 hours playing Monster Hunter Portable 2nd while others claim to have gone into the thousands after collecting every piece of gear there is. Being able to play online does help extend the gameplay time.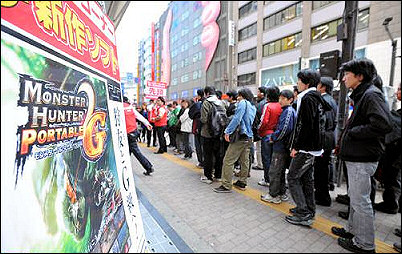 I've been playing this new "G" version too and have put in over 50 hours just adventuring with different people through Xlink Kai. Besides offering a small number of new monsters, the tougher G quests also breathe some new life into all the old monsters, increasing their attack power, adding new attacks and changing their patterns. New Buddy Felynes is pretty fun to have around too during solo quests although I haven't spent much time on those. Once I do, I should have a review up.