Code Geass Lost Colors, Differences Between the PS2 and PSP Versions
Just two weeks left until the visual novel game "Code Geass Lost Colors" is out and I just happened to come across this scan that shows the differences between the PS2 and PSP versions.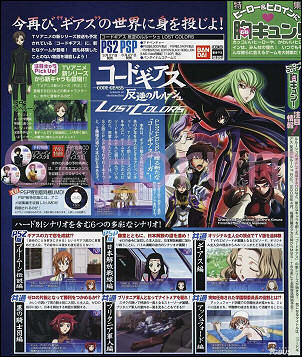 In both versions players will be able to experience the following scenarios:
Geass
Based on the TV episodes, players will be able to watch events from the show through the eyes of Lelouch.
Ashford
As a student at Ashford Academy, Mirei wants you to do all you can to make the school festival a success.
Britannia Army
The player is invited by Suzaku to join the army.
Black Knights
The player is invited by Kallen to join Lelouch's fight to liberate Japan.
Besides having an exclusive "Theatre Mode", the PS2 will also have a "Legend of the Blue Moon" scenario too which, is about how the Geass power to make anyone fall in love with the player is awakened. The PSP on the other hand gets an extra "Japanese Liberation Front" scenario where the player has decided to disobey Lelouch and join the Japanese Liberation Front.
And from the official site's FAQ page it appears the player will be male only. You can't choose your gender as the first scans had suggested with its teaser screenshots. As for the play time, each path should last between 3 ~ 6 hours and there is over twenty endings.
Something to re-jog the fans' memories just before season two starts on April 6th then.