An increment in the first decimal place in computer software version numbers usually mean a large number of changes have been made, few being significant new features but not enough to give the original design a complete overhaul.
In this case, I don't think it's true of Gainax's Blu-ray release of Evangelion 1.11 (also available on DVD) because apart from providing you with the standard Full HD 1080p resolution and TrueHD 6.1 surround sound, it only extends the original 1.01 movie's 98 minutes by a "massive" 3 minutes of new scenes – A lot less than the extra 30 minutes FFVII Advent Children Complete gives you.
Well, it does also provide you with brighter images and it's the first Blu-ray disc to be encoded with Sony's new "Super Bit Mapping for Video (SBMV)" software technology that makes colour gradients look smoother but, only if you have a player that supports it.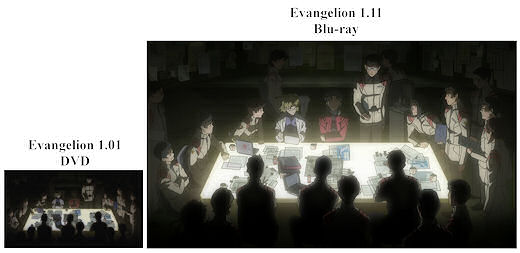 Anyway, back to the new scenes… So where do they come in?