Update – Exclusive Limited Edition Bonus Goodies
Added information about what each online store is offering as exclusive limited edition goodies. Competition is fierce as usual with Toho offering a B5 sized canvas and ring binder for an extra 1000JPY.
Update – Release Date Confirmed!
There were doubts about the photos from the mystery Twitter account but the Japanese disc release date leak has been confirmed as real today! Makoto Shinkai has tweeted about it and an announcement by the voice actors has also been released on YouTube.
Details of the disc contents have also been confirmed as the same with a 5 disc 4K Collectors Edition available as well as the pre-order bonus film bookmarks – there will be 34 different ones in total. The movie will also come with English/Chinese subtitles as with previous movie releases.
Amazon Japan is already accepting pre-orders and is offering even more bonuses by including 2 postcards with all editions while the Collectors and Special Editions also gets an A4 sized frame.
Update – Disc Contents Leaked
Added a table for easier comparison between versions. Chackn has also revealed another photo that reveals the disc content of the actual packages so information has been added about them. That said, there is still no official confirmation this is real as real as it looks. It's quite odd he doesn't tag or mention "Kimi no Na wa" in his tweets but it will be interesting to see if this is real over the next month or so =P
---
Haven't done a news post for a very long time but this one should be of interest for fans of Makoto Shinkai's works like myself.
We've known for a long time UK will be getting a dual format release of Kimi no Na wa in October since it's been listed on Amazon UK for some time now but, now we have a release date for Japan's version!
Judging by this blurry photo by @Chackn on Twitter Japan will be getting 3 versions including a 4K UHD Blu-ray release on July 26th. All pre-orders will get a film strip bookmark (34 different ones in total). Here's a table for an easier comparison of all versions:
Japan
UK
Collectors Edition
12,000 Yen (£83)
Special Edition
7800 Yen (£54)
Regular Edition
Blu-ray 4800 Yen (£33)
DVD 3800 Yen (£26)
Collectors Edition £19.99
– 2x Movie discs (1x 4K UHD)
– 3x Bonus discs
– 100 page booklet.
– Movie script.
– Mini character stickers.
– 6 part digipak
– Movie + 2x bonus discs
– 100 page booklet.
– Mini character stickers.
– 1x Movie disc
– Mini character stickers.
– Blu-ray + DVD movie disc.
– OST
– Collectors Packaging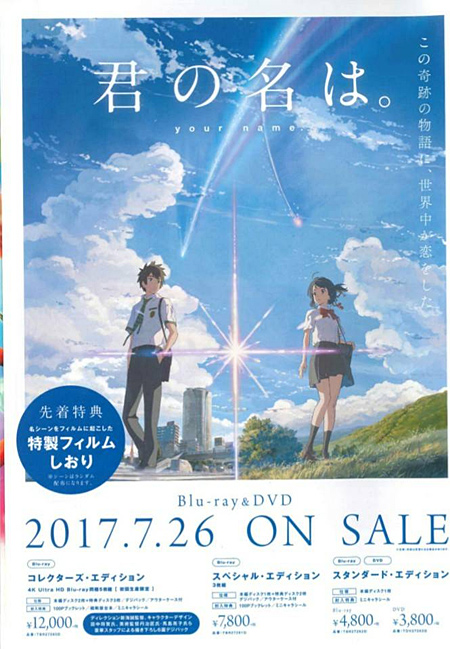 I can only imagine all the extra details that will be in it when you consider how different the blu-ray release of 5cm was compared to the DVD release such as the individual LCD crystals on the phone. Shame I don't have a 4K player or screen to enjoy it for the time being =/
30.4.2017 Update
The disc contents will be the following according to another of Chackn's later tweets after his photo started to go viral: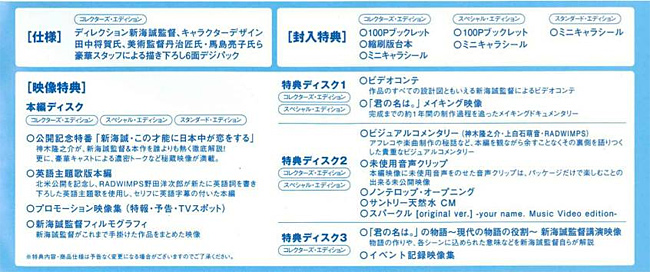 Movie Disc Special Contents
"Japan Falls in Love with Makoto Shinkai's Talent"
Makoto Shinkai, Ryunosuke Kamiki (Taki's voice actor) and Yojiro Noda (Radwimps' Vocalist) talks about the movie – I'm assuming it might just be the same as the Walker book. And also talks to the other cast members.
English Version of the Theme Song
We talk about how Radwimps wrote the English lyrics for the theme song to commemorate the NA screening.
Promotional Videos (Special TV Features, Trailers)
Makoto Shinkai Filmography
Bonus Disc 1
Concept Art
Making Of
A documentary of the movie's 1 year production process.
Bonus Disc 2
Visual Commentary
Some commentary from Radwimps, Ryunosuke Kamiki (Taki) and Mone Shirairaishi (Mitsuha) about the music creation process and voice recording sessions.
Unused Sound Recordings
Creditless Opening
Suntory Mineral Water CM

"Sparkle" Music Video
This is probably the same as the one that comes with one of Radwimp's albums "Ningen Kaika [Blossoming Humans]" and shown during the Kohaku 67th Song Contest.
Bonus Disc 3 (Collector's Edition only)
The Telling of Your Name
How Makoto Shinkai tells the story and the meaning behind various scenes.
Event Recordings
Very excited since I've been waiting for release information for some time and was sure Your Name would get something special considering its success worldwide!
Still no signs of English subtitles but if previous BD releases like Garden of Words and Children Who Chase Lost Voices are anything to go by, it will probably have both Chinese and English Subs.
9.5.2017 Update
All the information leaked has been confirmed real including an announcement by the voice actors Ryunosuke Kamiki (Taki) and Mone Shirairaishi (Mitsuha) themselves.
The official site has also been updated with the disc release details including how there will be 34 different versions of the pre-order bonus film bookmark – each representing one of Radwimp's or the cast's favourite scenes.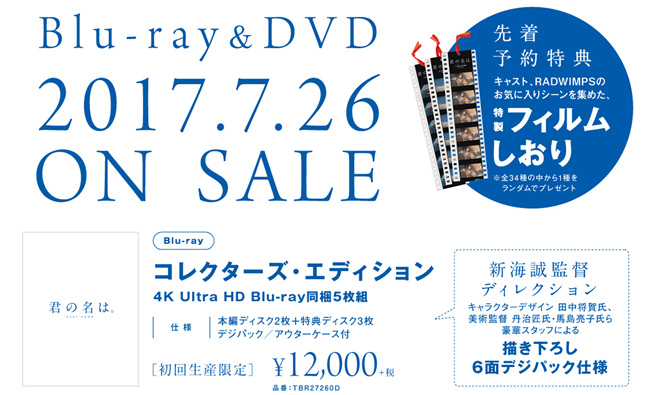 The character stickers on the other hand aren't that impressive personally…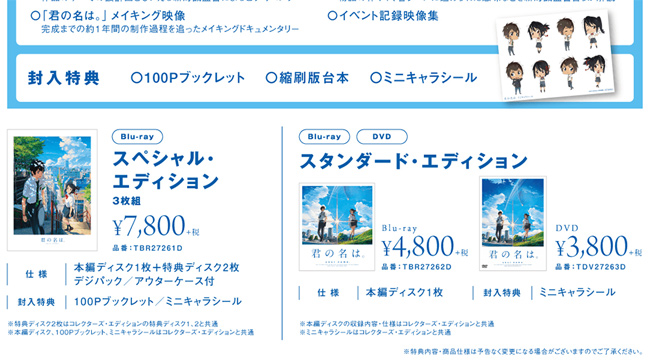 Store Exclusive Pre-order Bonuses
As per Japanese custom, every store is offering different pre-order bonuses in addition to the film bookmarks so let's see what they have…
First party seller who is responsible for the cinema screenings and disc releases is offering a B5-sized (176mm x 250mm) canvas art print featuring Taki and Mitsuha along with a ring binder with all versions.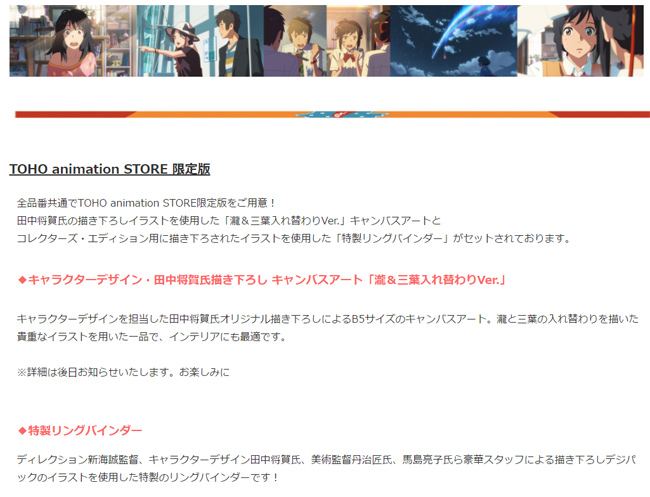 Amazon Japan
2 postcards and an A4 sized frame. Its listing also confirms the disc release will contain both English and Chinese subtitles as with other Makoto Shinkai movie releases.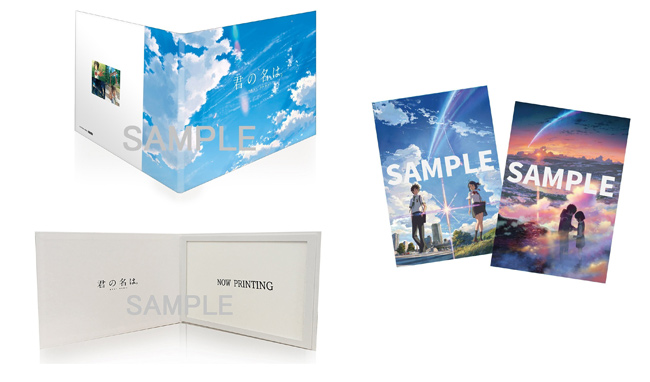 Offering a steelbook case with the Special Edition through Amazon JP. Wonder if the UK release will get a steelbook…?
Standard editions get a postcard.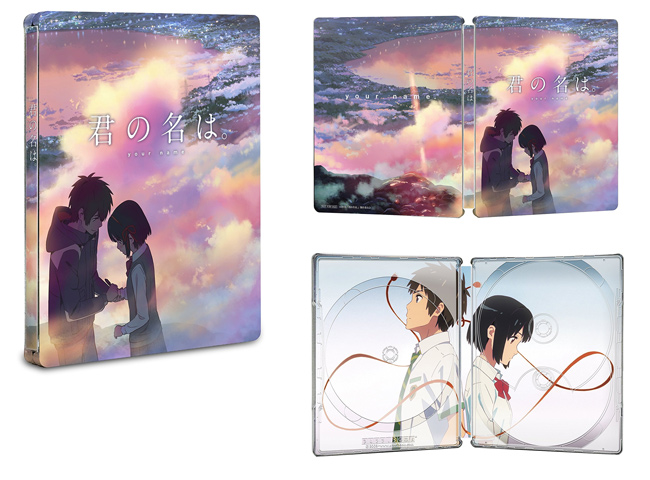 There is a raffle for tickets to the upcoming Kimi no Na wa concert in winter with all editions. You can also pay extra for the Standard Edition to get an IC card featuring art from the movie. The card is used for transport in Japan – kind of like London's Oyster card but a lot better. More like Hong Kong's Octopus card.
Special Edition will include a printed frame – I'm assuming this will the same as Amazon's one.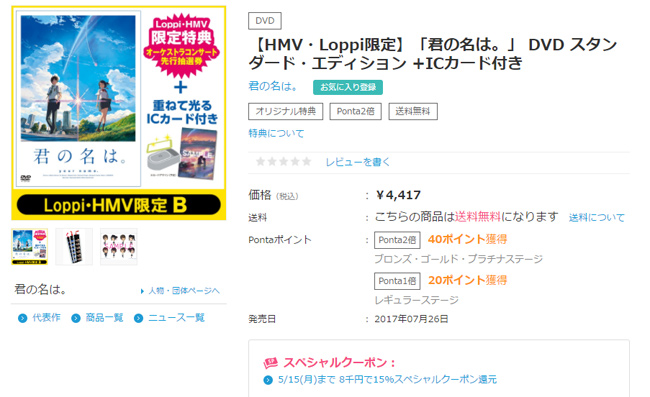 An acrylic clock, badge set and an optical illusion cover.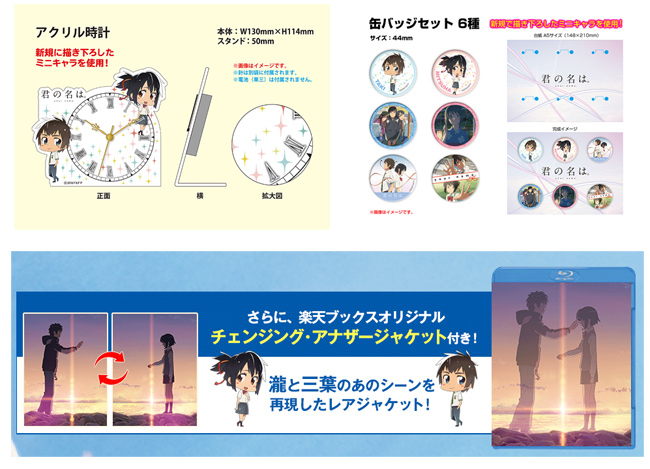 2D character stands.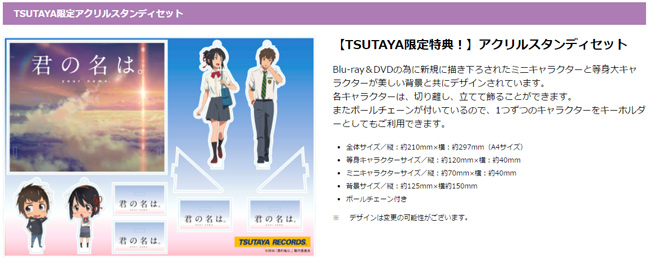 A B6 sized pub mirror.

A teddy bear mascot keyring of your choice that represents Mitsuha or Taki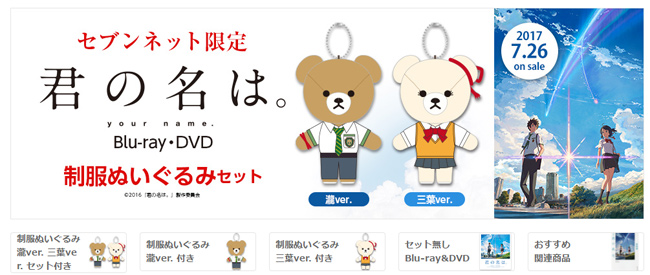 A plastic book cover.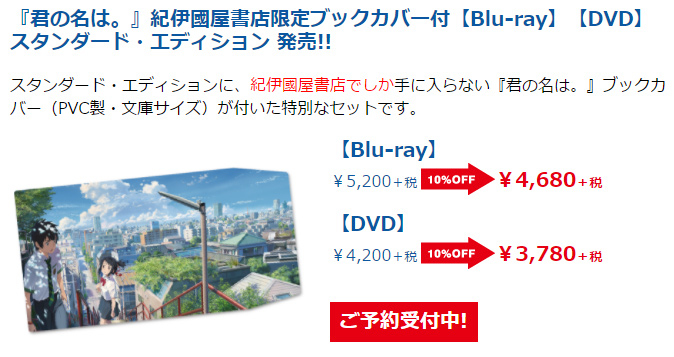 A clock featuring a scene from the movie.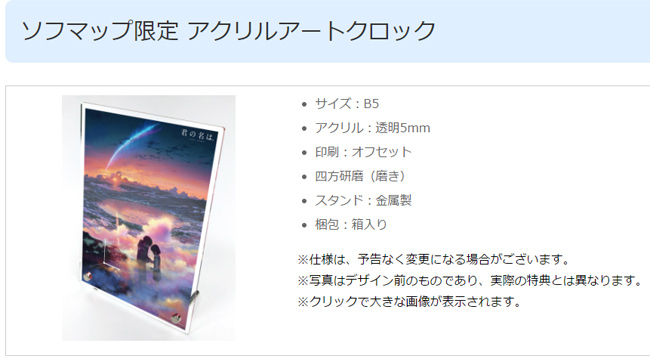 2 memo pads.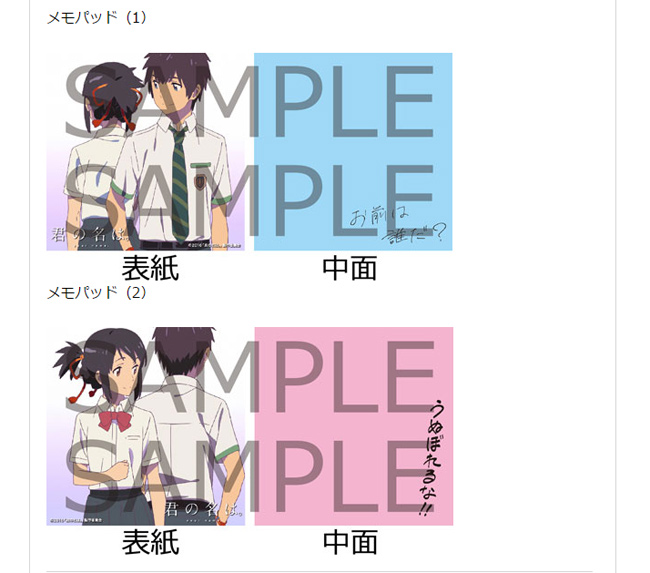 So if you can't wait for your local release or just want some of these exclusive goods, you can use a proxy service like Tenso.com to forward the goods to you if the site doesn't ship to the UK. CDJapan also offers shipping to the UK and is in English if you just want the movie.
However, bare in mind it won't be cheap! Any import goods to the UK outside of the EU are subject to customs. I think it's 20% VAT and then there's a handling fee by the company who delivers it to you – usually Parcelforce who charges £20.
So in other words, the price of importing will be Goods Price + Postage & Packaging + Customs + Courier Handling Charge. e.g. Something like the CE will cost close to £150 if sent by EMS ^^;