Meizu Mini Player SL 8GB DAP Review
Decided to pick up a new DAP after finding that I couldn't make a call with my Nokia phone one day. The battery had gone while I was listening to music and I was travelling away from a charger for the day. Just like the last time, I decided to pick something else instead of the Apple iPod because I really think you're paying for their brand name. They're expensive and lack a lot of features that other DAPs offer.
I have decided to go for the Meizu Mini Player because it has everything my old 256MB iBead player offers namely FM radio reception and recording. Every time I travel to HK, I like listening to the shows that are on sometimes and it's great for recording any tunes I like to find out what they are later. Then there's also the voice recording, unicode support and a quoted 20 hours of battery time for less than half the price of the iPod Nano.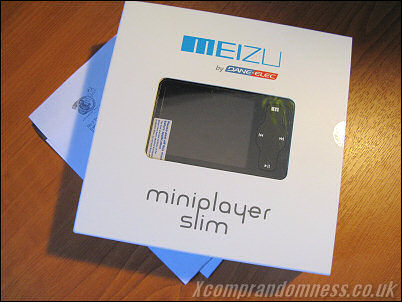 Best of all was this is one of the few players that support a variety of codecs because other than the common MP3 and WMA support, it also supports the currently popular lossless formats APE, FLAC and OGG which means I no longer have to convert songs I "borrow"!
The original Meizu came with a pouch for the player and a lanyard string but it seems they've grown stingy and include the minimum of goods. Here we only have earphones, the mini USB cable, software disc and quickstart guides.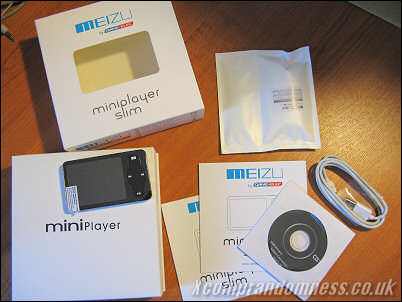 First time I see the earphones sealed away in a little bag like this...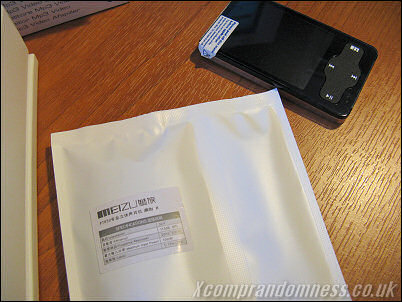 At least they were generous enough to give spare earphone covers!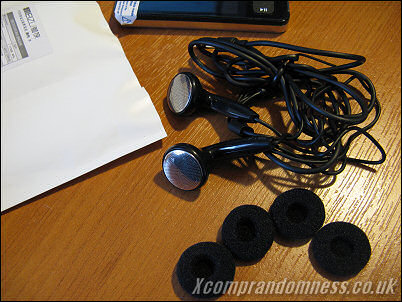 A plastic film needs to get peeled off first. It actually has another one on protecting the screen itself as the white label says.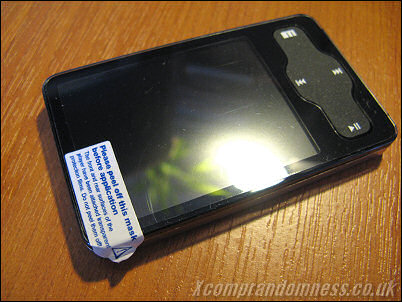 Metallic casing with the serial number, model and supplier printed. In this case it's from "Dane-Elec" who are the European distributors for this Chinese DAP.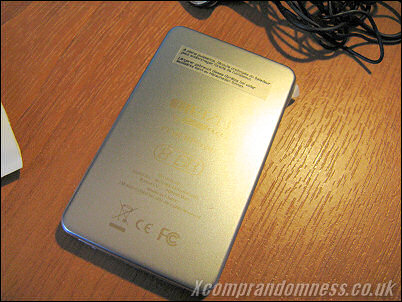 The mini USB, lanyard slot, mic and 3.5mm earphones socket at the side, next to the slider and buttons. Hold switch at the top.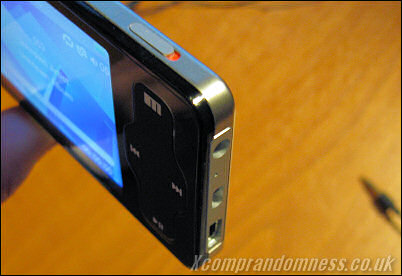 The Meizu is usable right out of the box but the battery is low. Need 3 hours to fully charge and my first complaint would be the lack of a charge indicator. All we see is an animated battery filling up and not how much it's really charged unlike my iBead. Playing at about 50% volume while I'm out and about, I managed to get 15 hours out of the quoted 20 hour built-in lithium-ion battery.
Maybe the different codecs cause the battery to drain at different rates.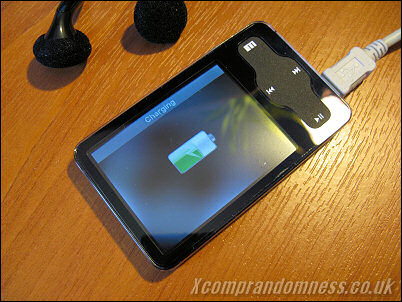 The touch slider takes some getting used to because it is surprisingly sensitive sliding your thumb up and down to select songs. Funnily enough, it makes a clicking sound as you move between choices but fortunately it can be turned off. Menu items can be re-arranged, selecting only the items you want to appear in the main menu but, I feel it needs some shortcut key to bring one back to the "Now Playing" screen quickly.
You might also be wondering if it would end up being clicked too much while in your pocket. There's a hardware "hold" switch on the side which prevents that but, I've found no problems without using this switch because it seems it's only sensitive to heat.
Some reviews had said this player lacked bass but ironically, without any burn-in performed on the included earphones, they seemed too strong to me here drowning out the vocals in my songs. Delving into the settings I found all the bass, treble boosts and "Virtual3D" settings enabled so disabling these rectified the sounds. It's a very loud player, that's for sure and the sound spectrum is very good too. I managed to hear many sounds that I haven't been able to with the other DAPs I've had in the past.
Other settings allow you to adjust the backlight time off and menu contrast but oddly, you can't adjust how long before the screen itself turns off. I think another good setting would be allowing the user to disable the slide control completely.
I used to have to convert all the APE and FLAC encodings I have on my computer to put onto my phone but, it's great to see they play perfectly on the Meizu with the default firmware v2.004.6 which is the latest at the time of writing. You can see by going into the "Browser" menu, they all have their own little icons to show which format they're in. Interestingly enough, the EQ display doesn't work with lossless file formats.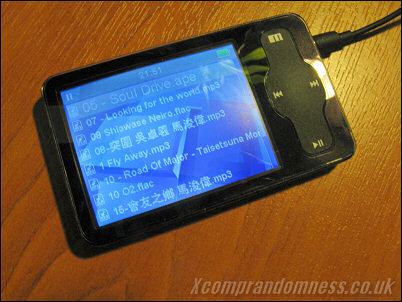 Playlists can be created using a media player program or even on-the-fly as M3U files but for the latter, you can't edit them - only delete and add. You can browse through your songs by tag or just folders and files. Seems the player has to re-index all files that are on it every time you transfer new music over which doesn't really help the slow startup time that can take up to 10 seconds.
Even though this "Dane-Elec European" version of the player has the FM radio disabled by default to avoid more sales tax, the receiver hardware is there. Easily fixed by updating the firmware from the official Meizu site although you won't be able to change the menus to European languages anymore. Tuning the radio was a breeze as it can scan for channels automatically and although other reviews I've read say they had poor reception, mine was perfectly clear and recording broadcasts worked perfectly fine too.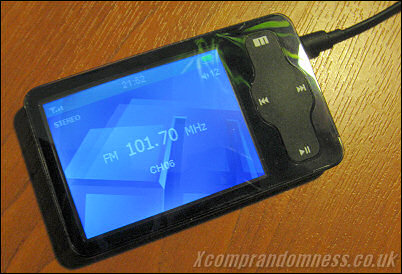 The built-in microphone on the other hand is not very sensitive compared to my iBead and recordings end up with lots of static and noise. You can still make out any distant voices fairly well once the volume's up which should suffice if you're recording any lectures and sitting say, ten metres away. There's three settings which are low 32kbps, medium 64kbps or high 128kbps MP3 format. Perhaps it's this MP3 encoding that's filtering out sounds. I don't see why Meizu can't just record in the WAV format too.
Didn't bother testing the video because I'm not really interested in it although there is a sample video pre-loaded. Meizu supports MP4 and AVI clips at 15fps. The pre-loaded promotional clip seems to be fine but, I would imagine more action filled movies will be too jerky.
To be honest, if I really wanted to watch videos on the move, I would get a PMP with a bigger screen and storage capacity though so this is just a bonus.
JPG, BMP and GIF files are also supported which can be used as the background wallpaper or, viewed as a slideshow with transition effects. Again some sample image files are pre-loaded but, I tried viewing some of the 8MP photos I took with my camera and it appears the player works fine with the high resolution images too.
There's even two little built-in games to play although it's pretty cumbersome to control using the slider. Other side features includes a stop watch and calculator.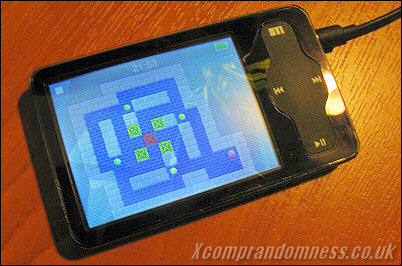 Overall, I'm satisfied with the Meizu and hope the improved FWs and support for new codecs continue to be released for any other future file formats that may appear.
Likes
Supports MP3, WMA, APE, FLAC and OGG.
Mass storage mode support.
Good sound spectrum.
On-the-fly playlists.
Good clear FM radio reception and recording.
Non-proprietary, easy to replace cable.
Dislikes
Slow startup time.
Needs to re-index files every time new music is transferred,
Bare minimum package - Doesn't come with a lanyard or case.
Mic recordings have a lot of static.
Needs a cable to access drive contents.