Code Geass R2 Board Game Drama Coming to DS
I've yet to play the Code Geass PSP dating sim but, the DS game was very shallow for an RPG. Now here we have another upcoming title that comes in the form of a board game but with an original story mixed in this time round based on the second season show that's currently airing.
Available on August 7th from Bandai-Namco, "Code Geass R2 Lelouch of the Rebellion - Banjou no Geass Gekijou" sees the player as a foreign Britannia student who is going to be staying over at Ashford Academy for one month. Players will be able to choose their gender and will reach different endings. Like the PSP dating sim, the aim is to get along with the Code Geass characters but in addition to picking the right chat lines, you must also beat them at their mini games!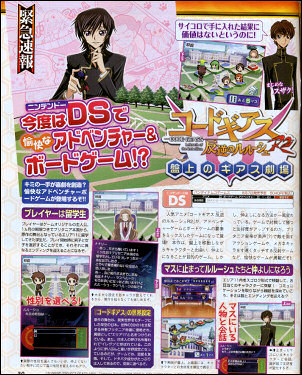 With C.C. players will be playing "Pizza Pizza Panic". Players must shoot blobs of cheese at pizzas to make them disappear. Any pizzas that are of the same colour and are linked together after each shot will then also disappear.
As for Shirley, players will have a game of Othello and Kallen will have a mini battle game where players must shout into the mic.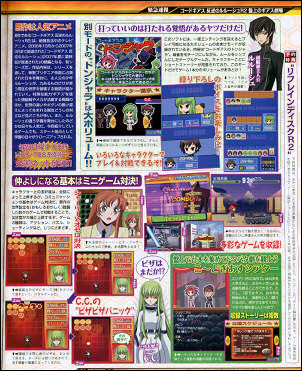 Other modes include Mahjong and a "Code Geass Theatre" where players can view the various scripts that they pick up while playing the main board game, travelling around Area 11. These are presented with SD versions of the characters and can only be viewed when sets of four scripts are collected.
And not surprisingly, there is "Refrain Disc R2" as a pre-order goody which contains voice clips of the various Seiyuus explaining the game which is rubbish really... Unless you're a loyal Code Geass collector or can't get enough of their voices.
Now I wonder what the Wii game will be...