New Free AVG Version 8.0, Now with Spyware and Website Protection
AVG just released a new version of their (legitimately) free virus scan a few days ago which has an improved updated interface at version eight. Also good to see it now scans for malware and allows you to define exceptions too unlike the previous version.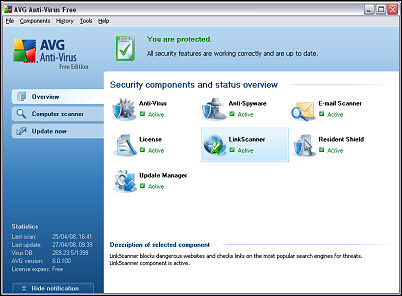 I'm not too sure about the Link Scanner though which checks for unsafe websites and marks links in search engines such as Google with some meaningful icons; a green check mark if they're safe and red if they're not. It's well integrated but seems to slow down surfing a little.
Below is just an example of it in action. I already got a legitimate copy of Office 2007 when the student offer was on.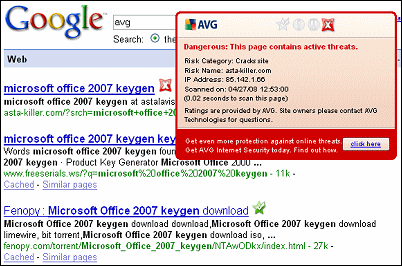 It's a good scanner considering you don't have to pay an annual license fee. Or you could always try sticking with a Mac or Linux distro like Ubuntu and you'll be pretty much free from all the Windows vulnerabilities, viruses and malware. I've chosen not to because apart from Open Office, I can't seem to find good alternatives to the likes of Paint Shop Pro and my other favourite programs that I'm used to.