Note:
This art book is now officially available in English as "Sky Longing for Memories" so there might not be a need to import any more!
Finally got a hold of Makoto Shinkai's first artbook, "Sora no Kioku" and it wasn't easy considering how well the first batch has been selling. Don't get this confused with the "Complete Book" that was released for "The Place Promised in Our Early Days" because that was more of a fanbook that contained everything related to that movie only, not just artwork.
Unfortunately, you will have to wait until the second print is ready if you would like to get your hands on this book yourselves because it appears to be sold out right now. I suggest keeping an eye on HMV JP and Hobby Link Japan for now.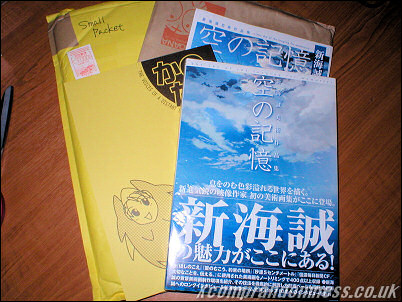 With that said, lets open and have a look inside the book itself in the meantime. Feel free to click on the photos for a closer look.