Interest probably grew in the Otakusphere towards Steins;Gate because of Black Rock Shooter since it is illustrated by the same artist Huke and, I admit it was the art that caught my eye in the first place when I saw an article about the game. Then it was the story line.
Since I can't discuss the game spoilers in the forums I might as well pour it all out here. I've written this all from memory so there will be places that are inaccurate and I've tried to slim down to the most important points.
Needless to say, for those of you watching the Steins;Gate Anime TV series, spoilers ahead. Be warned! Although you might want to read about the individual character endings that the show probably won't cover.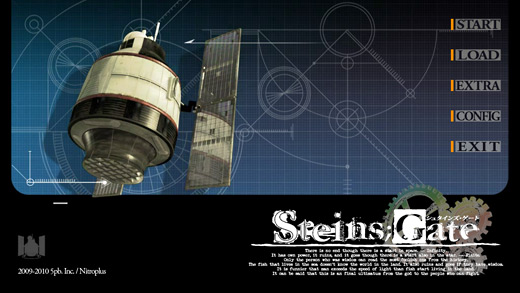 Prologue, Chapter 1 – Time Travel Paranoia
Episode 1, 2, 3
The story starts off with Okarin (Okabe Rintaro), a "chuunibyou" with delusional "mad scientist" ambitions, who goes to attend a presentation about time travel but discovers Kurisu Makise, a young genius, murdered. When he sends a message to his friend Daru about the matter, he suddenly finds himself in the streets of Akiba with everyone gone. Mayuri wakes him up and he finds the presentation cancelled with a large satellite crashed in the very building he was in earlier.