Persona 4, The Life of a High School Student
Not too much in this week's Famitsu coverage of Persona 4 but, no big surprise really considering the game is out next week. The first page reminds players what the game's about, the death of classmates and bizarre murders. It also talks about the fusion of Personas which is pretty much standard issue.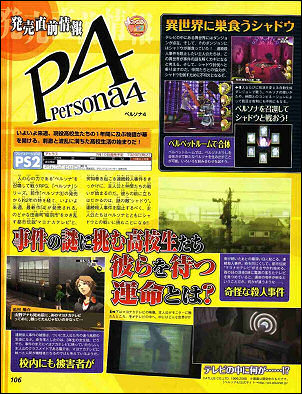 The reminders continue, listing the characters that have been featured so far, talking about how battles will be supported status reports from Rise or Kuma and how players can either leave the characters to their AI like in P3 or give them commands directly.
Now the interesting part comes next; the high school life sim part which I think was what made P3 unique and partly gave it the attention it received from non-MegaTen fans. The joys of school life, eh?
You can go buy books which affects your character stats (Now what can this do?)
Enjoy the company of Nanako who treats the MC like her brother.
Go fishing.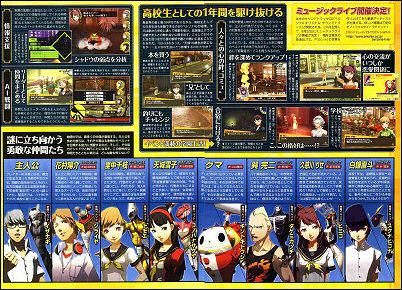 There's also the mention of how Social Links can either stay as friendships or become lovers. If the player does become the lover of another character, one wrong move can end up making the Social Link go bad although I guess this doesn't apply to the fox or P3 characters we get to re-visit.
Finally, players may also head to the boarding house where the characters seem to be taking part in some sort of roleplay... There even looks like there's a pairing party at school where the male and female characters get together to know each other more.
Oh, and there's a reminder of the Persona Music Live concert.