Anime Review 2018 Part II
Recommended
Maison Ikkoku (1986, Studio Deen / Asia-do Works / Kitty Film)
めぞん一刻
プレリュードめぞん一刻 / 移りゆく季節の中で / 完結篇 / 番外編 一刻島ナンパ始末記
Prelude: Maison Ikkoku / Utsuriyuku Kisetsu no Naka de / Kanketsu Hen / Bangaihen: Ikkoku Shima Nanpa Shimatsu-ki
Yusaku Godai is a "ronin", a student waiting for his next chance to pass university entrance exams. To make things worse, he lives in a shared rundown apartment called the "Ikkoku Apartment" with a group of inconsiderate and strange neighbours. Despite his best efforts to study and pass, they constantly harass and use his room for partying. With such a horrible place to live in, Godai tries to put in as much determination to leave again but on the same day, a pretty and refined smiling young woman named Kyoko Otononashi moves in as the new manager. Captivated by her beauty he changes his mind and stays. Will twenty-two year old Kyoko be able to manage the the apartment full of troublesome tenants and will she move on from her life as a widow?
This is another series I watched because of the hype but also because it was another show based on one of Rumiko Takahashi's popular Manga of the same name. I really enjoyed Ranma 1/2 so I thought I might like this even though they're of completely different genres. Again it's a mammoth TV series spanning over 90 episodes and, just like another one of her works Urusei Yatsura she used a lot of word play with names too. All the character's names are derived from certain words that matches their personalities such as Godai meaning "five generations" which could be mocking how many years he's been a ronin while, Otonashi can both mean "without a sound" or sound the same as "otto nashi" meaning "without a husband". Then there's always some odd brand name that appears in scenes to mock what's happening.
While most Anime is set in high school, this show has a more mature setting taking place during adulthood. With some of the characters it kind of feels like they were taken out from Urusei Yatsura and placed into Ikkoku-kan. You've got a kid playing grown up, an alcoholic nosy mother who loves gossip and spreading rumours, a scantily-clad woman that can casually walk around in a transparent babydoll top and a mysterious sneaky man that literally breaks into Yukaku's room and constantly exploits him. It's fun watching them mess around but despite being inconsiderate, their indiscriminate stance plays quite a role in spurring the relations on in the show. The only exception is Kyoko who has your "onee-chan (big sister)" personality - a refined older woman who's kind to everyone, takes care of others and finds it hard to say no. She kind of reminds me of Kasumi from Ranma 1/2.
Apart from the tenants the story is quite down to earth and is mostly a slice-of-life. It's told over several years and I feel it does a good job of touching on a variety of emotions other than romance such as loss and fear. The show makes you root for Godai as he falls for Kyoko, learns more about her and works hard to become a better more respectable man so that he can prove his worth to her. However, he often gets sidetracked and that tendancy often costs him when Kyoko joins a tennis club and the smooth talking, rich and charismatic (but cynophobic) Shun Mitaka appears as a rival with his assertive nature. Kyoko on the other hand may seem like a cheery happy woman but dwells on the memories of her late husband and struggles between being honest with her own feelings and moving on from her life as a widow.
The show may start off as a fun romcom but as it goes on, it quite quickly takes on quite a more serious tone. You also start to appreciate the characters more as you see them grow by overcoming challenges while the indecisiveness of Godai and Kyoko leads to many dramatic situations. Some episodes can be quite intense with chains of misunderstandings and missed opportunities occurring (especially once you're half way through the series) where some scenarios are spread out multiple episodes and can leave you thinking, "Nooooo! That can't happen!" It's like tearing hearts apart and then gluing them back together. The show doesn't forget it's supposed to be a romcom so the more bitter scenarios always wrap up with some silliness but they can last so long, it can feel like this show is more a bitter romance sometimes. At the same time, you can also appreciate the reason why the relations are so strong between characters as a result of these trialing moments and it keeps you watching to see how they progress even though it happens at a very slow but natural rate.
Like other shows based on Takahashi's Manga there's partial nudity such as Akemi's revealing outfits and the odd accidents such as groping and barging into a room while a lady's changing but it's extremely rare. Even then, reactions are quite mature instead of your common Anime girl screaming "pervert" and then lashing out or throwing things in a comical way. There's pretty much little to no fan service unlike Ranma 1/2 or Urusei Yatsura (although there are a lot of cameos though). There's your usual hotsprings/beach episodes but they feel a natural part of the changing seasons in the story. While the show is mostly faithful to the original 1980 young adult Manga, it's actually been toned down a lot already. Some scenes were cut or slightly changed as with most Manga based shows so that it was more suitable for broadcasting on prime time TV. In this case there was quite a major change in the build-up towards the ending of the show but the ending is the same and still good.
Theme songs themselves aren't as catchy as Ranma 1/2 but the first OP "Kanashimi yo, Konnichiwa [Hello Sadness]" did grow on me and the lyrics such as "Even though memories may overflow, I won't lose my good cheer. When sadness suddenly comes around, I'll make friends with it" suits Kyoko so well. Some of the OST reminds me of Ranma 1/2 too and I'm actually quite surprised Kenji Kawai composed some of the music for both shows considering he also composed music for shows like Fate/Stay Night... Interestingly enough, Kyoko's voice actress Sumi Shimamoto also did the voice for Ghibli's Nausicaa. Mitaka's voice actor Akira Kamiya also happens to be Ryo Saeba from another popular show, City Hunter. Character designs and animation's good. I think the art is as good as it gets in the days of cel animation and it looks great as it is even though a lot of the character designs resemble Takahashi's past works. Maybe you'll notice re-used animations too such as the train running over Ikkoku-kan at night.
The TV series itself alone wraps up really well but if it's not enough, there's also a movie named "Final Chapter" which is a filler that takes place during the last episode of the series, two days before the big event. There is the introduction of a new tenant while the former ones stir up trouble once again during their pre-celebration party as an old rival returns and Kyoko is anticipating a mysterious letter. It's produced by a different studio so it looks quite different - especially the characters. Animation's quite rough. It kind of fits in but also kind of doesn't considering the atmosphere because in the TV series it felt like a trusting bond was finally forged but then here, it suggests there's still some insecurity. You won't be missing much if you didn't watch this but it might be worth a watch if you want to see some expansion on how the supporting characters ended up the way they did.
If 96 episodes is too much for you, there's always a recap OVA called, "Through The Passing Seasons" that tries to summarise the show in 1.5 hours (missing out the last episode wrap-up). As the title suggests, select scenes from the TV series were taken and divided into four seasons. The choices aren't too bad although I think it missed out a few good and major ones so I'd still recommend just sticking with the full TV series. If you're only interested in the major events you can always watch the following which boils down to around 36 episodes but again, I'd recommend watching the whole series to appreciate what lead to them. Most of these actually appear as part of the recap but there are ones that don't (highlight to see episode numbers) - 1, 8, 9, 12, 14, 23, 24, 30, 31, 39, 40, 42, 45, 48, 52 - 57, 58, 60 - 62, 66, 69, 76, 80, 83 - 86, 89 - 93+
Then there's also an OVA "Shipwrecked on Ikkoku Island" which is based on one of the side stories in a bonus Manga which returns to the show's roots as a romcom so it's simple cliche fun with no bitter drama. You won't miss much not watching it. An OVA named "Prelude: When The Cherry Blossoms Return in Spring" was also released focusing on Kyoko's life with Souichiro before she became a widow. There are live action movies too but I can't comment on those since I haven't watch them.
So the hype about Maison Ikkoku being the best romance show in Anime history is probably right. I don't think any of the other recent shows and movies I've seen such as Orange, Golden Time, Plastic Memories, Girl Who Leapt Through Time, White Album or even (dare I say it) Your Name felt so dramatic. It's not perfect because on certain occasions it feels like the show overuses cliche coincidences but there's probably only so much you can do with a slice-of-life to add drama.
If you're hoping for a pure romance comedy then you'd be better off with a show such as Nodame Cantabile. Otherwise if you're looking for a relatively mature romance/slice-of-life show where you watch characters grow and relations blossom through some heart wrenching moments then, this is it. I wouldn't watch this when you're feeling down though because it can be as viciously bitter as it can be heart warming until the very end. But with that said, there were relatable moments as someone who has been through graduation and job hunting. It kept me watching. With the way it touches on life, it might just make you reflect on your own current goals and appreciate those around you more once you finish the show.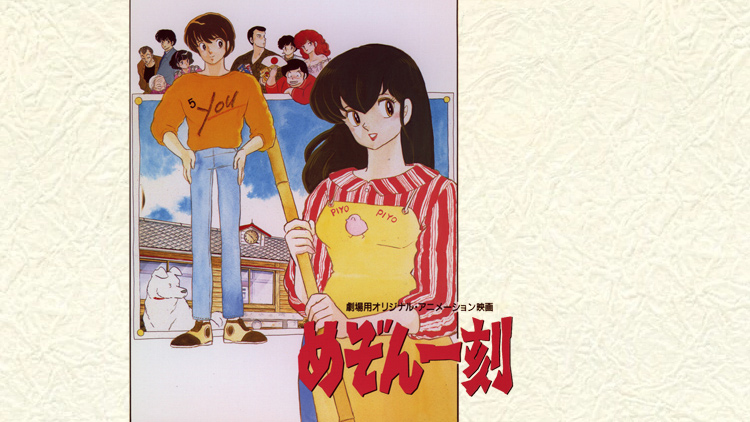 Worth A Watch
Violet Evergarden (2018, KyoAni)
ヴァイオレット・エヴァーガーデン
A nameless girl who was a victim of war is picked up and brought up in the army to be treated like another expendable soldier in war due to her superior fighting skills. For that reason, she takes everything seriously, has a hard time expressing herself and only does anything when commanded to. The War was now over but she was separated from the only person precious to her Major Gilbert who gave her the name "Violet Evergarden", her lost arms replaced with adamantine prosthetics. Unaware of Gilbert's demise, she was now left in the care of his best friend former Colonel Claudia Hodgins who gives her a place to work at his new postal company.
One day, a man asks for a letter to be written at the company's department of "Auto Memoir Dolls". It was a name that originated from a machine robotics specialist Professor Orland created for his wife who, was a novelist that had lost her sight. It recorded spoken words onto paper and for a period of time his creation had become widespread in assisting others. As time went by it became a way of referring to girls who had a similar role offering their service of ghostwriting, mostly capturing the thoughts of someone with a typewriter in the form of a letter. When Violet hears the last words "I love you" that Gilbert left her with, she decides to work in the department hoping she will eventually discover what those words mean.
A coming of age story based on a two volume light novel by Kana Akatsuki. It's set during the 19th century time of war where the city of "Leiden" seems to be modelled after a European place of the same name in Holland mixed with some buildings from Japan such as the Museum of Kyoto as the C.H. Postal building. KyoAni even went the extra length of inventing their own script (there's even a Reddit thread that spent time deciphering it). The show is well animated and looks beautiful as you might expect from KyoAni's recent works. Artwork is a lot more detailed with all the lighting and textures compared to say Miss Kobayashi. There's nothing that doesn't look pretty which is a stark constrast to the brief gruesome flashbacks of conflict so it's mostly eye candy and, it's well directed too because you can see the detail in body language during scenes. Character designs will probably remind you a lot of KyoAni's older works too although the red blush on their noses is kind of odd. As far as fan service for the male viewer is concerned I think it'd be in the form of the "onee-san [elderly sister]" character Cattleya with her voluptous character design and cleavage in what's supposed to be a formal workplace but other than that, there's none.
Right from the get go you'll probably find yourself sympathising for Violet with the flashbacks of what she's been through. Despite the serious start there are still the odd funny moments to lighten the mood due to her early overly frank and child-like personality most of the time. Like when she uses her hands to stretch her cheeks out to put on a smile! Out of interest, her voice actress Yui Ishikawa just happens to be Mikasa from Attack on Titan too.
Apart from the odd naming concept of "doll services" (well, I guess they are kind of dolled-up) and weird lines like "I can arrange a replacement doll if I'm not to your liking", it features some good short stories that represent different forms of love. While the scenarios are nothing new they are directed really well so a few of them can be really moving. Unfortunately, that voice Minori Chihara sings the ending theme with (she also plays Erica) really doesn't suit the mood... I guess the main charm of the show is seeing how much words can mean even seemingly hurtful ones. Also watching Violet become more human, discovering new emotions and rebuilding her life as she becomes the ghostwriter for other people's love stories. In a way, she kind of reminds me of Fiora from Xenoblade Chronicles who has a similar fate.
However for the most part, the show feels like just a chain of short stories because Violet's role feels very minor. Mostly as a spectator apart from the odd episode. I also think they made her a bit too overly emotionless... So much so that I was thinking, "So this an Anime about a robot girl trying to be human?" at the beginning. It didn't help when they referred to her as an "emotionless weapon" and gave her superhuman abilities either. I mean yes, she's had a tragic past but she should have some basic emotion but instead really acts like a robot processing data most of the time or "doll" as some describe her as. If they didn't overdo it I think the show would have been better so that it really felt like a human recovering from her past.
The 13 episode series wraps up well on its own. There is an OVA that came with the last volume of the blu-ray release and is kind of a filler episode that takes place between episodes 4 and 5. Violet gets a request from an opera singer who wants some inspiration by getting her to write a letter playing the role of someone waiting for her lover to return from war. However, it must be one that would capture the war-torn hearts of all men and women which proves to be quite a challenge for Violet alone. It's not too bad. If you didn't have enough of the short stories from the series then you might like it although I don't think it can top the direction from other stories in the series.
So, watch this series for the short stories and art. You might want to have tissues ready.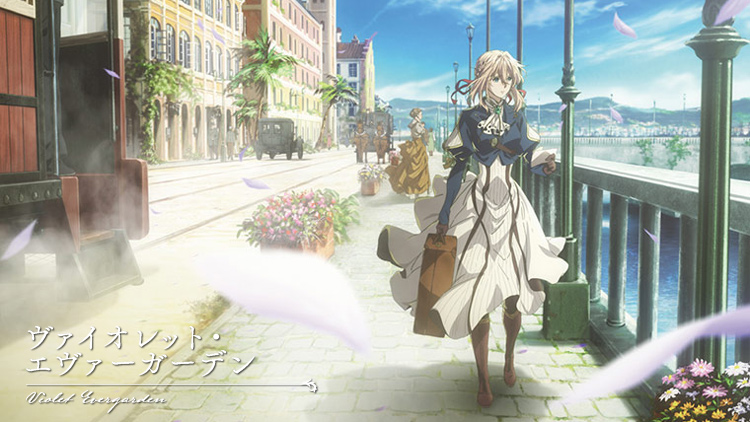 Worth A Watch
Hinamatsuri (2018, Feel)
ヒナまつり
Nitta Yoshifumi is a wealthy Yakuza member. One day, a young blue-haired girl with telekinesis powers called "Hina" appears in his apartment out of nowhere in a metallic cocoon. Worried he'd be killed he lets her stay with him. Before long, he learns she must unleash her powers frequently or she will overload and go out-of-control briefly. Nitta ends up becoming her guardian as she tries to fit in and obviously things don't go quite so smoothly when you have a Yakuza gang member trying to live together with a girl with super powers. Meanwhile, Anzu has been ordered to destroy Hina but ends up stuck on Earth and finds out how harsh life can be as she finds shelter amongst the homeless. Life just isn't the same for everyone they cross paths with.
The overall vibe reminds me of Barakamon another great comedy but without the super powers and alien elements. In fact, the direction and art is so similar I'm surprised I couldn't find any staff that worked on both! Art style with the thick highlight lines reminds me of Poco's Udon World but different studio. Facial expressions alone are hilarious to watch let alone the ridiculous scenarios that come up in the show. Even the eyecatch commerical break images are fun and there's a lot of references to Terminator too.
Most of the time you'll probably be in tears laughing but there are also some tear jerking moments too as you see life from both sides of the coin, the wealthy and the poor. Despite being aliens, both Hina and Anzu act just like their childlike appearances - just two innocent kids. Yet, Hina learns how spoiled she is and Anzu learns there are times when you must put aside your pride so there's some great character development. And even though there are supposed to be some not so down to earth elements, very little actually happens that remind you that they are aliens with powers so over all it's like another slice-of-life comedy.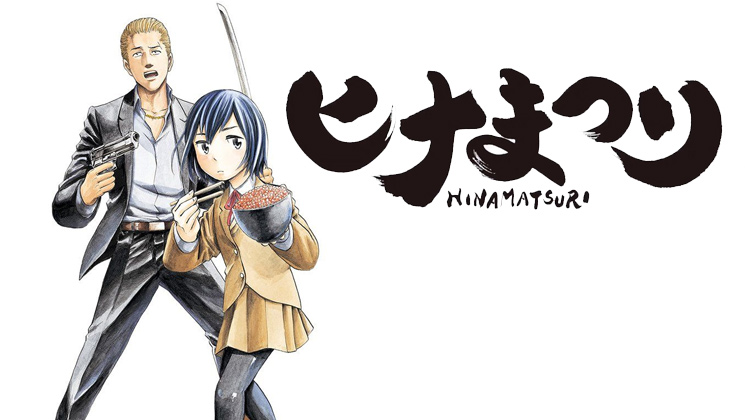 Worth A Watch
Doraemon: Nobita's Treasure Island (2018, Shin-Ei Animation)
映画ドラえもん のび太の宝島
As Nobita hears a pirate story, he dreams of going hunting for treasure himself and using Doraemon's gadgets he surprisingly discovers some undiscovered treasure. The treasure was located on a newly formed island of rock outside of Japan but as they make their way there, they are attacked by a group of time travelling pirates and Shizuka is kidnapped. Now they must rescue her from these mysterious assailants.
A new original movie this year even though the pattern's been remake of an old movie followed by an original. Interestingly enough, Genki Kawamura was responsible for the screenplay - he was one of the producers for Your Name and also The Boy and The Beast.
As usual the art is good and this was actually quite a good action comedy. Shizuka gets a lot more screen time than she usually does. They added in a bunch of little riddles in for fun too and movie doesn't forget to empthasise on protecting Earth and its environment as its been with previous movies.
Worth a watch for Doraemon fans.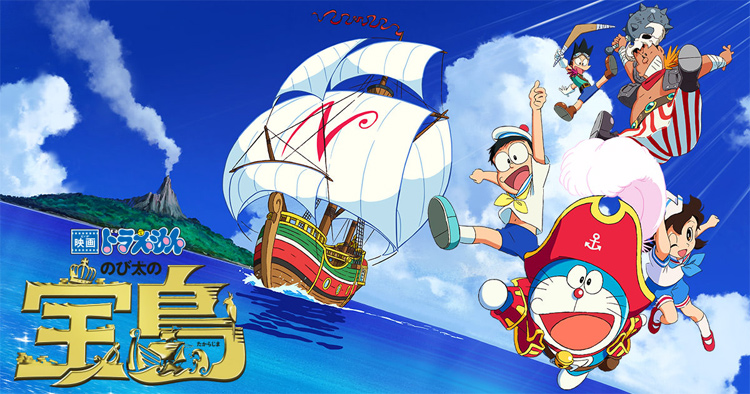 Worth A Watch
Blend S (2017, A-1 Pictures)
ブレンド・S
Maika Sakuranomiya is a kind hearted, high school student who has decided to find a part-time job so that she can earn enough to study overseas. However, she struggles to find one because she just can't stay her nice self when faced with strangers and ends up glaring at them. By chance she catches Dino's eyes, the Italian manager of a Cafe Stile who offers her a trial but this wasn't just any cafe - it was a role playing one where the staff took on different personalities to entertain the customers similar to maid/butler cafes. Maika's role was to be a sadist and mistreat customers who enjoy it. Dino thought she'd be perfect with her cute looks and glare. It was going to be paradise for his masochist nature - and give him a chance to win her heart. And so, Maika's new odd part-time job begins.
I watched this because of the hype and didn't know anything about the series but from the screenshots, I thought it was going to be similar to "Working!" In a way it is with the vivid, bright cheerful colours and equally cute, cheerful characters. It's animated by A-1 Pictures too and the OPs look very similar with the polka dots but, it has more adult themes and fan service from the female cast despite the loli character designs such as changing room scenes and loose busts. Still, it's a great comedy show with plenty of situations Anime fans and gamers can relate to. It's bursting with cuteness but I can't really agree with this being a slice-of-life show when role playing cafes are involved... Well, apart from Hideri.
Don't miss the extra scenes after the credits.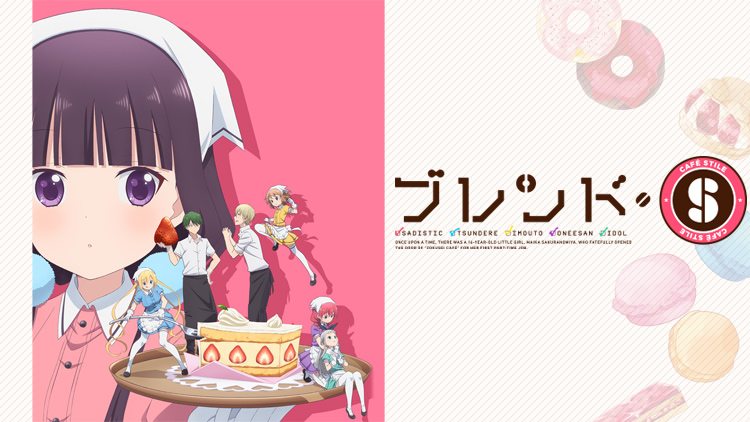 Worth A Watch
The Perfect Insider (2015, A-1 Pictures)
Subete ga F ni Naru [Everything Becomes F]
すべてがFになる
Moe Nishinosono is infactuated with her professor Sohei Saikawa. One day she goes visit Shiki Mugata, a prodigy who gained her doctorate at the age of 11 but found to be guilty of murdering her parents one day. Yet, Mugata claims she didn't. She also happens to be held in high regard by the professor because of her high intelligence. Just to tease her professor further, Moe decides to make the annual camping trip to visit the remote island Mugata was being isolated at again. However, when they go to meet Mugata they discover her murdered, left with a severed body and in a wedding dress. Bothered about the odd questions she was asked during their meeting, Moe decides to take on the investigation herself together with her professor, Sohei.
So this is an Anime based on a mystery novel by Hiroshi Mori. Art style is clean and has a calm atmosphere to it most of the time. Everyone mostly goes about as if nothing happened but, it can also get really creepy when the mystery picks up again thanks to its good use of sound. Thankfully there's a bit of romance between teacher and student (!) who both kind of lighten up the show a bit. If you're a programmer, you might find the show interesting too because it's quite technical.
One thing for sure is, you won't want to watch this if you're after a nice bed time story.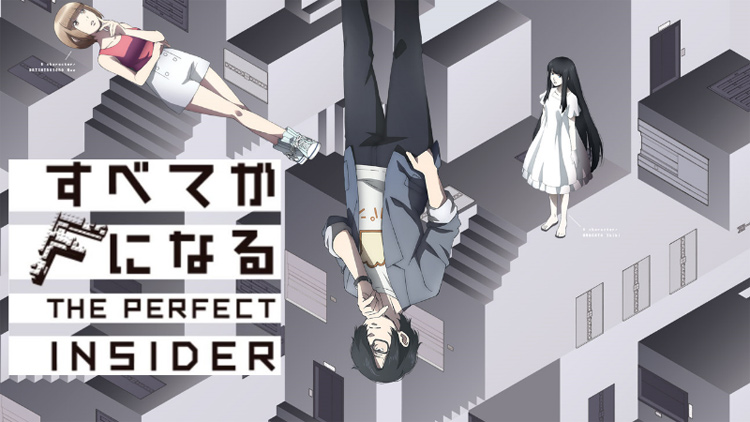 Worth A Watch
Strike The Blood (2015, Silver Link/Connect)
SutaBura
ストライク・ザ・ブラッド
Itogami Island is an artificial island not far from Tokyo, one of the many "Demon Districts" that was home to demons and other mythical creatures. They live along side humans and were protected as endangered species while under observation for research. Kojou Akatsuki had discovered himself one day as a vampire with no memories of his past as a human. Not only that, he wasn't the average vampire either. He had become the "Fourth Progenitor", a powerful vampire that who can take out an entire human army if he desired. However, he has no such thoughts and continues living as a normal senior high student as best as he can while keeping it all a secret. One day Yukina Himeragi is sent by the Lion Organisation in Japan to observe him and was to eliminate him if he was considered a threat. Meanwhile, not all is at peace and Kujo soon finds himself relunctantly honing his skills to protect himself and the island as he is caught up in various incidents.
Show's based on a light novel series and has an interesting world setting. It's not the first time a Japanese title tried to fuse technology and magic together though. Despite the protagonist Kojou being a vampire, the main plot is more about how humans and demons try to live together in harmony but obviously some aren't happy with the way things are. Kojou having just gained the power of a vampire happens to experience both sides of the world and ends up wanting to maintain the peace. His genuinely nice character and heroism ends up winning the hearts of all the girls he comes up across.
Of course, this also becomes an excuse for ample fan service as there is plenty of nudity and your usual "accidental" sensual situations like groping. The female cast willingly tries to arouse Kojou so that he would take their blood during "dire" situations so that he can awaken and take command of a new power. Obviously the show is aimed at the male audience but at the same time, there's just enough happening to stop the show from turning into a complete mindless fan service show. And believe it or not, there's actually romance.
Other than that, background art's good and fight scenes are short but well animated and intense. There's a bit of gore but not too many. The OST is good too but the theme songs are so-so. I first heard Altima's "Fight 4 Real" on Animelo Summer, a gig for Anime songs and it just doesn't fit the S1 OP2.
Characters are cute - you've got Yukina who's easily flustered and, Natsuki a loli AKA "Witch of The Void", a firm teacher fond of gothic fashion. It's fun watching your usual Anime personalities bicker and, your nice guy completely oblivious to all the girls falling for and fighting over him despite all their initiative. The lines "This is my fight!" followed by "No, Senpai. It's our fight!" becomes pretty stale.
The plot barely moves in season 1 and feels like Kojou is fighting against lots of random terrorists at first although, maybe it was just building up the relationships between the characters and revealing more of the world setting. It isn't until the last few episodes of the show, does the story go back to Kojou and reveal more about his powers and forgotten memories. The OVA "Valkyria no Oukoku-hen [Kingdom of Valkyria]" is more fan service focused than the first season with Kojou actually making the moves on the girls but, it does pick up the previous events and continues to develop the world setting. Some hints of marriage too although whether the future series will stick to those pairings we'll have to see.
Second season OVA continues to build on previous events too but finally gives the main plot a big push. It's a wonder (and a ridiculous one at that) that Kojou and co manage to keep everything a secret from Asagi for so long, lol.
Season 3 is abundant with nudity and lingerie scenes true to its fan service nature, with nothing to hold it back as it was a disc release only. While it also sheds some more light on the main plot it doesn't do it very well with a lot of silly scenarios that aren't quite believable even with its equally silly world setting. The direction's quite messy too at points where they divulge too much and you need untangle the mess like there's a sudden rush but it wraps up the story quite well. You can see it's low budget too with characters looking out of proportion sometimes, little detail in scenes and repeated animations. Despite all that it has a cute ending and there's also bonus scenes afterwards so don't miss it.
Natsuki's probably the best character in this being the most mature despite her little appearance.
One for the guys. It's a harem show after all but it's not the kind that's just fan service for turning your mind to mush.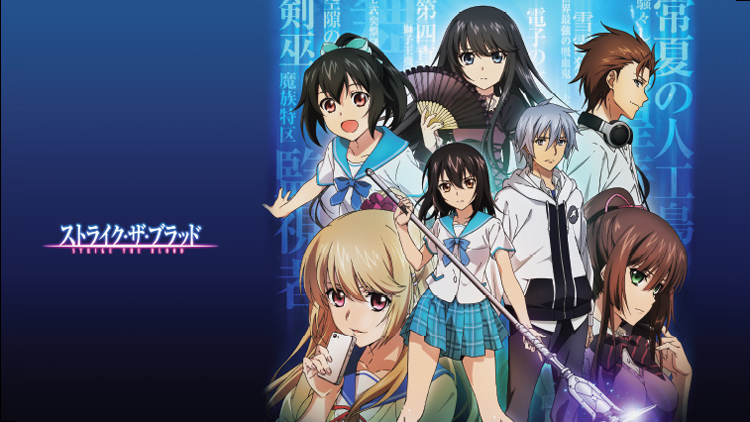 Worth A Watch
Kimagure Orange Road (1985, Studio Pierrot)
きまぐれオレンジ☆ロード 
あの日にかえりたい / 新きまぐれオレンジ☆ロード: そして、あの夏のはじまり
Ano Hi ni Kaeritai / Shin Kimagure Orange Road: Soshite, Ano Natsu no Hajimari
So another story with highschool as the setting and when high schools are involved, there's usually your cliche of a transfer student and special powers. Based on Izumi Matsumoto's 1984 Manga, fifteen year old Kyousuke Kasuga isn't your average junior high student - his whole family has special powers such as teleporting and telekinesis and, because of that they'd had to move schools many times to keep it a secret. As Kyousuke moves town yet again to start afresh at a different high school, he meets the multi-talented Madoka Ayukawa while out and about counting steps outside his new home. As they laugh about their trivial little argument over who got the correct count, he instantly falls for her seemingly nice personality and pretty appearance and, gets to keep her red straw hat to remember her by.
However, when Kyousuke attends his new high school, he discovers a completely different side of Madoka. She was nicknamed "The Pick" because of how she uses them as weapons in fights. Madoka was infamous for her badass deliquent behaviour too hanging out with trouble on a whim, under-aged clubbing, drinking, smoking - everything that could be bad for junior high student. She is shunned by her classmates but Kyousuke refuses to believe she is as bad as rumours say. As he continues to approach her indiscriminately with kindness, she slowly starts to change.
Meanwhile, Kyousuke also ends up catching the eyes of Madoka's energetic, cheery best friend Hikaru when she is charmed by a moment of witnessing his powers, mistaking it for actual skill. Now Hikaru's determined to get close whenever she has a chance. When Madoka realises this and her own growing feelings for Kyousuke, she tries her best to hold her feelings back so she doesn't hurt her best friend.
Once again, I watched this because of the hype and was curious about why people recommended it when Maison Ikkoku was mentioned. You might actually know Studio Pierrot from their "magical girl" shows such as Creamy Mami and Pastel Yumi The Magic Idol. The character designs kind of resemble characters from those shows and the backgrounds with rough brush strokes very much look like their style. The first OP is lively but too flashy (literally) with all the brief flashes of credits and scenery... Not sure why they thought that was a good idea. The selection of JPOP theme songs are actually not bad and there's quite a few vocal tracks used as the OST. As for voice acting, you might better know Hiromi Tsuru's voice who plays Madoka in this show as Bulma from Dragon Ball. She also voiced Ukyo from Ranma 1/2, Meryln Stryfe from Trigun and Reiko from Ghost Sweeper Mikami.
I guess "kimagure (capricious/whimsical)" in the show's name came from Hikaru and Madoka's whimsical nature. Hikaru reminds me of Lum from Urusei Yatsura because she's so clingy and likes to call Kyosuke "darling". The TV series doesn't take itself seriously most of the time with a lot of overly cute expressions, comical and supernatural moments. You've got Jingoro the regular cat trying to get escape the abnormal family and Kyousuke's sisters being lured away easily with food always brings about some comic relief. Oh, and that poetic adult couple Ushiko and Umao. It has a fair bit of fan service with all the focus on the female cast's bodies, usual groping accidents, awkward camera shots etc but I guess it's aimed at the teenage boys demographic. There's even a fast food joint where girls serve dressed in tight leotards and has a window that lets its customers oogle ladies doing aerobics in an opposite building.
At first, it was looking very silly how strong and invincible the show made the capricious Madoka look despite all the risky things she does flirting with trouble and then getting away unscratched but fortunately, the story makes her a little more human as the show progresses. She's a bit like Akane from Ranma 1/2 sometimes sending Kyousuke flying away with her strength. Then again, if the protagonist has super powers, why shouldn't his love interest be a femme fatale who can kick on a whole gang of thugs and come out unscratched? You could say Madoka's the poster girl for this show with all the fan service scenes she ends up in.
I think the most distinct feature about this show is how it frequently crops out characters whenever they're narrating or thinking about something which takes some getting used to. You'll probably also remember this show for the early episodes where Madoka plays the saxophone but ratings dropped during these scenes so they no longer appear later in the series. After this show you'll probably know what having a "C" experience meant too back in the day. I also think this is the only Anime I've watched that features KFC instead of McDonalds in it too.
The child-like looking character designs might be somewhat off-putting but, I can kind of see why people rank it as one of the top shows along with Maison Ikoku when romantic comedies were trending during the 1980s. The premise is kind of similar in both shows except Kimagure isn't so bitter. Maybe because Kyousuke lacks a rival. Most episodes are also self-contained so you're not left with a bitter feeling between episodes when you emphasise with the characters.
Sure there's some super powers involved too but, both shows' direction focus on how the characters' indecisiveness and misunderstandings lead to complex relations and drama. Both feature a kind idiot protagonist that isn't that talented but makes a great effort to stay true to the one they really love. In contrast, both also feature a pretty, kind faithful talented girl as the main love interest but they're also not perfect. Where Kyoko is more reserved, has trouble saying no to others and getting over her late husband, Madoka is more open and flirty and doesn't mind breaking the rules to stay true to herself which often leads to trouble. Funnily enough, this show also has a character named "Yusaku" who always get the short end of the stick.
The TV series has quite a wrap-up which covers up to roughly chapter 134 of the Manga. Originally Matsumoto had considered it a good point to end the Manga too but thanks to the success of the TV series, she decided to continue the Manga afterwards. This might be why an OVA series was released later but unfortunately, it's not a continuation of the TV series. Well... it kind of is and isn't because it rewinds back two episodes before the end of the TV series and does a bit of re-shuffling with chapters of the Manga that never made it in. Characters are now in senior high school instead of junior. The first half of the series are mostly filler episodes (based on chapters 93, 122, 118/149, 57) and characters such as Kyousuke's cousin Akane makes an appearance. For the most part, it's fan service with the girls. Then the second half gets a bit more serious and is mainly based on chapters after the TV series (135 - 145, 51).
This can be followed up by the first movie "I Want to Return to That Day" which could be called a spin-off because it's an original piece of work written by Kenji Tereda, the main scenario writer for the TV series. It takes on a more serious tone during the summer when Kyousuke is preparing for university entrance exams. There's no mention of supernatural powers nor are any used, just your slice-of-life romance. Kyousuke's originally kind indecisive character is changed to be more cold and decisive so it's no longer a romcom and can be quite bitter.
A second movie called "New Kimagure Orange Road: Summer's Beginning" continues where the last left off and is also based on the first book of a three part novel series again written by Kenji Tereda (he also wrote the scenarios for JRPGs Final Fantasy I - III too apparently). It continues to show how he envisioned the characters from the original Manga, now nineteen, would have moved on with their lives through university. If you watched the first movie, you might feel better for the characters after watching this. Maybe it was Tereda's way of trying to redeem himself after the poor reception of the first movie when even Matsumoto criticised the work, suggesting viewers took it as a parallel world story.  I guess you could also consider the movies fan service for those who wanted a more complete closure to the relationships. However, it gets a bit weird with the supernatural powers back in.
If I had to choose between this and Maison Ikkoku, I would have to choose Maison. Kimagure has its cute and fuzzy moments and maybe one or two really good episodes too (like 39) but again, having long passed graduation I feel Maison is a lot more relatable watching the hardships Godai had to endure. Maison also touches quite well on a wider range of experiences such as the loss of someone precious. Kimagure's movies later cover their lives in adulthood but just don't have that same effect - especially with supernatural powers involved. That said, both shows are based on Manga that targets two different age groups so it might not be that fair a comparison.
So if you're after a light-hearted romance comedy show that's mostly fun (it even has a star in its title!) with your cliche high school setup, time travel, super powers and don't mind your usual fan service thrown in, you might like this. For most people I think the highlight is going to be Madoka. Otherwise, if you prefer a more mature romance story and don't mind the slow progress or slice-of-life bitterness, you'd probably want to go for Maison Ikkoku.