First thing's first. People seem to have confused Ys The Oath in Felghana being Ys7 so I'd just like to make it clear Felghana was really more of a side story like Ys Origin. I guess that's why Falcom decided to write the English word "Seven" instead of using the Roman numeral.
So the Ys ARPG series has reached its seventh title, "Ys Seven" and rather than releasing on the PC as Falcom's tradition goes, we have it on the PSP this time. Not only that, you even have two AI party members to accompany our you. But does it work when the action has always been so fast paced?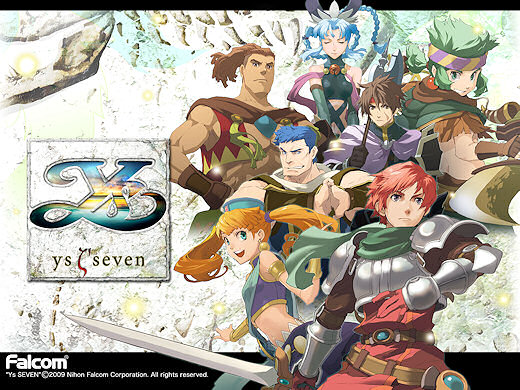 As far as the storyline goes, it's the typical good versus an ancient evil set in a fantasy world.
Dogi and Adol reach the Capital of Altago in an attempt to find more adventure. While exploring the town, they get into trouble trying to save two sisters who were being harassed by the local Dragoons. They are thrown into the cells but thanks to their reputation as adventurers, they get a request from the king to help him investigate some strange earthquakes going on lately but his men hasn't managed to find anything. On their way, they find out the Five Dragons are awakening once again to prevent a great evil, lending their power to Adol to help stop it.