Had the Persona 4 OST pre-ordered with Play-Asia long before I got the game because I already liked what I heard from all the little teasers during the past few months. Managed to get a first press edition which I wasn't really expecting.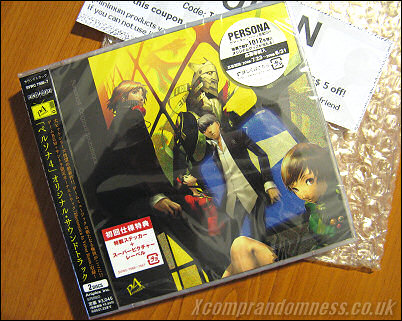 It's a pity the two disc 52 track OST doesn't contain a full version of "Pursuing My True Self". I'm guessing there will be a remix album like P3 before we get it and most likely drama CDs to follow too. The tracks are great but, lyrics are very "Engrishy" I hate to say.
Here's a list of the lyrics with Shihoko Hirata being the vocalist and Shoji Meguro the composer. The numbers denote the disc and track number and, the italics is a note about when the track is used in the game. Almost had the lyrics right for the opening.
Click on the titles to hear the song.
1-1, Pursuing My True Self
Opening theme song.
We are living our lives
Abound with so much information
Come on, let go of the remote
Don't you know you're letting all the junk flood in?
I try to stop the flow, double-clicking on the go but it's no use
Hey, I'm being consumed
Loading, loading, loading, quickly reaching maximum capacity
Warning, warning, warning, gonna short-circuit my identity (Ah…)
Get up on your feet, tear the walls
Catch a glimpse of the hollow world
Snooping 'round will get you nowhere
You're locked up in your mind
We're all trapped in a maze of relationships
Life goes on with or without you
I swim in the sea of the unconscious
I search for your heart, pursuing my true self