You can now read my translation of Case of Nanaki up on my other website FFVII Novels. Before anyone criticises my translations, I'd just like to point out that I'm simply sticking to as close to the original text as possible.
Despite it's been almost 4 years since Kazushige Nojima wrote the last two stories of On the Way to a Smile, his writing style continues to be simplistic reading very much like a script than a novel. In my opinion, I think he uses too many short sentences and doesn't spend much time building up the scenes. He jumps between the character's thoughts and narration text too often and too suddenly. You can see the difference just by taking a look at the two excerpt translations I done from his stories and the Beast Player Erin novel.
In other words, if you really want his stories to read like a novel, you will have to spend quite some time re-wording.
Still, for an FFVII fan it's great reading these stories with the familiar characters back again, re-visiting those locations from the game.
If you would like to point out mistakes or points requiring clarification, please drop me an email with the following:
A reference to the page number from the book.
Be constructive and explain why something is wrong.
Your name should I decide to make the correction and give you credits.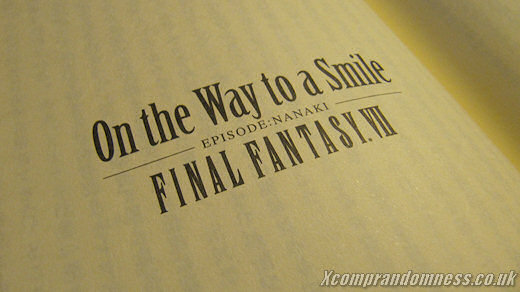 With that aside… The fourth story tells of how Nanaki faces a new foe named, "Gilligan" after separating with the other members of the party and travels to witness life around the world after the events of the original FFVII. Along the way he tries to discern his feelings as a human or a beast.
Some thoughts (i.e. massive spoilers) ahead.