I'm sure regular visitors amongst you will know how much of a fan I am of Makoto Shinkai's 5 Centimetres Per Second by now. After looking through how much information I've gathered about the movie, I thought this blog wasn't giving it enough space to organise so I've decided to create a sub-site for it to have all the content accessible in one place.
Everything 5cm related that is on this blog will soon be accessible only via the new site – http://5cm.lhyeung.net so if you've bookmarked anything, it's time to update your bookmarks!
You can also now read my English translation of the very first episode of the novel, "Cherry Blossoms (Oukasho)". I've kept the comparisons in case anyone is interested in the differences with the movie and don't want to spend time comparing and reading themselves.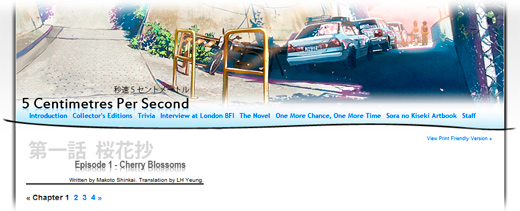 "Hey, it looks just like snow, "Akari had said.

It was seventeen years ago when she said that. We had just become elementary six students and we would always walk together around the small grove on our way home with our schoolbags on our little backs. It was spring and a countless number of cherry blossoms were in full bloom on the trees, their petals dancing soundlessly in the air, covering the asphalt beneath our feet in a blanket of white. The air was warm and the sky hung overhead as if it was a great canvas covered with light blue paint. Not far from us ran the main road and the Odasaki railroad crossing but none of its noise seemed to reach us. Only the chirping of birds could be heard as if a blessing from spring. There was no one else was around.

It was as if it was just a painting of a certain spring scene.

That's right. At least in my memories that moment of time was like a painting. You could say they were just a collection of images. When I try to gather those old memories, I feel as if I'm gazing from outside a frame at a little distance. The young man had only just turned eleven and so was the girl who was around the same height as he was. I gaze as their figures as they run into the distance, the light that filled the world enveloped them naturally. I was always watching them from behind in that painting. And every time it would always be the young girl who ran ahead first. When I remember that short moment of sadness that shivered the young man's heart, it makes even I who was now an adult feel just a little sad.

In any case, I remember how Akari had described the shower of cherry blossom petals were like snow. But I never saw it that way. At that time, cherry blossoms were just cherry blossoms and snow was just snow to me.

"Hey, it looks just like snow."

"It does? Hmmm, maybe it does…"

"Oh, never mind," Akari said coldly walking two steps ahead quickly before turning around. Her brown hair shone as the light from the sky reflected off it and once again, she said something mysterious.

"Hey, I heard they fall at five centimetres per second."

"What?"

"What do you think?"

"I don't know."

"Come on, think about it, Takaki-kun."

I still didn't know what she was talking about so I just honestly told her I didn't know.

"It's the speed cherry blossom petals fall at. They fall at five centimetres per second."
And you can read the rest on the site itself. A print friendly version is also available so you don't have to worry about printing off everything on the site.
Please do not copy my translation anywhere but instead, link back to the site thanks.